Take the Best Videos With These Videography Tips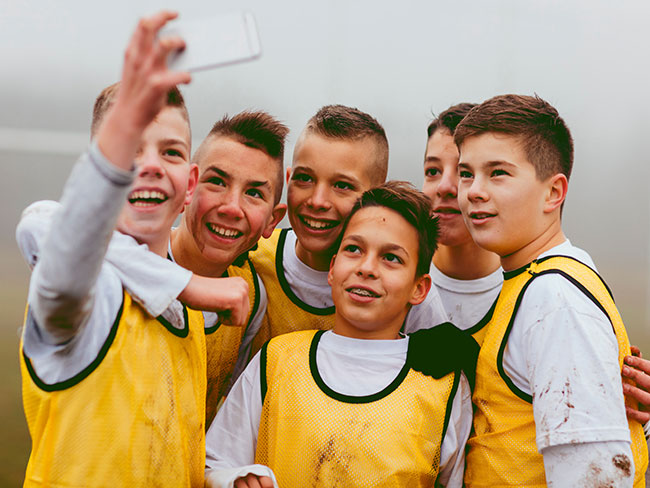 Everybody has their own style, but here are some tips that will help you take the best videos.
DIFFERENT SHOTS

To make a really cool video, learn a few basic shots Hollywood uses in every movie: establishing shot (ES), medium shot (MS) and close up (CU).
The ES might show an overall fishing scene with several people.
An MS moves in to show one fisherman casting a lure.
The CU features that angler showing off his catch.
These shots are made with the camera held steady.
SCREEN DIRECTION
Maintaining the direction of action is important. If you are shooting friends on a hiking trip and your ES has them coming into the right side of the frame, your next shot should also show them coming into the right side. Otherwise, it will seem as if they are returning to the beginning of the hike. This is called the 180 Rule. Staying on the same side of the path as you shoot your video will help you follow this rule automatically.
Another way of thinking of screen direction is to shoot all your shots on the same side of your subjects' noses. Keep all your shots on the same side of a subject's nose as if a rope extended from the nose straight out to infinity, preventing you from crossing the line.

You can shoot from the other side of the path if, in editing, you insert a neutral shot or show the change of screen direction in one of your shots — for example, turning a corner in a switchback. Shots in which the action is coming straight into the camera or straight away from the camera are neutral.
MATCHED ACTION

Once you have some experience, try adding some matched action (MA), a more advanced technique.
Let's say a guy is playing a flying-disc game. Your MS shows him about to throw the disc. Now you ask him to repeat that action exactly as it was done before, but you move the camera in for a CU of the action. You start your shot, and the guy launches the disc, which flies over the camera and out of the top of your frame. It's important that your subject uses the same hand. While editing your video, cut the last part of the first shot where your CU picks up the action. You cut the beginning of the CU to the point where the MS is cut. You have used two shots for one action to create a smooth transition of viewpoint.
RANDOM TIPS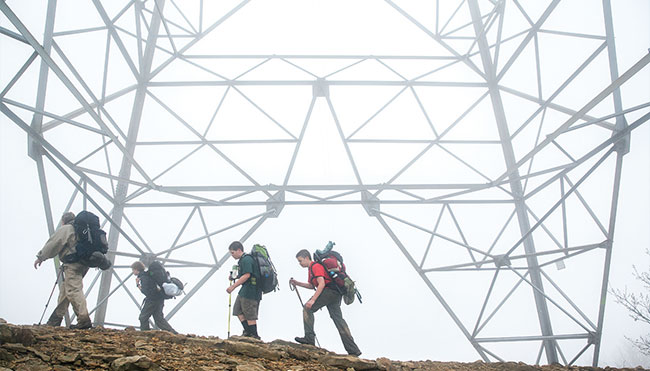 • The best shots are when subjects are being themselves and not mugging the camera.
• Vary your camera angle and image magnification (ES, MS and CU) between shots.
• Let subjects come cleanly into the frame and exit cleanly from the frame.
• Keep your camera steady. Click here for instructions on making a camera stabilizer. Tripods are great, but you won't likely have one on an outing. Consider making your own hiking stick that doubles as a monopod.
• It's better to move closer with your feet rather than zooming.
• Use a simple windscreen on your phone when shooting outdoors.
WHAT NOT TO DO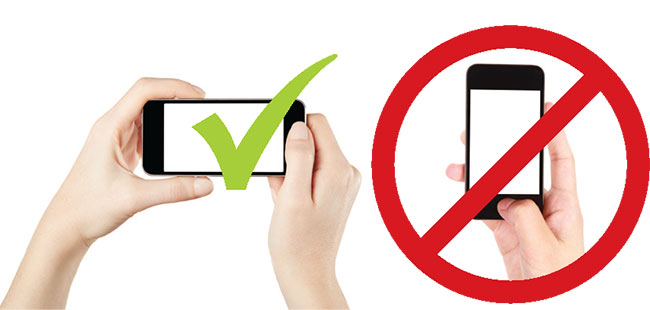 • Most video is in a horizontal format. People shooting with a smartphone sometimes hold the phone as they would normally use it, which results in a vertical video. Instead, turn the phone so the long side is parallel to the ground. The result: a better viewing experience on a laptop or TV.
• In a single shot, don't follow someone around. This results in a "water hose" shot, as if someone is watering the lawn. Instead, use separate shots. You will have to run ahead to be in steady position when the subject comes into your frame.
• Avoid pans, tilts and other moving camera shots when just starting out. These are shots that enhance your videos as you gain experience.
EDIT YOUR VIDEOS
If you shoot with an iPhone or iPad, iMovie is a great editing app — and you can edit your video right on your device. If you move your files to a laptop or desktop, you can still use iMovie, Premiere or Final Cut Pro X. If you use an Android phone or tablet, KineMaster, Video Maker Pro Free or VidTrim work. For Windows desktops, Premiere Elements or Premiere are good choices.
All video-editing software allows you to trim excess footage from the beginning and end of your shots non-destructively. You can change your mind on the length of the shots. You also can add still photos to your video.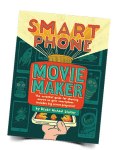 MORE TOOLS AND RESOURCES
With Smartphone Movie Maker, learn tips and tricks to make a movie masterpiece on your smartphone. The box set includes a moviemaking glossary and storyboarding sketchbook, plus the box transforms into a big-screen projector that lets you screen your film in style. Candlewick Press, $13. Ages 8 and up.
7 Essential Smartphone Filmmaking Accessories
If you're considering putting down your camera and picking up your phone to shoot your next project, here are seven smartphone filmmaking accessories to consider.
Video Shooting Tips and Techniques
Tips to help you avoid common mistakes when you first start shooting video. From the UC Berkley Advanced Media Institute.
Adobe Digital Video Learning Course
This professional learning course will help you develop an understanding for how video can be used as a teaching tool.
Horizon Camera iPhone App
This app for Apple devices lets you record horizontal videos and photos no matter how you hold your device.
8mm Vintage Camera iPhone App
This app for Apple devices adds dust and scratches, retro colors, flickering, light leaks, and frame shakes to make your videos look like an vintage movie.
Pictar iPhone Camera Grip
Camera grip makes it easier to hold and control your iPhone when taking photos or video.
Adobe Spark
Create impactful social graphics, web stories and animated videos with Spark's free graphic design app.
Inspire Leadership, Foster Values: Donate to Scouting
When you give to Scouting, you are making it possible for young people to have extraordinary opportunities that will allow them to embrace their true potential and become the remarkable individuals they are destined to be.
Donate Today