How to Lash Together Your Own Clothes Drying Rack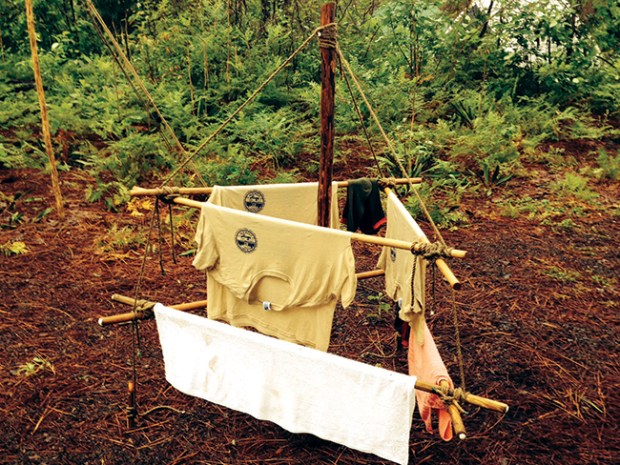 A drying rack is perfect for hanging wet clothes or towels during a long-term campout. Here's how to build it.
WHAT YOU'LL NEED
Four Scout staves (or hiking staffs)
Three 4′ sticks cut from broomsticks
Eight 6′ lashing ropes
Three 10′ to 15′ cords for guylines
Three sturdy stakes
HOW TO LASH A CLOTHES DRYING RACK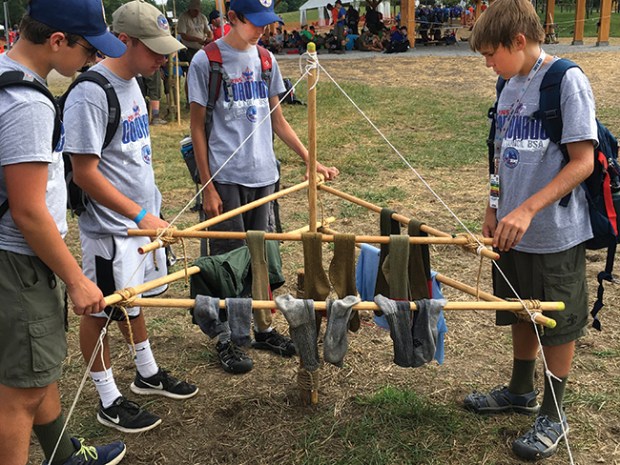 1. Start by lashing together two equilateral triangles, one smaller for the top (three 4′ sticks) and one larger for the bottom (three Scout staves).
2. Next, tie on the three guylines near the top of the remaining stave, which will become the center pole. (For this, it's good to know how to tie a roundturn with two half hitches, or a rolling hitch. Refer to the Pioneering merit badge pamphlet.)
3. For each guyline, about 30 inches away from the knot, tie a clove hitch to the end of one of the 4′ sticks. Then, about a foot away from each clove hitch, tie another clove hitch to the end of one of the Scout staves.
4. Out from each corner of the 5-foot triangle, pound in three sturdy stakes about 4 feet from where the center pole will stand.
5. With one Scout holding up the center pole, make adjustments to the clove hitches as necessary so the triangles hang evenly.
6. Attach the guylines to the stakes with properly tied taut-line hitches.
Inspire Leadership, Foster Values: Donate to Scouting
When you give to Scouting, you are making it possible for young people to have extraordinary opportunities that will allow them to embrace their true potential and become the remarkable individuals they are destined to be.
Donate Today