How to Build a Bee House for Solitary Bees
SAFETY FIRST: Ask an adult to help with tools you haven't used before.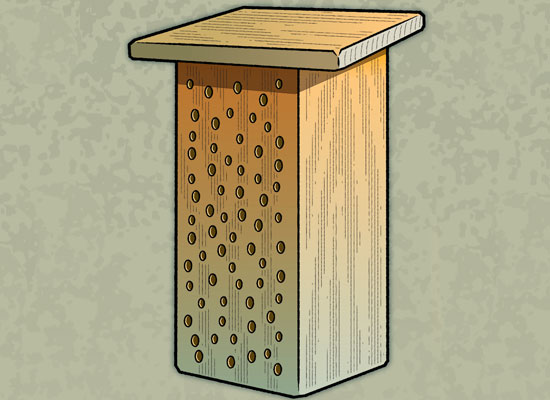 This shelter provides solitary bees with a warm, dry place to nest.
What You'll Need:
Piece of wood or a log, about 14″ long and at least 4″ thick. (6″ would be ideal.) Do not use treated wood.
3⁄4″ board or scrap of metal for the roof that is long and wide enough to create a 3″ overhang on the sides and a 4″ to 5″ overhang on the front. The back of the roof should be flush with the back of the board or log.
Drill with bits ranging from 1⁄8″ to 1⁄2″ (No bigger than 1⁄2″)
Crosscut saw
Tin snips, if you use metal for the roof
Sandpaper
Hammer
Nine 11⁄2″ galvanized finish nails for nailing on the roof and three 2″ galvanized common nails for hanging the bee house
1′ length of rope. (This is for making the hanger on the back of the bee house.)
What You'll Do:
1. Saw off one end of the board or log at an angle, so the roof will have a slant that will cause rainwater to run off. The longest length of the board or log should be about 14″.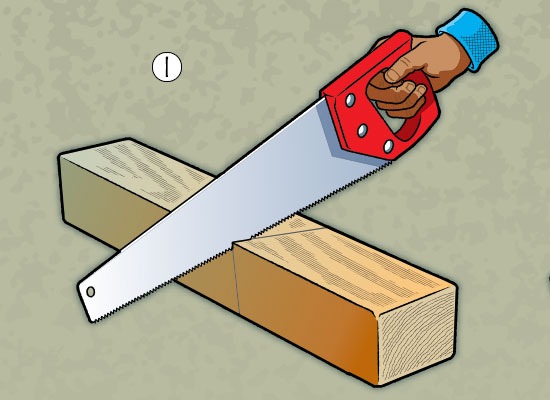 Figure 1: Use A Crosscut Saw To Make An Angled Cut, So The Roof Will Be Sloped And Enable Water To Run Off.
---
2. Nail on the roof. Rain is hard on bees' homes. You need to keep the tunnel nests as dry as possible.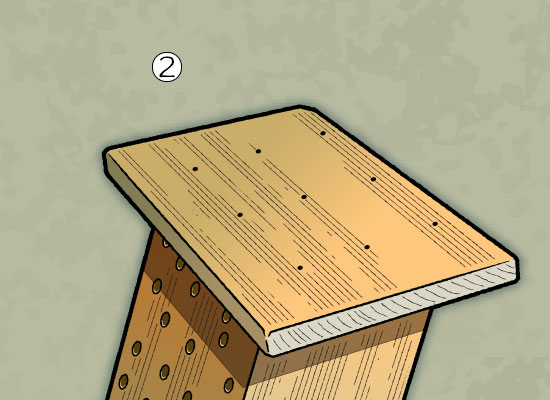 Figure 2: There Should Be 1⁄2″ To 1″ Between Holes. Sand The Entrance To Each Hole Smooth. Bees Will Not Enter A Rough Opening. Use The Nine Galvanized Finish Nails To Attach The Roof.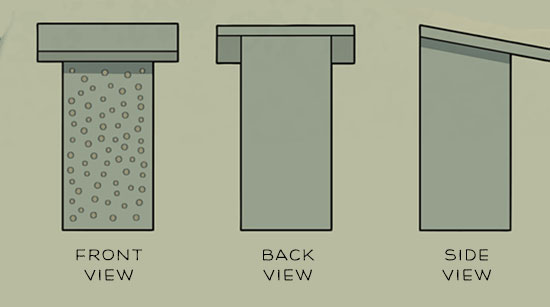 ---
3. Drill an assortment of 1⁄8″ and 1⁄2″ holes about 1⁄2″ to 1″ apart. Do not go all the way through the wood or log. Clean away any sawdust and smooth the openings with sandpaper. Bees will not enter a rough opening.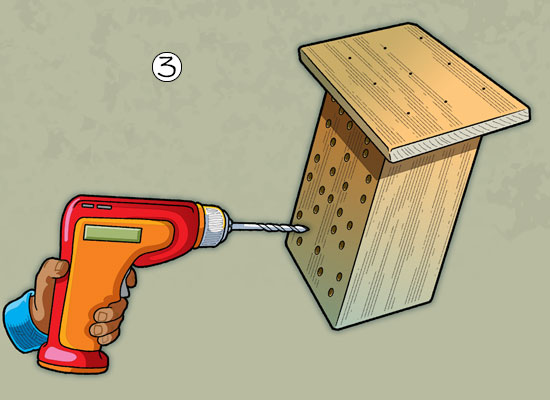 ---
4. Tie a small knot at each end of the rope. On each side of the bee house, attach the rope with a nail hammered through the knot. Match the two sides so the house won't tilt. Your bee house is complete and ready to hang.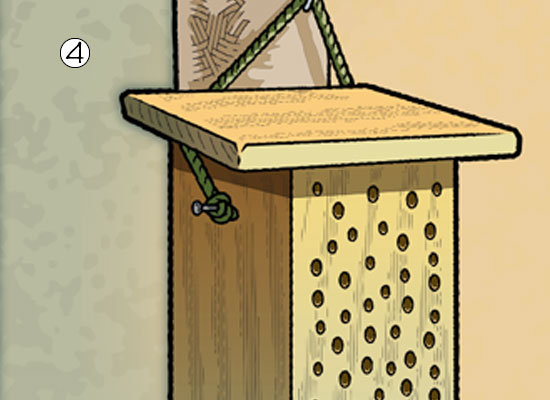 Figure 4: Make Sure Your Bee House Is In A Warm, Sunny Spot. It's Very Important To Keep The Holes Dry.
---
5. Hang the house in full sun on the south side of a fence, building or post, about 3′ to 5′ above the ground.
Don't spray any pesticide nearby. Keep an eye on the bee house and watch what happens, especially in the spring. Be sure to keep your distance. Very few solitary bees sting, but play it safe anyway.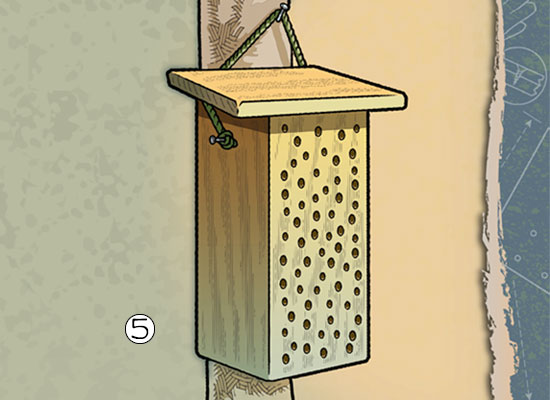 Figure 5: Hang The Bee House 3′ To 5′ Above The Ground.
---
DID YOU KNOW? While honeybees have hives, solitary bees do not. They depend on shelters like this one to stay safe and keep healthy. We benefit from them, too. Without their pollination efforts, about one-third of our food supply would be at risk.
---
Important Note: Please only upload photos of your project. Because of privacy rules, we can't post any photos that show people's faces. Always ask for your parent's permission before uploading anything to a website.
---
Inspire Leadership, Foster Values: Donate to Scouting
When you give to Scouting, you are making it possible for young people to have extraordinary opportunities that will allow them to embrace their true potential and become the remarkable individuals they are destined to be.
Donate Today