6 Handmade Mother's Day Gifts
SAFETY FIRST: Ask an adult to help with tools you haven't used before.
Show your mom she's the best with one of these six handmade Mother's Day gifts.
---
MOM-IS-GREAT CHAIN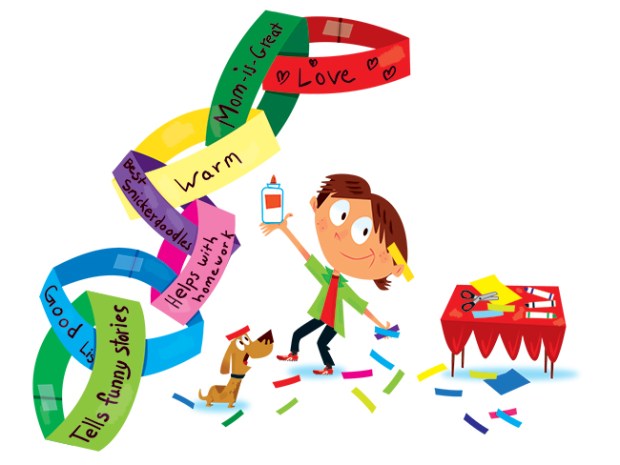 It's important to tell Mom you love her, but it's even better to tell her why. Make a list of all the best things about your mom. Is she a good cook? Does she tell funny stories? Once you have a long list, make this chain of greatness.
1. Fold a piece of construction paper lengthwise into strips big enough to write on. Leave extra space at the two ends. Use colors your mom likes.
2. Cut out the strips.
3. Write one great thing about Mom on each strip. Leave room at the ends to overlap.
4. Tape or glue the first strip into a circle. Make sure your writing shows on the outside.
5. Put the next strip through it to make the next circle.
6. Make the chain as long as you can.
7. Hang it up where it will surprise her!
---
"GOTCHA COVERED" VASE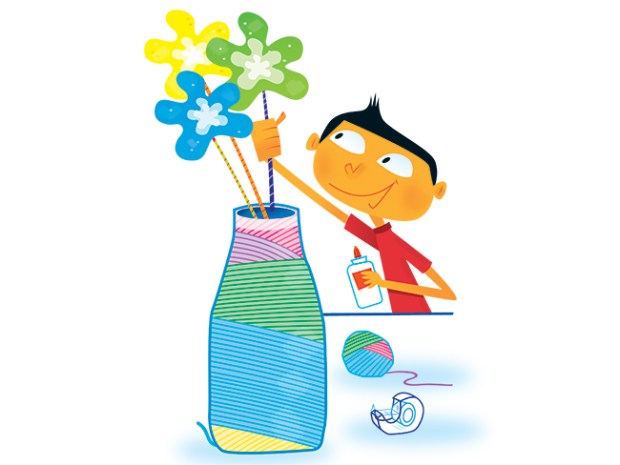 Mom's always got you covered, right? Here's something nice you can cover for her.
1. Wash out an old hot sauce or ketchup bottle.
2. Apply a thin, even coat of white glue all around the bottom part about 1 inch high.
3. Start at the bottom and wrap yarn around and around. Tuck the end under the first couple of wraps. You can buy rainbow yarn at craft stores or use other kinds of string. Go slowly. Add more glue inch by inch as you wrap the yarn higher and higher. Be careful because too much glue will drip.
4. Cut a strip of cloth and glue it around the top.
5. Let it dry. Pretty sweet, eh? Add some flowers and watch her smile!
---
PEEPERS PROTECTOR
Your mom can keep her glasses or sunglasses safe inside this case.
1. Cut a square pattern out of paper that is 6 inches long on each side.
2. Lay your paper pattern on some heavy fabric like felt and tape it down in a few places so it can't move around. Trace around it on the fabric.
3. Remove the pattern and cut out the fabric. Fold it in half and use a few paperclips to hold it in place while you sew.
4. Sew it on two sides. Keep a side open for the glasses to go in. Try to keep your stitches the same size. You can use yarn if you have a big enough needle.
5. The whipstitch is a great way to sew edges.
---
CHORE FLOWERS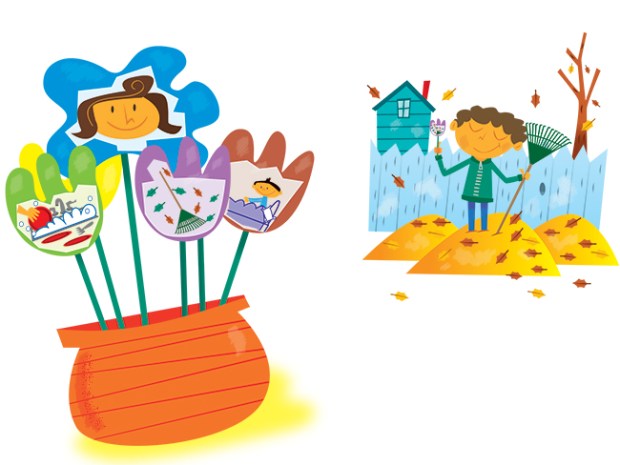 Make a bouquet of chore flowers your mom can redeem when she needs an extra helping hand from you around the house.
1. Cut out pieces of paper in the shapes of flowers.
2. Write a chore you will do on each one. Be sure to pick special chores that are not your regular responsibilities.
3. Tape or glue each paper flower to the end of a stick or pipe cleaner.
4. Tie them in a bunch with a ribbon or put them in a vase.
---
MOM'S TREASURE CHEST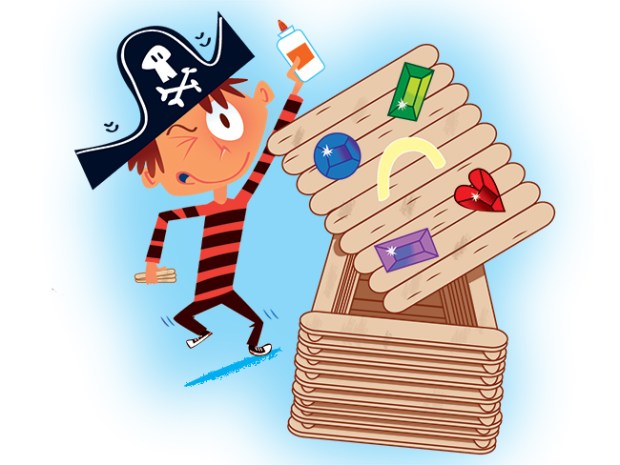 Mom will think of you every time she lifts the lid of this special keepsake container.
1. Save washed Popsicle sticks or buy them from a crafts store.
2. Lay the sticks on wax paper side by side until you have a row that is as long as one stick. Line them up evenly.
3. Take two more craft sticks and glue them across the top and bottom of the row of sticks. Make sure every stick is glued to them. These two sticks hold it all together as if you were making a raft.
4. Glue two more sticks to the ends of the two sticks you just glued down.
5. Keep doing this, back and forth, to build up the sides, like making a log cabin. It can go as tall as you want, but save enough sticks for the lid.
6. On a different piece of wax paper, make the lid the same way you made the bottom.
7. Let everything dry overnight.
8. You can leave it plain or decorate it with paint, glitter or plastic jewels. Remember to glue on a small handle, like a pony bead or even a piece of macaroni.
---
MOM'S STUFF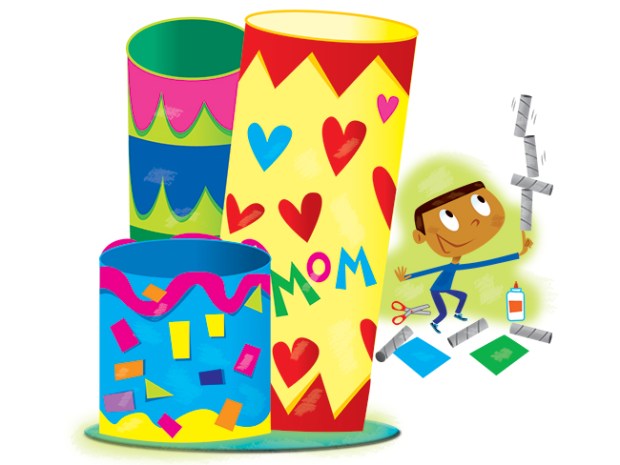 Your mom can use this organizer in the bathroom for makeup, brushes and combs; on her desk for office supplies; or in the kitchen for things like toothpicks and spoons.
1. Cut three cardboard tubes into different sizes. Make one of them short — only about 1 or 2 inches tall. Don't make any more than 4 inches tall.
2. Cover each tube with giftwrap or cutouts from magazines. Try to find colors, designs and pictures she likes. Glue it all on carefully. Make the paper also cover over one end of each tube. That end will be the bottom.
3. Glue the tubes together and set them down on a table. Make sure all the tube bottoms are flat on the table. Let them dry overnight.
4. Cut a circle shape out of cardboard big enough for all the tubes, and cover it with paper or color it.
5. Glue the bottom of the tubes to the circle. Let that dry all night.
6. You can add fancy trim, glitter or whatever other decorations your mom would like.
---
Important Note: Please only upload photos of your project. Because of privacy rules, we can't post any photos that show people's faces. Always ask for your parent's permission before uploading anything to a website.
---
Inspire Leadership, Foster Values: Donate to Scouting
When you give to Scouting, you are making it possible for young people to have extraordinary opportunities that will allow them to embrace their true potential and become the remarkable individuals they are destined to be.
Donate Today