Build a Pingpong Ball Launcher
SAFETY FIRST: Ask an adult to help with tools you haven't used before.
Make this cool pingpong ball launcher for target-shooting fun.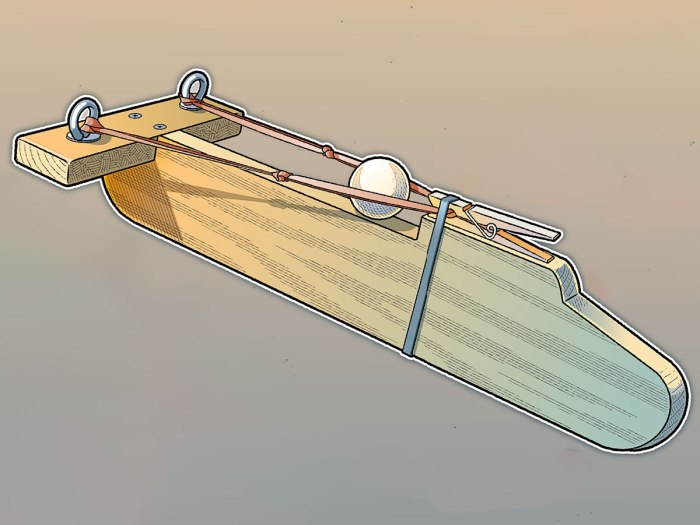 WHAT YOU'LL NEED
1″ x 4″ board, 24″ long (actual size is 3⁄4″ x 3 1⁄2″)
Cut the board as follows:
3⁄4″ x 3 1⁄2″ x 16 1⁄2″ board (body of launcher)
3⁄4″ x 2″ x 7 1⁄2″ board (crosspiece)
Spring-loaded wooden clothespin
Coping saw (for cutting curves)
Crosscut saw (for cutting across the wood grain)
Ripsaw (for cutting with the wood grain)
Sandpaper
Drill
2 1⁄4″ eyebolts, 2 1⁄2″ long
4 1⁄4″ washers
2 1⁄4″ nuts
2 1 1⁄4″ wood screws (for crosspiece)
2 1⁄2″ small wood screws (for clothespin)
Drill bit (sized for pre-drilling 1⁄2″ wood screws)
1⁄4″ drill bit (for eyebolts)
Drill bit (sized for pre-drilling 11⁄4″ wood screws)
Countersink bit (so driven screws are flush with wood surface)
Rubber band(s) (about 1⁄4″ wide)
A pocketful of pingpong balls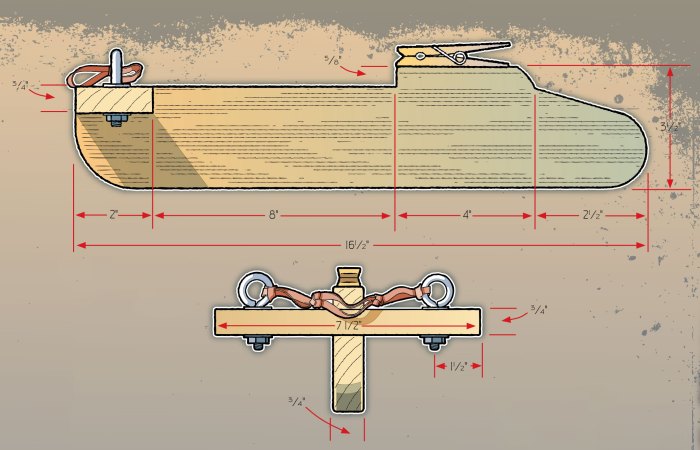 WHAT YOU'LL DO
1. Cut out the body and crosspiece of the launcher and sand both pieces. Follow the dimensions shown above.
2. Drill holes in the crosspiece for the eyebolts. Drill and countersink the two holes for the wood screws that hold the crosspiece to the body.
3. Screw the crosspiece onto the body.
4. If you can't find a rubber band long enough for the launcher, you can loop several smaller ones together.
5. Loop the rubber band(s) to the eyebolts.
6. Attach the eyebolts to the crosspiece using the washers and nuts.
7. Take apart the clothespin and screw the bottom half to the body. Be careful to drill and countersink these screws so you don't split the clothespin. Reassemble the clothespin.
8. Load a pingpong ball and you're ready to launch. If the clothespin is to weak to hold the rubber band, wrap another rubber band around the gun to strengthen it.
Cardboard or plywood makes a good target. Don't forget to wear safety goggles.
---
Important Note: Please only upload photos of your project. Because of privacy rules, we can't post any photos that show people's faces. Always ask for your parent's permission before uploading anything to a website.
---
Inspire Leadership, Foster Values: Donate to Scouting
When you give to Scouting, you are making it possible for young people to have extraordinary opportunities that will allow them to embrace their true potential and become the remarkable individuals they are destined to be.
Donate Today