Today's Readers, Tomorrow's Leaders
Scout Life: Today's Readers, Tomorrow's Leaders
Into The Blue
A first-hand look at some of the coolest men around, the U.S. Navy's Blue Angels flight team. Reading about cool things makes reading cool.
Eyes In The Skies
Takes difficult, hot-topic concepts like 9/11 and terrorism on airplanes and creates an approachable, yet compelling and educational, read for all ages.
Game On!
Most boys love videogames. Few realize that they are not only fun, but they can lead to a fun career as well. Our feature captures the fun and excitement of gaming while perhaps setting a youth's sights on the future.
Trophy Trivia
Even short blurbs about sports trophies are critical building blocks in the education of a young or perhaps reluctant reader. Breaking up interesting stories into smaller bites helps get all levels of readers involved.
The Boy Who Hunted Grasshoppers
A sample of our historical fiction, written by award-winning Western writer Johnny D. Boggs.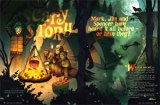 Scary Story
A sample of our modern-day fiction, which strives to put characters into everyday situations that any one of our readers could face.
Think & Grin
As long as a child is reading, he or she is learning — even when reading bad jokes!