Inside the August 2015 issue
Here's what you'll find inside the August 2015 issue of Boys' Life magazine. Remember, many articles are exclusive to the printed magazine and are not available online.
To subscribe to Boys' Life magazine, please visit http://scoutlife.org/subscribe.
On the August 2015 cover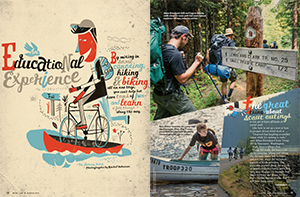 AN EDUCATIONAL EXPERIENCE
By mixing in some canoeing, hiking and biking all on one trip, you can't help but have tons of fun — and learn a few things too.
• Explore the Lewis and Clark route on an interactie map
• How to do a canoe-over-canoe rescue
---
This month's other features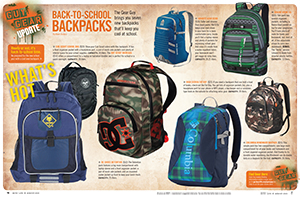 BACK-TO-SCHOOL BACKPACKS
The Gear Guy brings you seven new backpacks that'll keep you cool at school.
• School backpack and daypack buying guide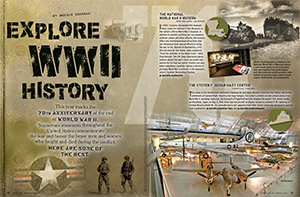 EXPLORE WWII HISTORY
Discover some of the best World War II museums around the country.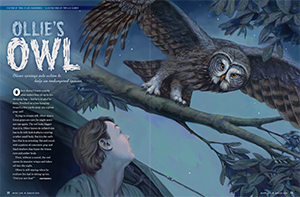 FICTION: OLLIE'S OWL
Oliver springs into action to help an endangered species.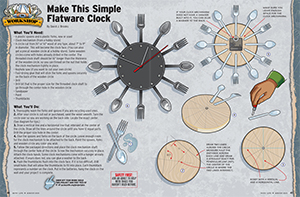 BL WORKSHOP: FLATWARE CLOCK
Use recycled forks and spoons to make this simple clock.
---
Only in our Boy Scout edition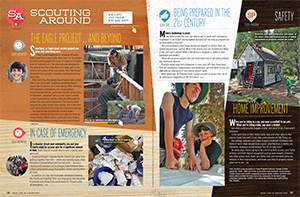 SCOUTING AROUND
Home Improvement: What could possibly go wrong around your own home? A lot, if you aren't prepared.
• Visit the Scouting Around blog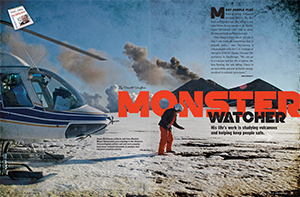 COOL JOBS: VOLCANOLOGIST
His life's work is studying volcanoes and helping keep people safe.
• Check out what it's like to be a volcanologist
• Video of some active volcanoes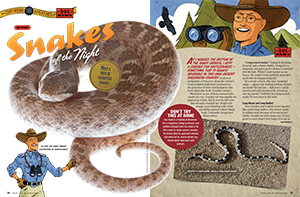 DOC HAWK: SNAKES OF THE NIGHT
Meet a trio of secretive snakes.
---
Only in our Cub Scout edition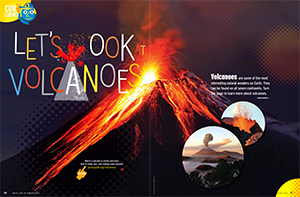 LET'S LOOK AT VOLCANOES
Read it! Color it! Get it all in this special Cub Scout section.
• Video of Pedro making a baking soda volcano
---
And more!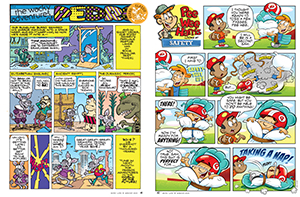 Look for the regular score of comics, jokes, games, Scouts in Action, Tradin' Post and more! Only in the August 2015 issue of Boys' Life!
• The Wacky Adventures of Pedro
• Pee Wee Harris
• Scouts in Action
• More S.I.A.
---
Inspire Leadership, Foster Values: Donate to Scouting
When you give to Scouting, you are making it possible for young people to have extraordinary opportunities that will allow them to embrace their true potential and become the remarkable individuals they are destined to be.
Donate Today