Inside the November 2015 issue
Here's what you'll find inside the November 2015 issue of Boys' Life magazine. Remember, many articles are exclusive to the printed magazine and are not available online.
To subscribe to Boys' Life magazine, please visit http://scoutlife.org/subscribe.
ON THE NOVEMBER 2015 COVER
Ones to Watch
Here are six NBA players (and a few on their way) who fans can get excited about.
• Can you identify NBA teams using partial logos?
---
THIS MONTH'S OTHER FEATURES
Practice Makes Perfect
At the Scout-O-Rama, you can learn lots of new Scout skills, while perfecting the old ones.
It's Playtime
Make the most of your free time. Here are some of the best ways to do it this season.
• 27 best toys of 2015
• Enter to win toys in BL's Playtime Giveaway
Bikes You'll Like
The Gear Guy gives you tips and tricks for buying your next bicycle — plus six hot bike picks.
BL Workshop: Key Folder
Keep your keys organized with this wooden folder.
• Step-by-step guide to making a wooden key folder
• Upload photos of your projects
---
ONLY IN OUR BOY SCOUT EDITION
Scouting Around
Code of Conduct: Whether you're outside in the middle of nowhere or in your own backyard, remember the BSA's Outdoor Code.
• Visit the Scouting Around blog
Cool Jobs: Astronomer
Meet an astronomer who works in the skies.
---
ONLY IN OUR CUB SCOUT EDITION
Let's Look at Pumpkins
Read it! Color it! Get it all in this special Cub Scout section.
---
AND MORE!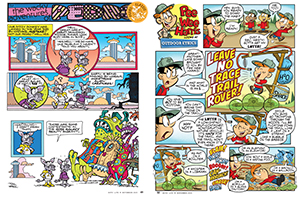 Look for the regular score of comics, jokes, games, Scouts in Action, Tradin' Post and more! Only in the November 2015 issue of Boys' Life!
• The Wacky Adventures of Pedro
• Pee Wee Harris
• Scouts in Action
• More S.I.A.
---
Inspire Leadership, Foster Values: Donate to Scouting
When you give to Scouting, you are making it possible for young people to have extraordinary opportunities that will allow them to embrace their true potential and become the remarkable individuals they are destined to be.
Donate Today