Inside the December 2015 issue
Here's what you'll find inside the December 2015 issue of Boys' Life magazine. Remember, many articles are exclusive to the printed magazine and are not available online.
To subscribe to Boys' Life magazine, please visit http://scoutlife.org/subscribe.
ON THE DECEMBER 2015 COVER
Top Dogs
Scouts ride and play with sled dogs at Wisconsin's Tomahawk Scout Reservation.
• Video: See what it's like to ride in a dog sled
---
THIS MONTH'S OTHER FEATURES
Fire It Up
Gear Guy picks 7 great camping stoves.
Eating on the Edge
Meet some microbes that (by human standards) live in the extreme.
Tips for the Trail … Cam
Get the scoop on buying and using a trail camera.
The Chase
FICTION: Elijah is out of his depth behind the controls of a boat, but his help is needed to catch the great beast. What now?
• Read "The Chase" by Todd Strasser
BL Workshop: Tangram Puzzle
Make a Chinese puzzle by cutting a square into seven shapes that can be recombined in many different figures.
• Step-by-step guide to making a tangram puzzle
---
ONLY IN OUR BOY SCOUT EDITION
Scouting Around
Stay Safe in the Snow: Before you go snowboarding or skiing, know your responsibilities.
• Visit the Scouting Around blog
Going Up!
Climbing a giant wall of ice is no problem with the right gear, the right level of fitness and the right state of mind.
Prepared For Life: Money Smarts
Saving and spending can be easy if you follow a few simple tips.
---
ONLY IN OUR CUB SCOUT EDITION
Let's Look at Snow
Read it! Color it! Get it all in this special Cub Scout section.
---
AND MORE!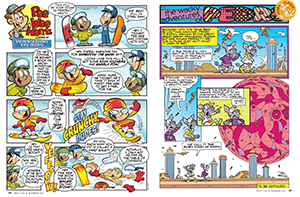 Look for the regular score of comics, jokes, games, Scouts in Action, Tradin' Post and more! Only in the December 2015 issue of Boys' Life!
• The Wacky Adventures of Pedro
• Pee Wee Harris
• Scouts in Action
• More S.I.A.
---
Inspire Leadership, Foster Values: Donate to Scouting
When you give to Scouting, you are making it possible for young people to have extraordinary opportunities that will allow them to embrace their true potential and become the remarkable individuals they are destined to be.
Donate Today