Inside the February 2016 issue
Here's what you'll find inside the February 2016 issue of Boys' Life magazine. Remember, many articles are exclusive to the printed magazine and are not available online.
To subscribe to Boys' Life magazine, please visit http://scoutlife.org/subscribe.
ON THE FEBRUARY 2016 COVER
Beyond the Backpacking
At Philmont's staffed backcountry camps, you don't just learn about history. You live it.
• Take an interactive tour of Philmont
---
THIS MONTH'S OTHER FEATURES
Electronic Armor
Gear Guy shows you 10 great ways to protect your electronics indoors and out.
• 10 great cases and covers for your electronics
Scuba on Ice
A couple of feet of ice and temps in the teens can't stop these Venturers from scuba diving.
• Video of the Venturers scuba diving under the ice
BL Workshop: Beanbag Toss Game
Build the classic lawn game, and then challenge your family or friends to a match.
• How to build a beanbag toss game
---
ONLY IN OUR BOY SCOUT EDITION
Scouting Around
Giving Something Back: The more you can do to go above and beyond to improve your community, the better you can do your duty as a citizen.
• Visit the Scouting Around blog
Cool Jobs: Foley Artist
Foley artists create the sounds that bring movies to life.
• Watch video of a foley artist in action
Cold School
With only some basic knowledge and inexpensive gear, you can have a safe, fun outdoors experience in even the coldest weather.
• How to go camping in the snow
---
ONLY IN OUR CUB SCOUT EDITION
Let's Look at Money
Read it! Color it! Get it all in this special Cub Scout section.
Frozen Fishing
Just because a lake is frozen, it doesn't mean there aren't fish to catch.
• Gallery of fun ice fishing photos
---
AND MORE!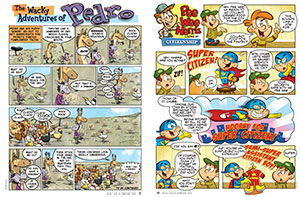 Look for the regular score of comics, jokes, games, Scouts in Action, Tradin' Post and more! Only in the February 2016 issue of Boys' Life!
• The Wacky Adventures of Pedro
• Pee Wee Harris
• Scouts in Action
• More S.I.A.
---
Inspire Leadership, Foster Values: Donate to Scouting
When you give to Scouting, you are making it possible for young people to have extraordinary opportunities that will allow them to embrace their true potential and become the remarkable individuals they are destined to be.
Donate Today