Inside the September 2016 issue
Here's what you'll find inside the September 2016 issue of Boys' Life magazine. Remember, many articles are only available to subscribers and are not available online.
To subscribe to the print or digital editions of Boys' Life magazine, please visit http://scoutlife.org/subscribe.
ON THE SEPTEMBER 2016 COVER
Inside Job
The Exploring program gives you a behind-the-scnes view of a career that could be right for you.
• Learn more about Exploring.
---
THIS MONTH'S OTHER FEATURES
Fire It Up
Rescuers get special training for fighting aircraft fires.
• Video of the aircraft firefighting training.
Traversing Glaciers
Venturers face tricky terrain and wacky weather on the Wind River mountains.
Amazing Animal Architects
Check out a few incredible natural artistic engineers.
Garbage: It's What's for Dinner
Combat food waste with these easy recipes.
BL Workshop: Twig Picture Frame
Build this picture frame with materials found around the house or yard.
How to Test Best
It's important to do your best on a test. Here's how to be ready for anything.
---
ONLY IN OUR BOY SCOUT EDITION
Scouting Around
Get the lowdown on managing your money.
• Visit the Scouting Around blog
Cool Jobs: Head Coach
NFL Coach Ron Rivera leads the Carolina Panthers to success.
Toughing it Out
A trek across a Kentucky mountain turns out to be an ideal hike despite less-than-ideal conditions.
---
ONLY IN OUR CUB SCOUT EDITION
Let's Look at Blimps
Read it! Color it! Get it all in this special Cub Scout section.
---
AND MORE!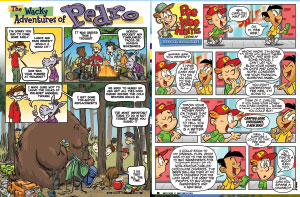 Look for the regular score of comics, jokes, games, Scouts in Action, Tradin' Post and more! Only in the September 2016 issue of Boys' Life!
• The Wacky Adventures of Pedro
• Pee Wee Harris
• Scouts in Action
• More S.I.A.
---
Inspire Leadership, Foster Values: Donate to Scouting
When you give to Scouting, you are making it possible for young people to have extraordinary opportunities that will allow them to embrace their true potential and become the remarkable individuals they are destined to be.
Donate Today