Inside the November 2016 issue
Here's what you'll find inside the November 2016 issue of Boys' Life magazine. Remember, many articles are only available to subscribers and are not available online.
Please visit Boyslife.org/subscribe to subscribe to the print or digital editions of Boys' Life magazine.
ON THE NOVEMBER 2016 COVER
Play On!
Here are some of the latest and greatest from the toy world.
• 24 of the Greatest Toys of 2016
• Win Toys in the Play On Giveaway
---
THIS MONTH'S OTHER FEATURES
Diving with Gentle Giants
Get trained, suit up and go swimming with one of the Earth's coolest creatures.
Gear Guy: In the Bag
Sleep better under the stars with the Gear Guy's tips for choosing the best sleeping bag.
Meet the Chief
Prepare yourselves as Pedro interviews BSA Chief Scout Executive Mike Surbaugh.
• Read Pedro's interview with the Chief
BL Workshop: USB Drive Case
Add a touch of nature to your USB drive with this DIY case.
---
ONLY IN OUR BOY SCOUT EDITION
Scouting Around
Food For Thought: When you go camping, there are a lot of things you have to leave at home. Good food doesn't have to be one of them.
• Visit the Scouting Around blog
The Road to the White House
From start to finish … the great race is on.
When Sharks Attack
Meet the keeper of the International Shark Attack File.
---
ONLY IN OUR CUB SCOUT EDITION
Let's Look at Presidents
Read it! Color it! Get it all in this special Cub Scout section.
---
AND MORE!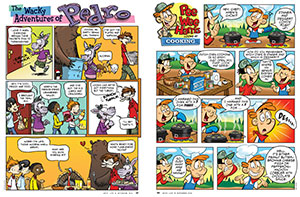 Look for the regular score of comics, jokes, games, Scouts in Action, Tradin' Post and more! Only in the November 2016 issue of Boys' Life!
• The Wacky Adventures of Pedro
• Pee Wee Harris
• Scouts in Action
• More S.I.A.
---
Inspire Leadership, Foster Values: Donate to Scouting
When you give to Scouting, you are making it possible for young people to have extraordinary opportunities that will allow them to embrace their true potential and become the remarkable individuals they are destined to be.
Donate Today