Inside the May 2017 issue
Here's what you'll find inside the May 2017 issue of Boys' Life magazine. Remember, many articles are only available to subscribers and are not available online.
Please visit Boyslife.org/subscribe to subscribe to the print or digital editions of Boys' Life magazine.
ON THE MAY 2017 COVER
Paddling Away
On a canoeing trek at Yellowstone National Park, Scouts leave civilization — and their comfort zones — behind.
• See images from the Yellowstone trek
---
THIS MONTH'S OTHER FEATURES
Gear Guy: Powered By the Sun
The Gear Guy shares advice for buying a solar-charging device and rechargeable gear.
Film School
At Warner Bros. Studios in California, Scouts learn making a movie isn't easy.
• Watch highlights of the Scouts' movies
BL Workshop: Rustic Concrete Candle Holder
A great Mother's Day gift idea!
---
ONLY IN OUR BOY SCOUT EDITION
Scouting Around
The Right Stroke: Swimming is not only a fun activity and a great way to cool off in the summer, but it can also boost your fitness and — in an aquatics emergency — save your life.
• Visit the Scouting Around blog
Prepared For Life: On Your Own
Whether you're off to college or moving into your own place for the first time, there's a lot more to being independent than having a great time.
• Pointers for starting out on your own
The Lighthouse Keepers
When a historic island is part of your community, you do what you can to give back.
---
ONLY IN OUR CUB SCOUT EDITION
Let's Look at Books
Read it! Color it! Get it all in this special Cub Scout section.
---
AND MORE!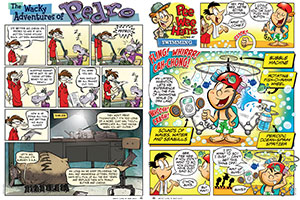 Look for the regular score of comics, jokes, games, Scouts in Action, Tradin' Post and more! Only in the May 2017 issue of Boys' Life!
• The Wacky Adventures of Pedro
• Pee Wee Harris
• Scouts in Action
• More S.I.A.
---
Inspire Leadership, Foster Values: Donate to Scouting
When you give to Scouting, you are making it possible for young people to have extraordinary opportunities that will allow them to embrace their true potential and become the remarkable individuals they are destined to be.
Donate Today