Scouts Visit Studios for Moviemaking Merit Badge Day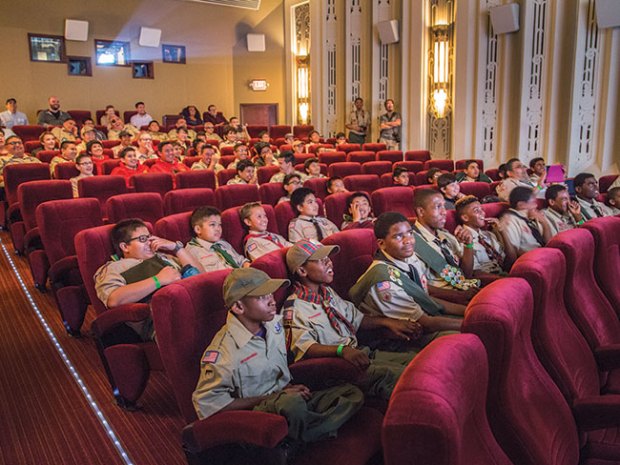 Cue dramatic music. Zoom in on the hero. Fade to black.
When the lights go up and the credits roll, everyone in the movie theater heads for the exit.
Everyone, that is, except guys like Joshua Choi.
Joshua, a 16-year-old Life Scout from Troop 351 of Downey, Calif., knows that hundreds — maybe thousands — of people worked on the movie he just saw. What took two hours to watch took years to create.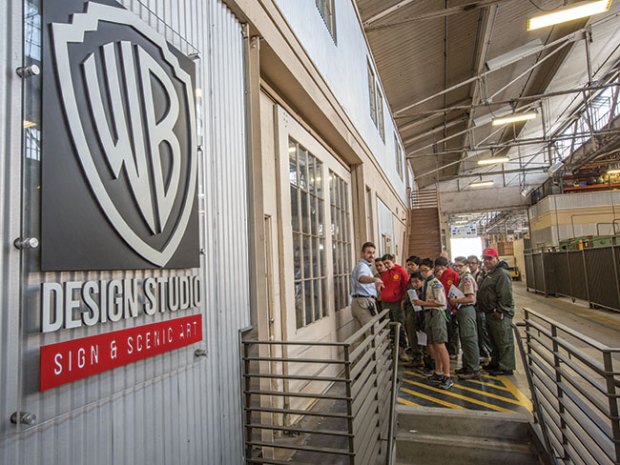 By staying for the credits, he reads cool-sounding job titles like stunt man, sound-effects editor, puppeteer, helicopter camera operator, cast chef and many more.
"It takes a crew of passionate people that can all work together as a team," he says.
Joshua would know. He has created a Hollywood movie.
He was one of 60 Scouts from the Los Angeles area who visited Warner Bros. Studios in California for Moviemaking Merit Badge Day.
On the Set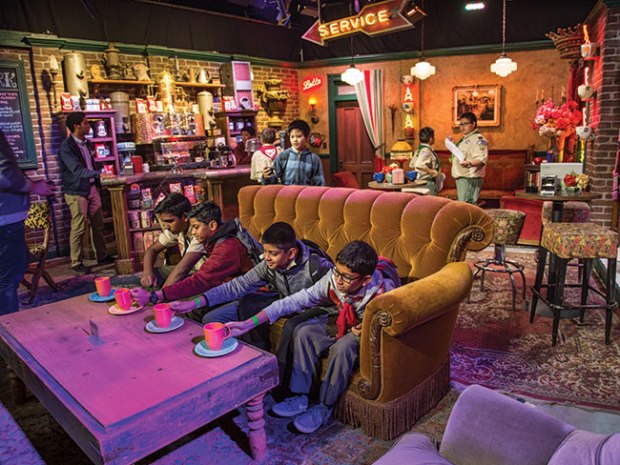 In the morning, the guys learned about jobs in the entertainment industry, met some real movie pros and toured the studio. They sat in the coffee shop from the set of 1990s sitcom Friends, examined props from the Harry Potter series and took selfies next to the Batmobile. They even heard from an actual cinematographer.
In the afternoon, the Scouts split into six groups to make short movies. The first step: writing the script.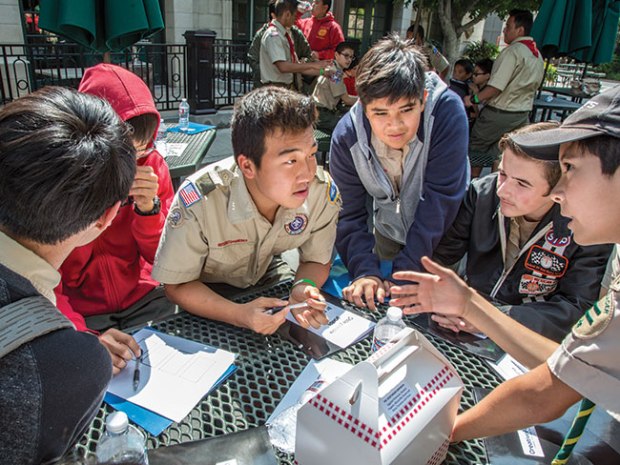 Joshua's movie featured a footrace between three people. The first and second racers placed traps along the course to try to slow each other down. But the third racer — who didn't use tricks — ended up winning.
Like all great movies, this one had a message: "Cheaters don't prosper," says Eric Huber, a 13-year-old Star Scout from Troop 351.
Ready for Action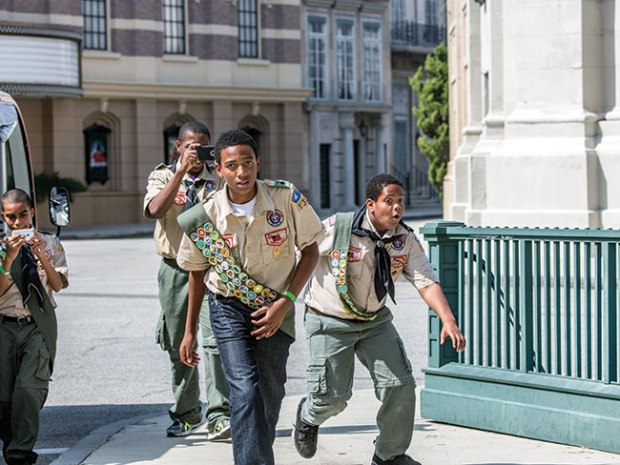 Next, the Scouts turned the script into a storyboard. That's a series of drawings — like panels in a comic book — that shows how the action will unfold. An actual storyboard artist from the International Alliance of Theatrical Stage Employees (IATSE) volunteered to teach the Scouts.
Then filming began. The Scouts used their smartphone cameras to shoot each scene from multiple angles. It was fun, but it took forever. When time ran out, the movies were only half finished.
"It is harder to make a movie than I thought," Joshua says. "This process made me appreciate the time and effort movie-makers put in to their masterpiece."
The Final Cut
The Scouts gave their raw footage to a professional editor from the group CreativeFuture, one of the day's sponsors. Then they gathered in a movie theater to watch the finished product on the big screen.
Oismi Rosales, a 15-year-old Life Scout from Troop 300 of South Gate, Calif., made a movie about an apocalyptic wasteland: A bad guy steals the main character's backpack and leads him on a chase through the city.
The finished movie was just 72 seconds long. It took hours to make.
"Movie-making is just not about grabbing a camera and making a cool story," Oismi says. "It takes good quality sound, story and editing."
Inspire Leadership, Foster Values: Donate to Scouting
When you give to Scouting, you are making it possible for young people to have extraordinary opportunities that will allow them to embrace their true potential and become the remarkable individuals they are destined to be.
Donate Today