Inside the August 2017 issue
Here's what you'll find inside the August 2017 issue of Boys' Life magazine. Remember, many articles are only available to subscribers and are not available online.
Please visit Boyslife.org/subscribe to subscribe to the print or digital editions of Boys' Life magazine.
AUGUST 2017 FEATURES
Beating the Heat
Triple-digit temps are perfectly manageable on a hot kayaking trip down the cool Colorado.
• Watch the Scouts paddle their homemade kayaks
Unusual Halls of Fame
Honoring toys, arcade games, the towing business and much more.
• Check out 6 unusual halls of fame across America
Gear Guy: Multipurpose Packs
Seven great daypacks that have you covered on the trail and in the classroom.
Fiction: Cosmo's Wild Ride
Will Cosmo and friends be able to turn off the Destabilizer before it destabilizes, well, everything?
BL Workshop: Make This Solar Viewer
View the Aug. 21 solar eclipse with this shoebox solar viewer.
• How to make a solar eclipse viewer
---
ONLY IN OUR BOY SCOUT EDITION
Scouting Around
Social Media Safety: Many of us carry our social media accounts with us everywhere we go. That means staying safe online is more important now than ever.
• Visit the Scouting Around blog
Mine Games
Discover a unique camping experience 650 feet underground.
More Buddy Than Buggy
These insects are more pal than pest.
---
ONLY IN OUR CUB SCOUT EDITION
Let's Look at Solar Eclipses
Read it! Color it! Get it all in this special Cub Scout section.
---
AND MORE!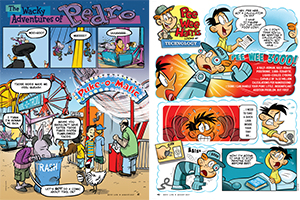 Look for the regular score of comics, jokes, games, Scouts in Action, Tradin' Post and more! Only in the August 2017 issue of Boys' Life!
• The Wacky Adventures of Pedro
• Pee Wee Harris
• Scouts in Action
• More S.I.A.
---
Inspire Leadership, Foster Values: Donate to Scouting
When you give to Scouting, you are making it possible for young people to have extraordinary opportunities that will allow them to embrace their true potential and become the remarkable individuals they are destined to be.
Donate Today