Inside the May 2018 issue
Here's what you'll find inside the May 2018 issue of Boys' Life magazine. Remember, many articles are only available to subscribers and are not available online.
Please visit Boyslife.org/subscribe to subscribe to the print or digital editions of Boys' Life magazine.
---
MAY 2018 FEATURES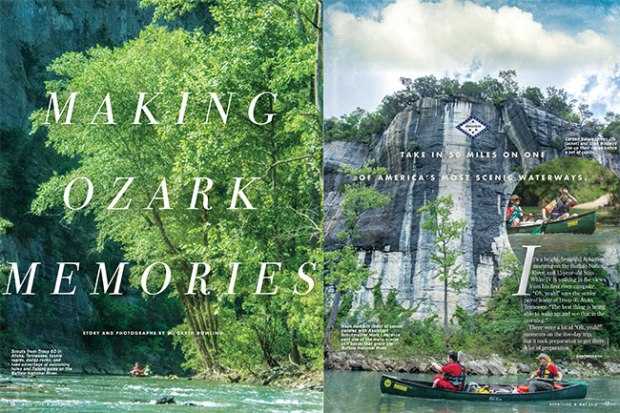 Making Ozark Memories
Take in 50 miles on one of America's scenic waterways.
---
Gear Guy: Up the Walls
Here's all the gear you need to get started rock climbing.
• How to buy rock climbing equipment
---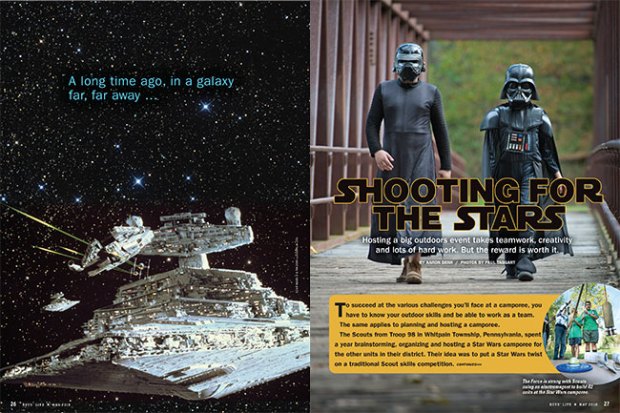 Shooting for the Stars
Hosting a big outdoors event takes teamwork, creativity and lots of hard work. But the reward is worth it.
• Photos from the Star Wars camporee
• 5 tips for planning a successful Scout event
---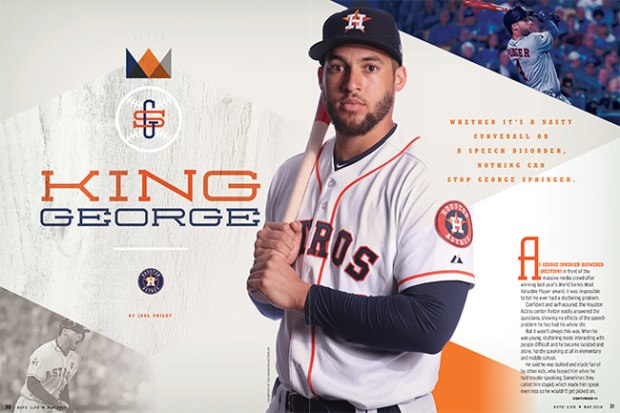 King George
Whether it's a nasty curveball or a speech disorder, nothing can stop George Springer.
---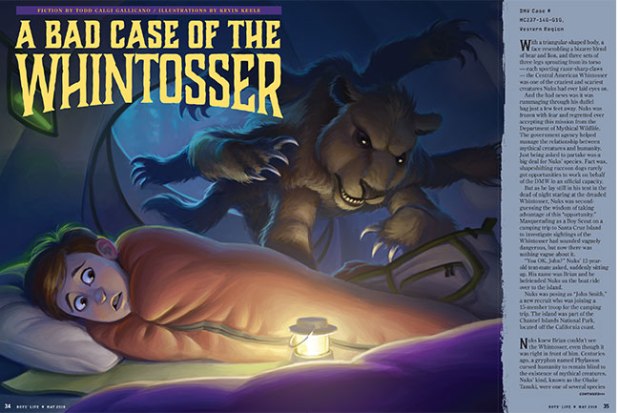 Fiction: A Bad Case of the Whintosser
Nuks was frozen with fear and regretted ever accepting this mission from the Department of Mythical Wildlife.
• Read the short story by Todd Calgi Gallicano
---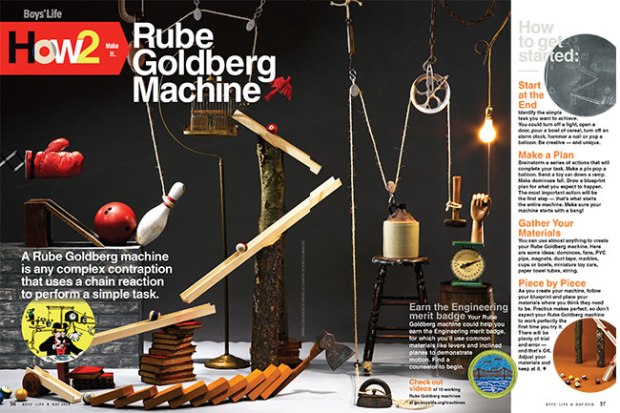 BL How To: Make a Rube Goldberg Machine
A Rube Goldberg machine is any complex contraption that uses a chain reaction to perform a simple task.
• How to make a Rube Goldberg machine
---
ONLY IN OUR BOY SCOUT EDITION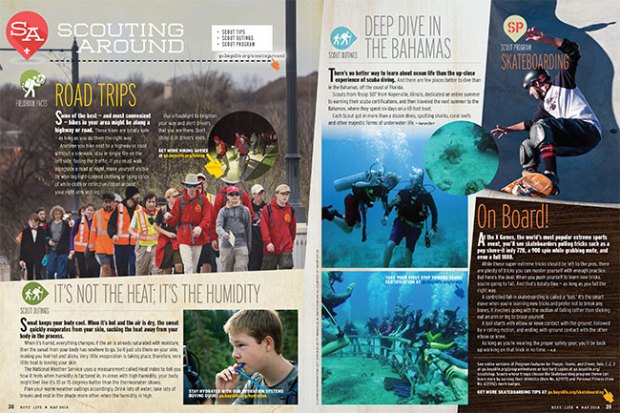 Scouting Around
On Board: There are plenty of moves you can master on a skateboard.
• Visit the Scouting Around blog
---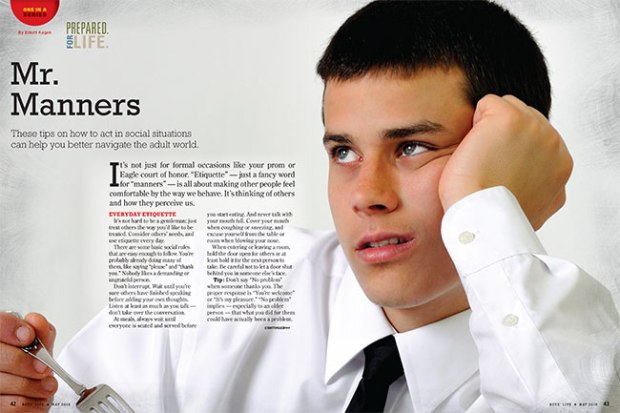 Prepared for Life: Etiquette
These tips on how to act in social situations can help you better navigate the adult world.
---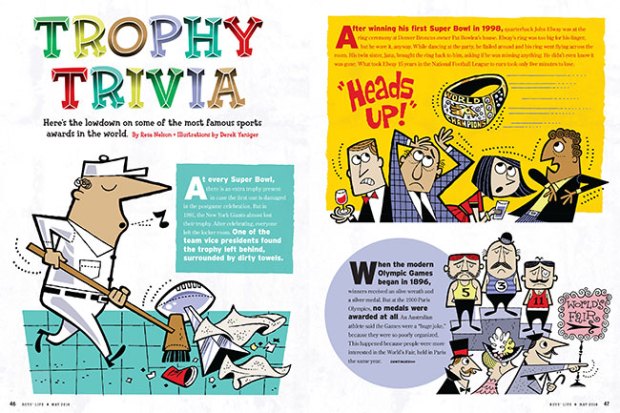 Trophy Trivia
Here's the lowdown on some of the most famous sports awards in the world.
---
ONLY IN OUR CUB SCOUT EDITION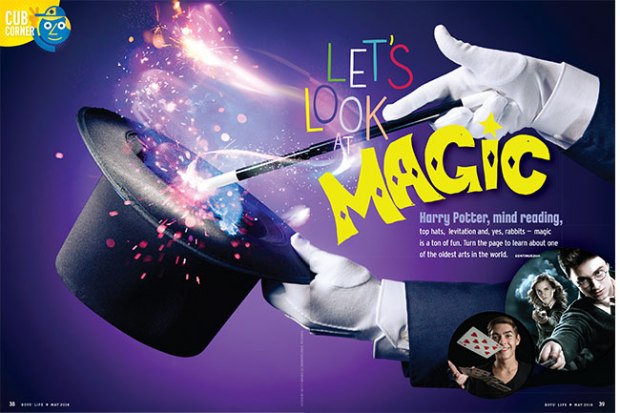 Let's Look at Magic
Read it! Color it! Get it all in this special Cub Scout section.
---
AND MORE!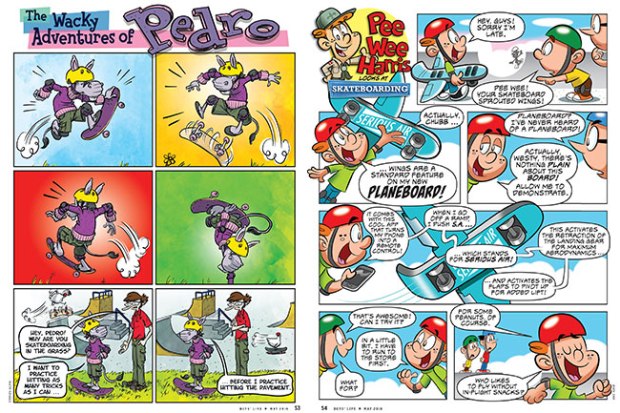 Look for the regular score of comics, jokes, games, Scouts in Action, Tradin' Post and more! Only in the May 2018 issue of Boys' Life!
• The Wacky Adventures of Pedro
• Pee Wee Harris
• Scouts in Action
• More S.I.A.
---
Inspire Leadership, Foster Values: Donate to Scouting
When you give to Scouting, you are making it possible for young people to have extraordinary opportunities that will allow them to embrace their true potential and become the remarkable individuals they are destined to be.
Donate Today