How to Buy Rock Climbing Gear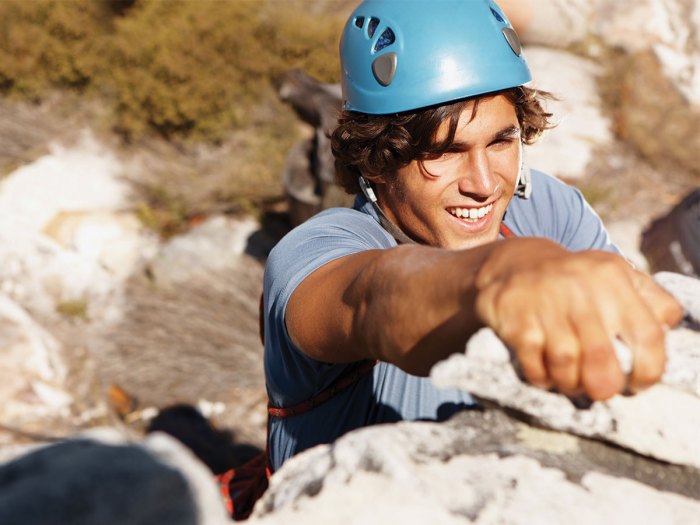 Whether you want to scale the walls at your local climbing gym, go bouldering or rope up outside, you'll want to know the basic and best gear you'll need. Talk with a qualified instructor who can help you decide what equipment is appropriate for your skill level.
THERE ARE DIFFERENT TYPES OF CLIMBING:
Bouldering involves practicing climbing moves close to the ground while not attached to a belay rope. Anyone bouldering should have two or three spotters in position, ready to break a person's fall and help prevent injury. You shouldn't be bouldering any higher than your shoulder's height.
Top-rope climbing is when a climber is secured to ropes anchored above them and throughout the climb. Belayers manage the ropes from the top or bottom of the climbing routes.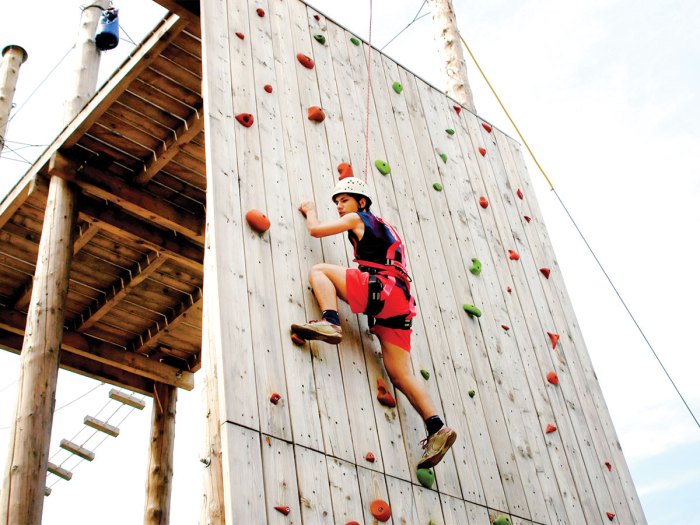 In lead climbing, the climber is secured to belay ropes below. During the ascent, the climber inserts artificial protection like cams, stoppers or other hardware into cracks in the rock, and then attaches the rope with carabiners or quickdraws (two carabiners connected with a piece of short, sturdy material).
Sport climbing: Climbing sport routes by clipping onto bolts demands additional safety gear. Your qualified instructor should supply what you need.
THE FIRST AND MOST BASIC GEAR FOR CLIMBING ARE SHOES
Athletic shoes and light hikers are fine for beginning climbers. But if you want more performance and control, you'll need climbing-specific shoes. There are several types, from tight-fitting sock-like climbing slippers, to flexible and super grippy friction shoes, to edging shoes, which provide performance with more comfort.
Climbing shoes should be tight but not painfully so. You might size down a size or two from your street shoe when picking a climbing shoe. They are also usually available for rent at climbing gyms and are sometimes provided for use at Scout camps.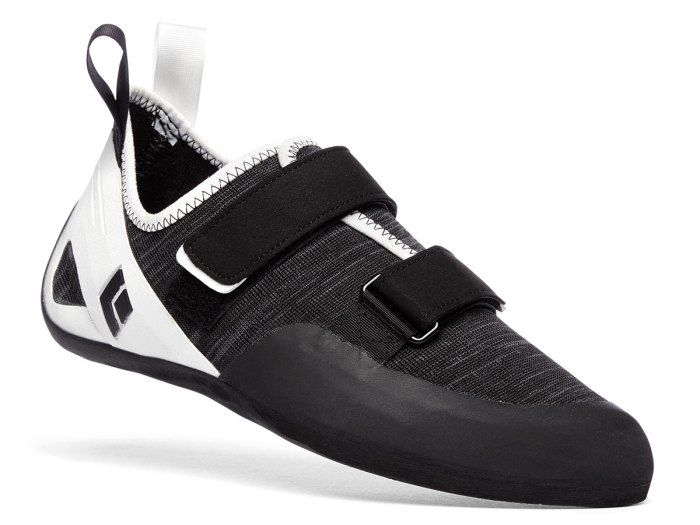 If you're just getting into this sport, you'll want all-around climbing shoes like Black Diamond Momentum Climbing Shoes ($100, blackdiamondequipment.com, 1 lb. 4 oz.). With a comfortable, flat-shape, sticky but durable outsole, stretchy uppers and hook-and-loop closure to easily put them on or take them off, these shoes should take you from the gym to easy, multipitch routes.
Another affordable all-around shoe is the Mad Rock Drifter ($59, madrock.com, 16 oz.). The medium stiffness, leather uppers, slightly asymmetrical shape, rubber outsoles and hook-and-loop closure strike a neat balance between comfort and performance on any surface.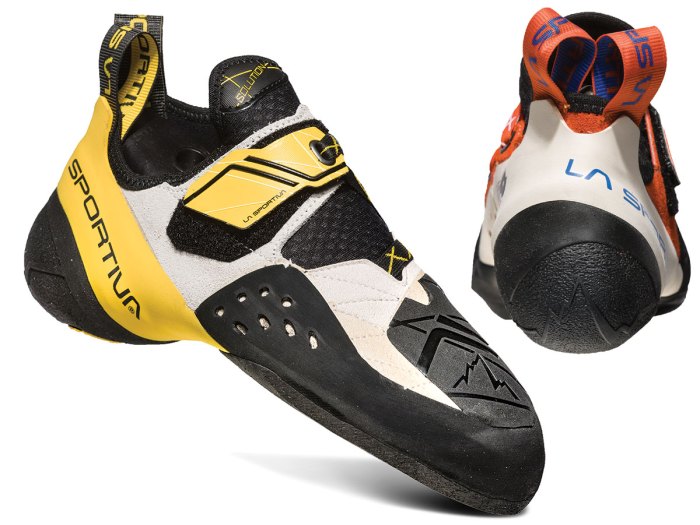 If you're interested in steep sport climbing outdoors or bouldering indoors, the La Sportiva Solution ($180, sportiva.com, 1 lb. 5 oz.) is a top performer. Its aggressively downturned toe, good sensitivity, sticky rubber and supportive platform help it stay securely in place on the tiniest footholds.
A HELMET IS MANDATORY GEAR FOR ANY OUTDOOR CLIMBING
A helmet is one of the most important pieces of climbing gear because it protects your head from hitting something as well as from falling rocks and gear. The climber, the belayer and anyone walking around the climbing area should be wearing one.
Wear only an approved climbing helmet; bicycle and football helmets aren't acceptable because they're not designed to protect you from falling objects.
If you're warm-natured or climbing somewhere hot, look for a light-colored helmet with plenty of ventilation. But most important, pick one that fits comfortably snug.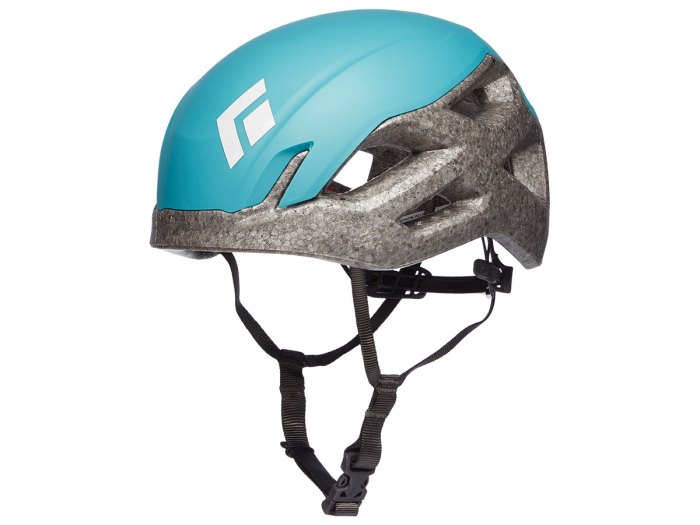 The Black Diamond Vision Helmet ($100, blackdiamondequipment.com, 7.5 oz.) delivers ultimate protection with comfort. The most durable foam helmet the company makes, the Vision provides superior side and back coverage while remaining very lightweight. Ventilation ports help you keep a cool head on warm days, and integrated headlamp clips are low profile.
WHEN TYING INTO A ROPE, YOU NEED — OF COURSE — A HARNESS
The harness is a belt system that fits around a climber's hips and legs and safely secures you to a climbing rope. A harness comfortably distributes your weight and allows you to easily attach yourself to the belay rope as you ascend. Always follow the manufacturer's recommendations on how to attach to the harness. The waist belt and loops distribute your weight in many directions for comfort and safety in the event of a fall.
Though it's possible to tie a seat harness from a single piece of webbing, a commercially made harness is more comfy. Pick a harness that is tight but not so much that it restricts your movement. When in doubt, choose the smaller size.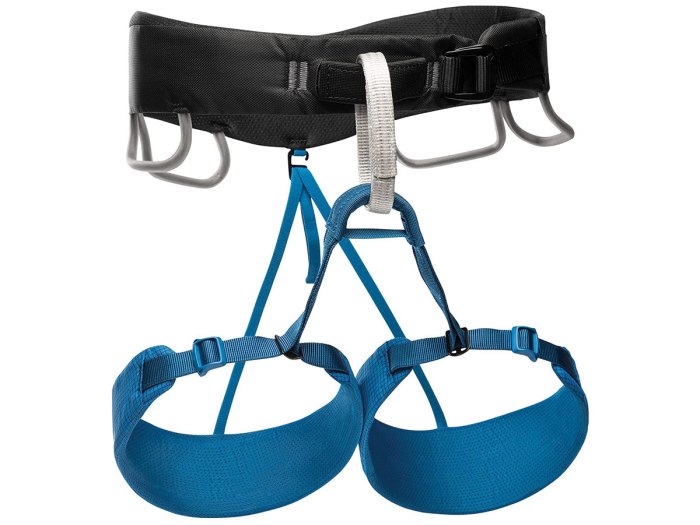 The Black Diamond Momentum ($70, blackdiamondequipment.com, 8.5 oz.) sports comfort, easily adjustable leg loops, a pre-threaded waistbelt buckle for safety and a pair of gear loops. Plus, the adjustability range ensures it'll be used until the time comes to replace it.
MORE GEAR YOU CAN GET
• CHALK BAG: Climbing chalk helps your hands get a better grip by keeping them dry. The bag holding this chalk can be attached around your waist.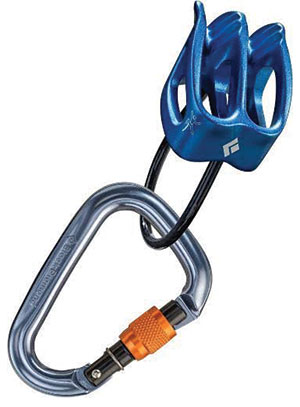 • BELAY AND RAPPEL DEVICE: These devices serve as brakes to help the belayer or rappeler apply friction to the climbing rope.
If you want to get a belay-rappel device, those come in a variety of designs. The Black Diamond ATC-XP Belay/Rappel Device ($22, blackdiamondequipment.com, 2.3 oz.) is a traditional tube-style device with ridged grooves that create high friction on a rope, for stopping a falling leader or rappelling confidently using a rope with a diameter from 7.7 to 11mm. It's not auto-locking, but it's a popular piece of gear for teaching a valuable skill.
The Black Diamond Big Air XP Package ($33, blackdiamondequipment.com, 4.7 oz.) includes the ATC-XP belay-rappel device and a BD screwgate locking carabiner.
• CARABINER: A ring with a spring-loaded gate used to connect pieces of climbing equipment and secure rope. Be careful when shopping, as some look-alike carabiners are not designed for climbing.
• QUICKDRAW: A quickdraw attaches your rope to a protective piece on the rock, like a bolt or stopper. Quickdraws are designed to easily attach to a bolt and clip a rope in seconds — something climbers appreciate when dangling from a tricky handhold.
• CRASH PAD: This adds protection in case you fall while bouldering. You shouldn't be bouldering any higher than your shoulder's height.
• CLIMBING ROPES: The rope helps you climb or descend safely. Dynamic ropes are designed to stretch in case of a fall, while static ropes don't stretch as much and are better suited for rappelling.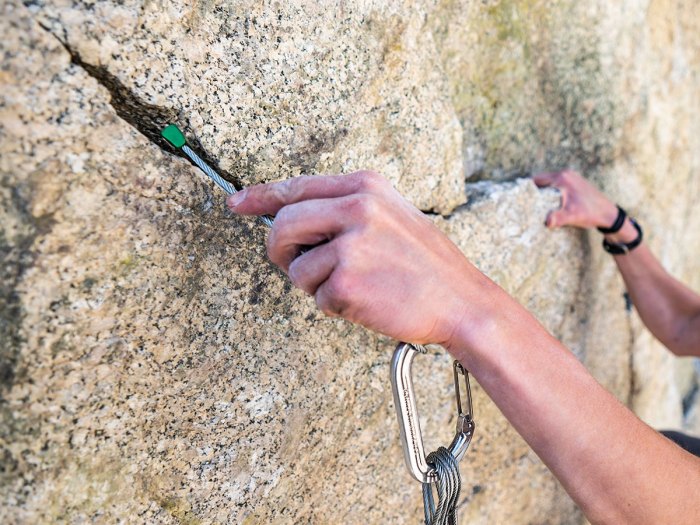 • STOPPERS: Also called "nuts," these can be placed in a crack of a rock to serve as a temporary anchor.
• CAMS: Like a stopper, this anchoring device can fit into a crack. You pull a trigger and release it to fit the cam into a crack.
CLIMBING SAFELY
Before you go climbing, check the safety rules in the BSA Climb On Safely and Belay On guides. Climbing using ropes and bouldering (climbing a few feet above the ground without a rope) is an appropriate activity for all Scouts; however, some techniques, like belaying, which involves rope work to prevent a climber from falling far, should be done only by older Scouts.
For any climbing activity, make sure to have qualified adult supervision, at least two qualified instructors, an established safe area to climb and the proper equipment. Everyone should be physically fit and mentally ready for the climb.
Visit go.scoutlife.org/climbsafely for more info.
Inspire Leadership, Foster Values: Donate to Scouting
When you give to Scouting, you are making it possible for young people to have extraordinary opportunities that will allow them to embrace their true potential and become the remarkable individuals they are destined to be.
Donate Today