Inside the December 2011 issue
Here's what you'll find inside the December 2011 issue of Boys' Life magazine. Remember, many articles are exclusive to the printed magazine and are not available online.
To subscribe to Boys' Life magazine, please visit http://scoutlife.org/subscribe.
On the December cover
CHRISTMAS GIFTS
FICTION. His folks gone, Matt heads west to live with relatives, hoping to make the best of a sad situation. But who knew this would happen?
---
This month's other features
COVERING 100 YEARS!
Celebrating our past, one colorful month at a time.
• Vote for your favorite December cover
WINTER GAMES
Idaho Scouts stand up to chilly, wet conditions and thrive at their winter survival camp.
• How to build a safe, dependable igloo
• Gear checklist for a cold-weather outing
BL WORKSHOP
To close out our 100th birthday year, here's a peek at projects past.
• Visit the BL Workshop for project plans
---
Only in our Boy Scout edition
SCOUTING AROUND
Model making, the art of creating smaller or larger copies of actual objects, isn't just a fun hobby. It's also a skill used in industries like film and architecture.
• Visit the Scouting Around blog
A WINTER LUAU
New York Scouts discover the secret ingredient to make their annual Klondike derby different.
• The winning Spam recipe plus Spam haikus
MONEY SMARTS
Saving and spending can be easy if you follow a few simple tips.
---
Only in our Cub Scout edition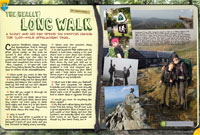 THE (REALLY) LONG WALK
A Scout and his dad spend six months hiking the 2,100-mile Appalachian Trail.
• Listen to portions of BL's interview with Cameron Pendleton
LET'S LOOK AT BACKYARD ANIMALS
Read it! Color it! Get it all in this special Cub Scout section.
• Can you identify these animal tracks?
---
Links
Click here to see all the links featured in the December issue of Boys' Life!
---
And more!
Look for the regular score of comics, jokes, games, Scouts in Action, Tradin' Post and more! Only in the December issue of Boys' Life!
• The Wacky Adventures of Pedro
• Pee Wee Harris Looks at Hobbies
Inspire Leadership, Foster Values: Donate to Scouting
When you give to Scouting, you are making it possible for young people to have extraordinary opportunities that will allow them to embrace their true potential and become the remarkable individuals they are destined to be.
Donate Today