Inside the April 2013 issue
Here's what you'll find inside the April 2013 issue of Boys' Life magazine. Remember, many articles are exclusive to the printed magazine and are not available online.
To subscribe to Boys' Life magazine, please visit http://scoutlife.org/subscribe.
On the April 2013 cover
SECRETS TO BETTER FISHING
We asked pro angler Tom Redington how he lands prizewinning fish — and how you can, too.
• BL ultimate online guide to fishing fun
• Can you match each fish to its face?
• How-to videos with a professional angler
---
This month's other features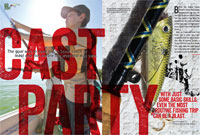 CAST PARTY
With just some basic skills, even the most routine fishing trip can be a blast.
GET GEARED UP FOR THE JAMBOREE!
Headed for the Summit Bechtel Reserve this summer? Here's what you'll need to pack and what you'll find there waiting for you.
BL WORKSHOP: MAKE A BASEBALL BAT NAMEPLATE
That old wooden bat can still be a hit as a nameplate.
---
Only in our Boy Scout edition
SCOUTING AROUND
Leaders are those who stick to their principles and try to do the right thing no matter what everyone around them is doing.
• Visit the Scouting Around blog
LIVING OFF THE LAND
Iowa Scouts learn that most of what they need to survive is already there in the environment around them.
BAY DAY
Alabama Scouts find plenty of fish and plenty of fun in the waters of Mobile Bay.
BUFFALO SMOKE
FICTION. Surrounded by the smoke and flames of a huge wildfire, a teen firefighter struggles to find his way out.
---
Only in our Cub Scout edition
LET'S LOOK AT RECYCLING
Read it! Color it! Get it all in this special Cub Scout section.
---
Links
Click here to see all the links featured in the April 2013 issue of Boys' Life!
---
And more!
Look for the regular score of comics, jokes, games, Scouts in Action, Tradin' Post and more! Only in the April issue of Boys' Life!
• The Wacky Adventures of Pedro
• Pee Wee Harris Looks at Leadership
Inspire Leadership, Foster Values: Donate to Scouting
When you give to Scouting, you are making it possible for young people to have extraordinary opportunities that will allow them to embrace their true potential and become the remarkable individuals they are destined to be.
Donate Today