How to Buy the Right Tent for Your Next Adventure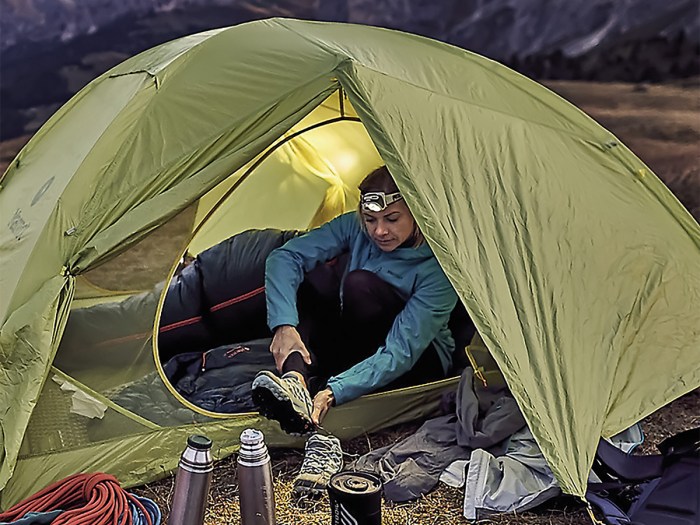 You can sleep under the stars, slip into a bivvy sack or hang a tarp, but if you want a more substantial shelter, get a tent. What kind of tent should you get? Here are come variables and features to consider so you can choose the right tent for your trip.
WHEN CHOOSING A TENT FOR CAR CAMPING, HERE'S WHAT TO CONSIDER:
• CLIMATE. What kind of weather will you be camping in? Four-season tents are designed to withstand strong winds and loads of snow. If you'll be in milder climates, a three-season tent will do the job.
• SPACE. How many people will share the tent? How much personal space do you all want? Tents can accommodate one, two, three or four sleepers — keep in mind that this label doesn't consider backpacks or extra gear. It's helpful to check out the tent at the store before you buy. Ask a salesperson if you can set it up so you can crawl inside and see how much room you'll have.
Want some headroom? A dome tent might be best because of its design. Think about the ease of moving around, entering and exiting, but also the need to balance a tent's living space against the following factors.
• WEIGHT. Look especially at a tent's packed size, considering how much other gear you have to pack. Need something lightweight? Seek out tents specifically
designed for backpacking (see below).
• EASE OF SETUP. Larger tents usually require more time and effort to pitch and take down, which can feel tedious in nice weather and miserable in rain. Think about your tolerance for that versus your desire for more space.
• STABILITY. Tall tents with vertical walls are much more vulnerable to damage from strong winds. Those tents are best for calm weather and campgrounds protected from the wind. Low-profile models with angled walls and guylines are best for all weather. Want a tent that's sturdy and simple to set up? Look at A-frames.
• RAIN. Some car-camping tents have a rainfly that doesn't extend to the ground, which is fine for fair-weather camping. Get a full-coverage rainfly for camping in mixed weather; those tents usually have better stability in wind.
WHEN GETTING A TENT FOR BACKPACKING, YOU'LL WANT TO THINK ABOUT:
• WEIGHT. Pack weight matters and your tent is one of your heaviest pieces of gear, but it also has the most potential for reducing the total weight you have to carry. Many two-person tents weigh less than 4 pounds, and some are less than 2 pounds. Trade-offs for lower weight often include a higher price and less living space and durability.
• SPACE. The interior and vestibule space, peak height, number of doors, and details like vents and pockets all affect your experience. For example, two doors offer more convenience and ventilation than one.
• STABILITY. For backpacking (or car camping) in windy places, look for a more elaborate, sturdier pole architecture and a low-profile, aerodynamic shape.
• SETUP. Freestanding tents are usually easier and faster to pitch and dismantle than non-freestanding. That's convenient, especially when setting up in the rain. But non-freestanding tents are often lighter and just as sturdy when pitched and staked properly. Tip: The best way to slash tent weight is to get a tent that pitches using trekking poles.
Inspire Leadership, Foster Values: Donate to Scouting
When you give to Scouting, you are making it possible for young people to have extraordinary opportunities that will allow them to embrace their true potential and become the remarkable individuals they are destined to be.
Donate Today