Venturing's Epic 20th Birthday Party at the Summit Bechtel Reserve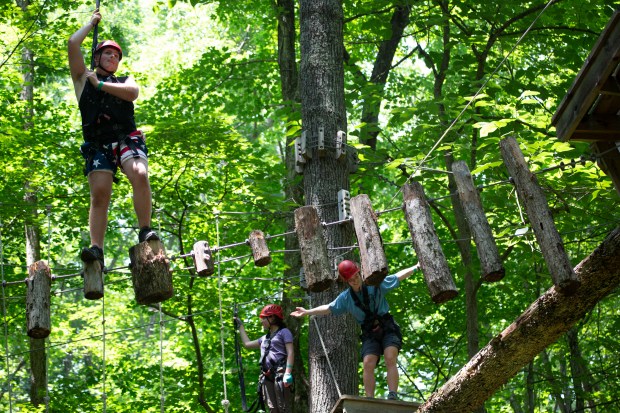 They tell you to trust your harness. To remember your safety lessons. That you're not going to fall.
Solid advice, but it goes fluttering away when you're 40 feet in the air standing on a metal wire as thin as your pinkie.
"I'm so terrified of heights," says Larissa Johnson, a 16-year-old Venturer from Crew 514 of Lawrenceville, Georgia.
Larissa is making her way through the Summit Bechtel Reserve's high ropes course. She must walk from treetop to treetop, conquering a series of obstacles along the way. In one direction, she'll step across a row of vertical logs suspended in midair.
In another, she'll cross a rope net like a spider.
Brenna Emery watches the whole thing. The staff member, whose yellow helmet makes her easy to spot, reminds Larissa that she's protected by two strong straps attached to her harness. It's scary, but it's safe.
"You've just got to trust the system and know that it works," Brenna tells Larissa. "You're not going to fall."
Larissa completes the course. Her confidence buoyed, she's ready to go again the instant she's back on solid ground.
"I was thinking, 'Physically, I can't do this. I'm not strong enough,' " Larissa says. "But I did. I did it."
Moments like these are why guys and girls join Venturing. Not to impress others but to prove something to themselves.
It's why Larissa and 1,800 other Venturers gathered for Venturing-Fest, last summer's weeklong celebration of the program's 20th birthday. They were there to share ideas, meet new friends and conquer this giant Scouting playground in West Virginia.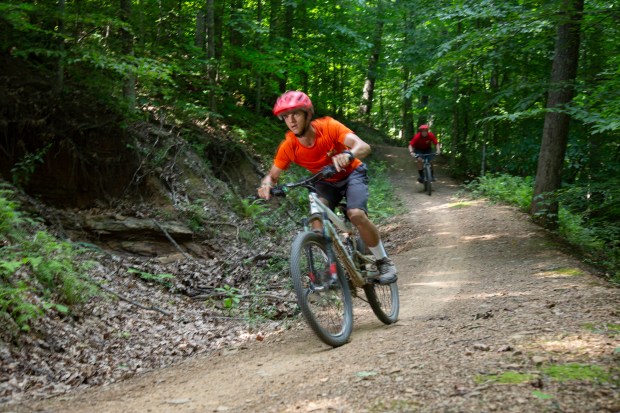 Something for Everyone
Name an outdoor activity you enjoy, and it's likely SBR offers the best possible version of that activity.
"You can do almost anything you can do at a regular camp, but it's better," says Lucas Cornelius, a 19-year-old from Crew 55 of Winston-Salem, North Carolina.
Are you into mountain biking? Try 40 miles of trails that twist and turn like a roller coaster. Rock climbing? Enjoy one of the largest manmade outdoor facilities in the nation. Zip lining? Soar down a zip line more than half a mile long. And don't forget the world-class venues for whitewater rafting, skateboarding and BMX biking.
"Do not take it for granted," says Mason Jones, 18, of Crew 62 from Spring, Texas. "Do something that thrills you. Do something that makes your life exciting."
'You've Got This'
A climbing wall can be a lonely place. That's why it helps to have friends on the ground cheering you on.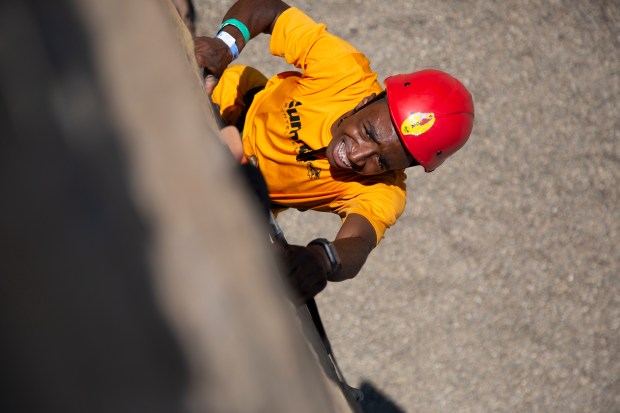 Lauren Gogal is attempting a climbing route called "The Butterfly Patch." Do not be deceived by the name, which might make you think of frolicking in a field of flowers.
The 14-year-old from Crew 91 of Gainesville, Virginia, has tried this route about a dozen times already. Each time, at around the same spot, she loses her grip and falls.
A few of Lauren's crewmates have gathered to watch her latest attempt.
"You've got this, Lauren!" one of them yells.
Lauren doesn't respond — at least, not with words. She just exhales deeply and reaches for the next handhold. Then the next. Her legs propel her upward. Moments later, she triumphantly slaps the top of the wall.
"It does help," Lauren says of the encouragement. "They were saying, 'You got it,' 'Come on.' I feel accomplished."
A Second Home
For Crew 300 of Wasilla, Alaska, just being at VenturingFest is an accomplishment.
Most other crews drove to SBR, but the Alaskans took a 3,200-mile journey that required two flights and eight hours in the air.
But in this new place, four time zones from Alaska, Crew 300 feels right at home.
"The people are really nice," says Maddie Barlow, 15. "We'll walk around, and they'll just say 'hi' to you."
That's what it's like in Venturing. Your green shirt creates an instant connection.
Soon you realize all Venturing crews deal with the same basic challenges. They want to improve crew meetings, recruit other Venturers and plan better trips.
You learn that everyone comes to SBR for the same basic reasons, too: They want to stretch their limits, try new things and meet people they'd never otherwise meet.
"Just being surrounded by all these other Scouts who are in the same shoes as you — looking for an adventure that they can't grab back home," says William Burns, a 20-year-old from Crew 503 of Dacula, Ga.
"Everyone's on the same level."
Finding the Right High Adventure Base for Your Trek
The Summit Bechtel Reserve is just one of the BSA's four national high-adventure bases. Exciting outdoor adventures await at each one. Here are the other three:
Florida National High Adventure Sea Base features aquatics programs, including deep-sea fishing, sailing, scuba diving and trips to the Florida Keys, Bahamas and U.S. Virgin 

Islands. 

Philmont Scout Ranch in New Mexico offers legendary backpacking treks to themed backcountry camps, horseback riding excursions, a winter experience and a variety of 

training programs. 

Northern Tier National High Adventure Program serves up epic lake-hopping canoe treks and winter camping experiences from its bases in northern 

Minnesota and Canada. 
Love stories like this? We've got exclusive stories just for subscribers. Get a year's worth of the best and funniest and most interesting things you need to know for $12.
Inspire Leadership, Foster Values: Donate to Scouting
When you give to Scouting, you are making it possible for young people to have extraordinary opportunities that will allow them to embrace their true potential and become the remarkable individuals they are destined to be.
Donate Today