How to Buy a Great Headlamp or Flashlight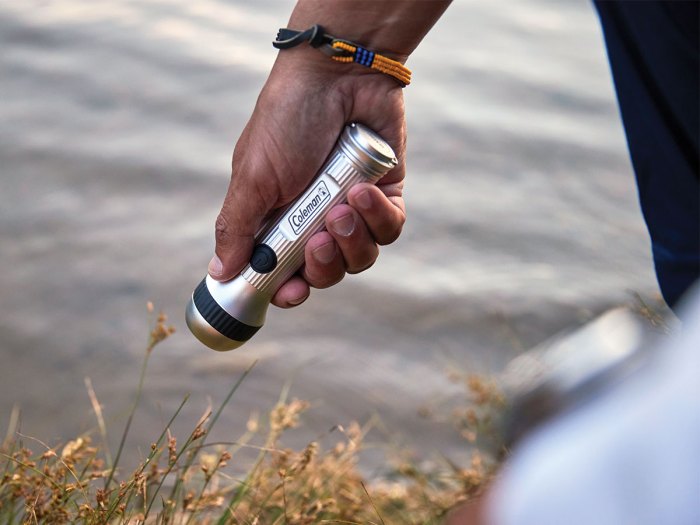 Whether you're spelunking, digging through your pack at night or walking around camp after sundown, you need a good light. It's one of the Scout Basic Essentials for outdoor adventures. A flashlight or headlamp can help keep you safe while exploring in the dark, serve as an emergency signal or provide a little illumination on a good book before bed.
Let's shine some light on which headlamp or flashlight to consider before buying.
THE BASICS
Think about how you will use your light. Will you be taking it on a backpacking trek? Look for something lightweight. Do you want your hands free? Consider a headlamp or flashlight with a clip so you can attach it to the brim of your cap. Would you like different amounts of light? Shop for something with variable settings, including a red-light option, which is easier on everyone's eyes at night.
DURABILITY
Hard plastic should be tough enough if you accidentally drop your light. But some are made with aluminum or super-tough polyethylene plastic. Stronger materials should protect your light from the hardest impacts.
When you're buying a light, ask yourself: Over a few camping trips will it be able to hold up to wear and tear?
It's also best to pick a model with a push-button switch because lights with sliding buttons can accidentally be turned on in your pack, killing the batteries or bulb — and leaving you with no light.
BRIGHTNESS
Think about what you'll be using your light for. If you just want a light to read by in camp, consider a small flashlight or tiny lantern with LED lights. If you need it for hiking or mountain biking, a bright headlamp with a halogen or Xenon bulb might be a better choice.
Brightness is measured in lumens. What's a lumen? A lumen is the total amount of light emitted from a flashlight or headlamp. In general, the more lumens, the brighter the light will be. Some handheld flashlights reach levels up to 12,000 lumens — strong enough to shine on something more than half a mile away. You won't need anything that powerful; a light producing a couple hundred lumens provides more than enough illumination.
Always be aware of where you point your light. Shining a beam into someone's eyes can disrupt their night vision for up to 30 minutes.
BATTERIES
Technology has advanced beyond disposable batteries. One popular alternative is rechargeable batteries, often using a USB cord. Other lights use solar cells or magnets. Most lights, though, still operate on AA or AAA batteries but can stay on for hours, even on the brightest setting.
PRICE
Your budget will determine what you can get. More expensive lights generally have more features, but a simple flashlight for a few dollars might be a great choice. Remember that cheap lights usually are not durable and won't last long.
SIZE AND WEIGHT
If you mainly keep the light in your pack for emergencies or for getting around camp at night, get a smaller light. Some of the newer, more expensive small lights can pack as much power as the older big ones.
Inspire Leadership, Foster Values: Donate to Scouting
When you give to Scouting, you are making it possible for young people to have extraordinary opportunities that will allow them to embrace their true potential and become the remarkable individuals they are destined to be.
Donate Today