How to replace a skateboard's grip tape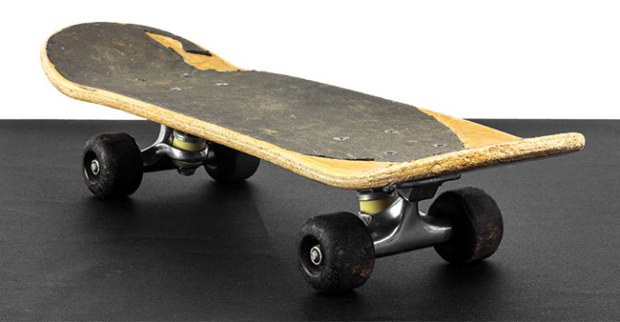 Q. Help, Gear Guy! The grip tape on my skateboard is starting to fall off. How do I remove it?
— Loosey Goosey, Willoughby, Ohio
A. It might seem like a tough job, but it's actually pretty easy.
First, remove the trucks from your deck. Then get a hair dryer and a hobby knife. Use the hair dryer to heat the grip tape on the tail or nose of your board. This will loosen the adhesive enough for you to slide the knife under the edge of the tape. Carefully work the blade around the edge of the board, using the hair dryer as needed to reheat it.
Once you've peeled up all the edges, crank up the hair dryer again and heat up the entire surface of the board for two or three minutes. Now put one foot on the deck and slowly pull up the tape, starting at one end. If you're lucky, it'll all peel off in one big chunk.
Use the blade to scrape off any leftover tape. Your board will be really sticky, but that doesn't matter because you're just going to be putting a new piece of grip tape on top.
---
Ask the Gear Guy
Not sure which gear to buy? Need tips for maintaining your equipment?
Click here to send in your questions for the Gear Guy
. Selected questions will be answered here and in the printed magazine.
---
Inspire Leadership, Foster Values: Donate to Scouting
When you give to Scouting, you are making it possible for young people to have extraordinary opportunities that will allow them to embrace their true potential and become the remarkable individuals they are destined to be.
Donate Today