How can I keep ticks away?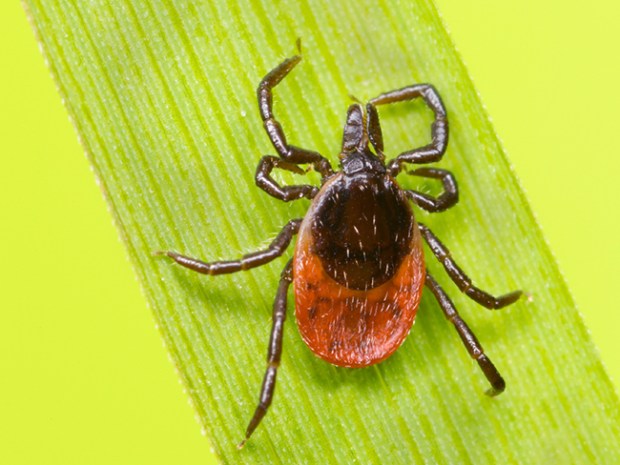 Q. How can I keep ticks away? I love to go hiking, but every time I go outside, I always get attacked by ticks! What can I do?
— Ticked-Off Nicolas, Nevada, Iowa
A. I feel your pain. Not only are ticks annoying, their bites are itchy and sometimes can even cause some pretty nasty illnesses like Lyme disease and Rocky Mountain spotted fever.
First off, try to stay in the middle of well-established trails. Ticks like to climb up your legs, so as soon as you go walking through tall grasses or bushwhacking through the brush, you're bound to get some ticks hitching a ride.
One way to deter those ticks is to wear long socks tucked into long pants and a long shirt and use bug repellent with 10- to 30-percent concentration of DEET. Also, you can try clothing pretreated with a repellent called permethrin, like Insect Shield (insectshield.com), or treat clothes yourself with a permethrin spray from ScoutStuff.org.
Then once you're home, take a shower and do a full tick check. Be sure to wash your clothes and dry them in the dryer — the high heat will kill any remaining ticks.
NOTE: Ten percent DEET provides protection for about two hours; 30 percent protects for about five hours. Choose the lowest concentration that will provide the required length of coverage. Wash off insect repellent once you return indoors. DEET is a strong eye irritant and can even melt some plastics and damage some fabrics. Picaridin is safer but doesn't last as long. Reapply it every hour.
---
Ask the Gear Guy
Not sure which gear to buy? Need tips for maintaining your equipment?
Click here to send in your questions for the Gear Guy
. Selected questions will be answered here and in the printed magazine.
---
Inspire Leadership, Foster Values: Donate to Scouting
When you give to Scouting, you are making it possible for young people to have extraordinary opportunities that will allow them to embrace their true potential and become the remarkable individuals they are destined to be.
Donate Today