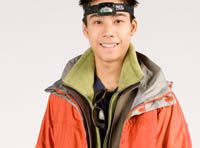 How can I find a good winter jacket for hiking at a good best price?
Chilly Billy, Pipersville, Pa.
Well, Chilly, the short answer is there isn't one best jacket that does it all. Buy a layering system. That way you can bundle up when it's cold and rainy, then peel off the layers when the sun comes out or when you're hiking really hard.
Start with a fleece vest for warmth. This should fit snug; wear it over your long underwear top.
Next, you'll want a softshell jacket. Softshells are made of stretchy nylon that's windproof and water-resistant. It'll get you through 90 percent of weather conditions – everything except a full-on downpour.
For that, you'll want to throw on your third layer: a waterproof outershell jacket like the Marmot PreCip . A poncho from www.scoutlife.org/links/scoutstuff would work, too (and be cheaper), but many jackets are breathable so you won't get sticky and sweaty.
---
Ask the Gear Guy
Not sure which gear to buy? Need tips for maintaining your equipment?
Click here to send in your questions for the Gear Guy
. Selected questions will be answered here and in the printed magazine.
---
Inspire Leadership, Foster Values: Donate to Scouting
When you give to Scouting, you are making it possible for young people to have extraordinary opportunities that will allow them to embrace their true potential and become the remarkable individuals they are destined to be.
Donate Today