How to Wash a Smelly Camp Pillow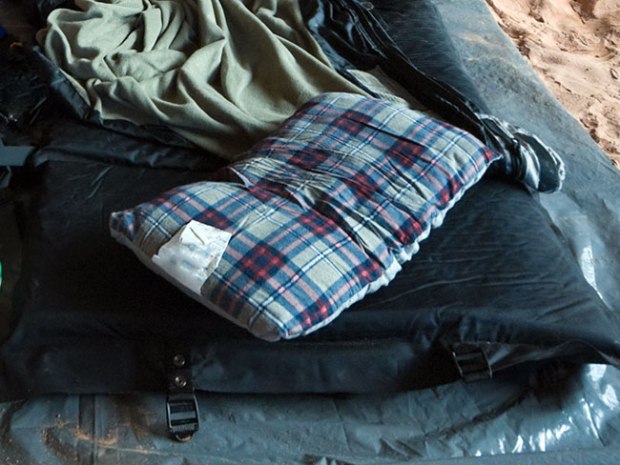 Q. My camping pillow is always getting smelly and gunky on campouts, but when I wash it, the material inside lumps up and it takes forever to get the pillow comfy again. What should I do?
– Lumpy Jacob, Raymore, Mo.
A. I feel your pain. I'm kind of a sweaty guy on the trail, so my camp pillow is always stinky. And I've had the same problem with camp pillows getting all lumpy after being washed. One thing I've done to fix this is: hold the fat part of the pillow with one hand while using the other to pull the pillow stuffing apart and distributing it more evenly throughout the pillow. This can be a tedious project, so it's a great thing to do if you're bored at camp.
That said, probably a better option is just to forget the camp pillow and go with a simple pillow case from home that you fill up with the rest of the clothes in your backpack. This is lighter weight, and the pillow case is easily washed after every outing. Just fold your extra layers (like your fleece jacket, pants, etc.) neatly and slip them inside the pillow case. Though maybe not quite as comfortable as a real pillow, it's free, and a great way to save weight in your pack.
---
Ask the Gear Guy
Not sure which gear to buy? Need tips for maintaining your equipment?
Click here to send in your questions for the Gear Guy
. Selected questions will be answered here and in the printed magazine.
---