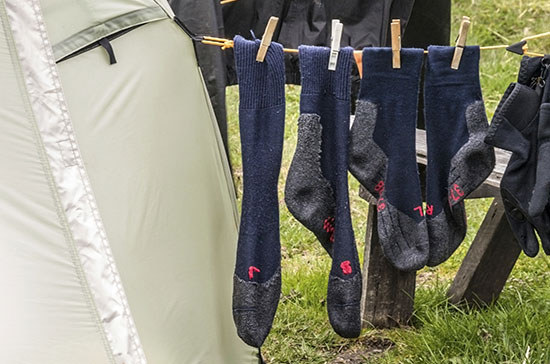 Q. On winter hikes, my socks always seem to get wet and soggy. How can I prevent that?
— Soggy Sam, Fort Collins, Colo.
A. Try wearing boots, Sam. Just kidding. Actually, I know exactly what you're talking about. That annoying wetness usually comes from either water and snow or sweaty feet. First, try treating your boots with a spray-on waterproofer like McNett's ReviveX ($10, www.mcnett.com). A simple solution for sweaty feet comes to us from Eagle Scout and elite mountaineer Jeff Mathy. He recommends wearing a thin neoprene or silk liner (about $3) next to your skin, then slipping your foot inside a plastic grocery bag (free). Yup, a grocery bag.
"Sounds weird, but it creates an inexpensive lightweight vapor barrier," Mathy says. (Every time you do this, he cautions, allow your feet to dry for at least 12 hours daily — so sleep without socks — to prevent trench foot.) Finally, pull a good quality wool or wool-blend sock atop the plastic bag. Voila, dry feet!
---
Ask the Gear Guy
Not sure which gear to buy? Need tips for maintaining your equipment?
Click here to send in your questions for the Gear Guy
. Selected questions will be answered here and in the printed magazine.
---
Inspire Leadership, Foster Values: Donate to Scouting
When you give to Scouting, you are making it possible for young people to have extraordinary opportunities that will allow them to embrace their true potential and become the remarkable individuals they are destined to be.
Donate Today