How to Buy the Right Solar Charger
What the outdoors lacks in electrical outlets it more than makes up for with the biggest, most reliable and most widely available energy source ever discovered: the sun.
Solar products help you harness that power, even in otherwise juice-free zones. And, better yet, solar power does not contribute to pollution.
SOLAR CHARGER BUYING GUIDE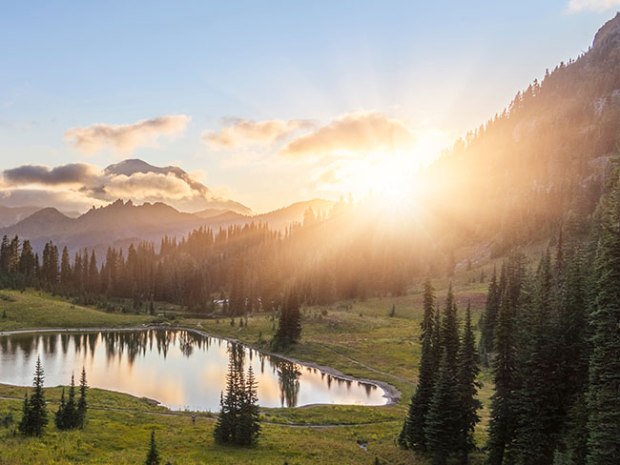 With all of the cool outdoor gadgets on the market today, keeping your gear charged can be a challenge on a prolonged journey in the wilderness. Here's where a solar-charging system comes in to play.
These sun-savvy devices create energy from the sun's rays, powering your gear no matter where you are. These devices perform optimally on sunny days of summer. Solar-charging devices become largely ineffective under cloudy skies.
CONSIDER THESE FACTORS BEFORE CHOOSING A SOLAR CHARGER:
• Size and Weight: Are you carrying it far, such as on a backpacking trek? Prioritize size and weight.
• Charging Power: Will you have reliable, constant sunlight? Or will you experience frequent clouds? Prioritize charging power.
• Batter and Ports: Do you have more than one device to charge? Prioritize a unit with a battery and multiple charging ports.
• Toughness: Are you rough on gear outdoors? Prioritize durable construction and water resistance.
• What You're Charging: Devices — even different phone models — require varying amounts of time to recharge. Choose a solar recharger with the power for your device(s).
SOLAR CHARGERS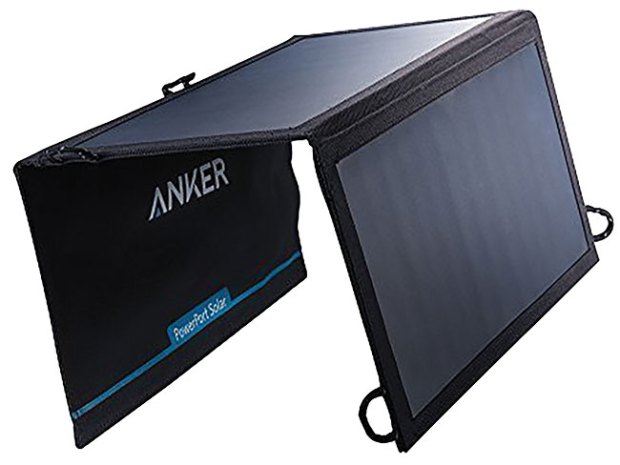 At less than 13 ounces and folding up to 11 x 6.3 x 0.7 inches, the two-panel Anker PowerPort Solar Lite ($50, anker.com) is simple to use, reliable, durable and small enough to carry into the backcountry.
With deployed dimensions of 18.1 x 11 inches, it's one of the most powerful solar chargers on the market, delivering up to 2.1 amps in strong, direct sunlight. It can charge an iPhone in five hours or less (newer Android phones require more power) and an iPad in about eight hours. With two ports, it can charge two devices at the same time.
CONS: It's not waterproof, and the panels do not come with a storage battery, meaning you must plug in your devices while the panel is exposed to sunshine. You can, however, purchase an Anker battery pack separately.
---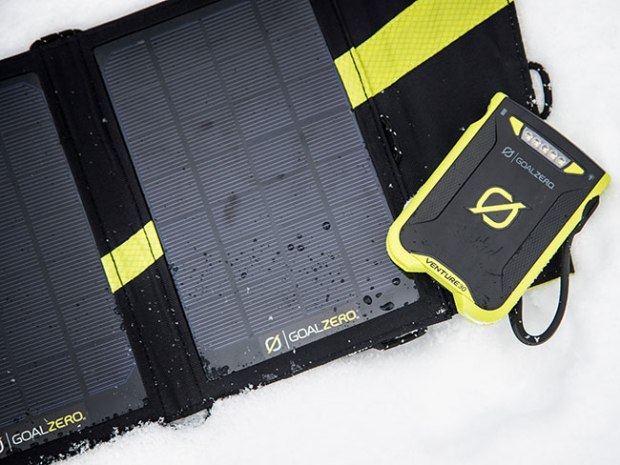 The smartly designed and solidly built foldable Goal Zero Venture 30 Solar Recharging Kit ($170, goalzero.com) has two water-resistant Nomad 7 panels that flip open to charge the Venture 30 battery. Direct sunlight will fully charge the battery in eight to 16 hours (or five hours plugged in to an electrical outlet), but the battery provides the convenience of recharging devices anywhere, anytime — such as at night in your tent.
The major perk of this kit is that the battery can simultaneously charge up to two devices with 4.8 amps each, which is impressively quicker than its competition. A fully charged battery will charge up to three smartphones, one tablet, fi ve POV cameras or five to 10 headlamps. That's a lot of storage.
CONS: The kit weighs about 1.5 pounds and is 9 x 6.5 x 1.5 inches, so it's the heaviest and bulkiest option in this guide. And because of its impressive storage capacity, the battery can take much longer — nine hours of sunlight on average — to fully charge than other competitors.
---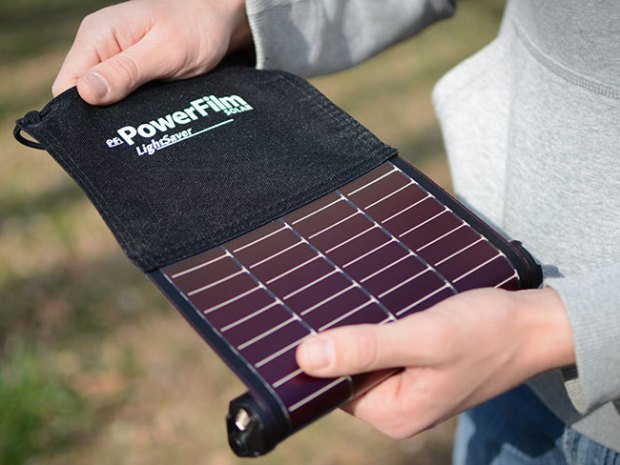 Rolling up like an ancient scroll to just 7.8 x 1.6 inches and weighing less than 5 ounces, the waterproof PowerFilm LightSaver Portable USB Solar Charger/Battery Bank ($98.97, amazon.com) could be a game-changer for people who carry electronics deep into the backcountry. The LightSaver's military-grade solar panel unrolls to 7.8 x 18.5 inches, and can hang by a strap off a backpack.
Precharge your LightSaver at home (three hours using an electrical outlet) or charge it in the field for six hours of full sunlight. It can charge a smartphone at least once via its single USB port.
CON: While it's a space-saver, the LightSaver isn't as powerful as other devices, delivering 1 amp from its USB port. This means it could take three hours or longer to get a full charge for your smartphone. (Which isn't a big deal since the battery lets you charge overnight.)
RECHARGEABLE GEAR
Solar-charging systems are not the only gear that harness the power of the sun. Many devices — from phones to headlamps to speakers — are designed specifically with rechargeable batteries, allowing you to get an extra boost in the field when needed.
Here are some of the Gear Guy's favorite solar rechargeable items for avid explorers.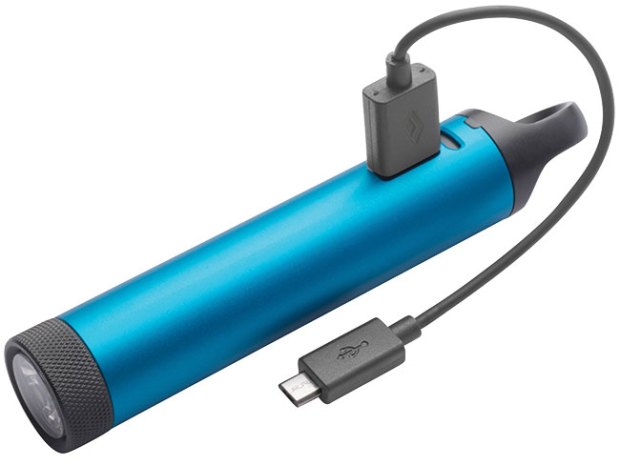 Keep your load light and get double function with the rechargeable 3.4-ounce Black Diamond Ember Power Light Flashlight ($50, blackdiamondequipment.com). The swipe-activated TriplePower LED throws 150 lumens of light more than 100 feet, and the unit charges electronic devices via a USB port, providing about 1.5 recharges for a smartphone (charging time varies among phones). Its lithium polymer batter recharges from an electrical outlet or a laptop in about eight hours. Plus, a lock mode prevents accidentally draining the battery.
---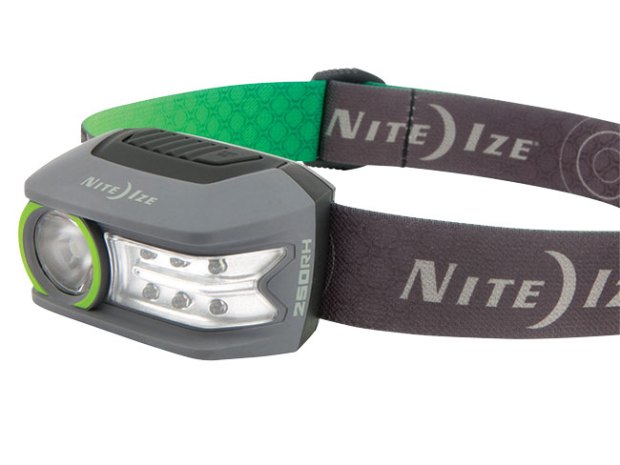 The Nite Ize Radiant 250 Rechargeable Headlamp ($50, niteize.com) weighs a mere 3.2 ounces, but it throws a 250-lumen beam about 300 feet in its brightest mode — making it more powerful than most ultralight headlamps and cheaper than some of the best rechargeable headlamps. Powered by a lithium-polymer battery, it has red and white LEDs with five modes: spot high and low, flood high and low, and red. Operation is simple, and burn time ranges from four hours on spot high to 43 hours on flood low. Includes micro USB charging cable.
---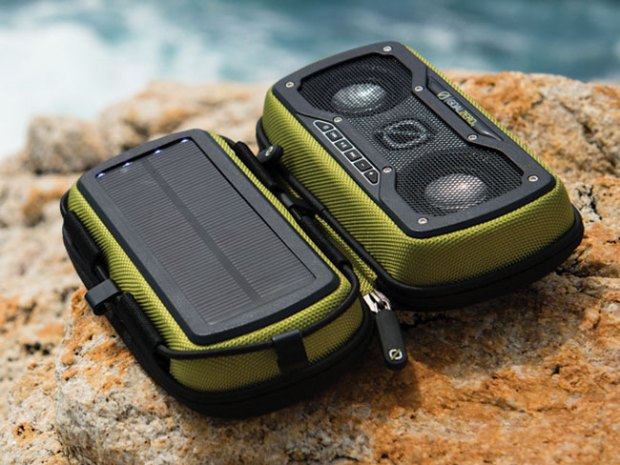 The Goal Zero Rock Out 2 Rechargeable Speaker ($50, goalzero.com) delivers more than 20 hours of rich sound for listening to music on your phone, laptop or MP3 player. It replenishes its charge within two hours via a USB port or within two to four hours plugged in to Goal Zero's Nomad 7 Solar Panel ($80). The weatherproof Rock Out 2 Solar Rechargeable Speaker ($100) upgrades with Bluetooth and an integrated solar panel that recharges itself in about eight hours of sunlight, keeping the music playing all day and for up to 10 hours after sunset. It also recharges in two hours via USB from an electrical outlet.
---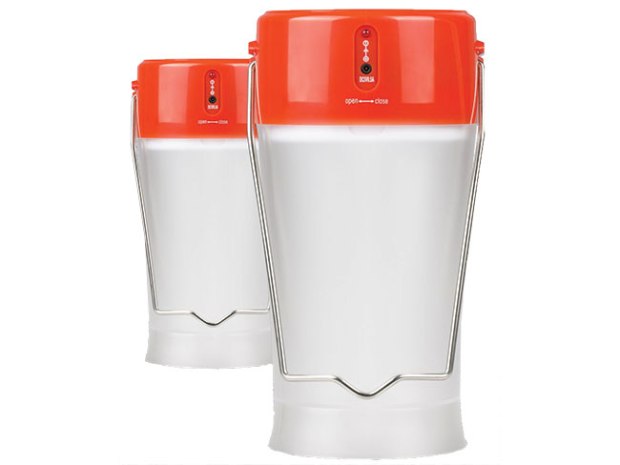 With a small solar panel on its top surface, the 7.5-ounce Etekcity LED Dual-Charge Solar Lantern ($18, etekcity.com) is a simple, efficient, lightweight and cheap option for camping and backpacking (although it's a little bulky for the latter). Projecting 360-degree light on high (46 lux, for campsites) and low (25 lux, for a tent), it can hang from a foldaway handle or stand on its base. It shines continuously for up to eight hours, but it's so efficient that I've turned it on after storing it for weeks in a dark basement. It comes with a USB cord for conventional recharging.
---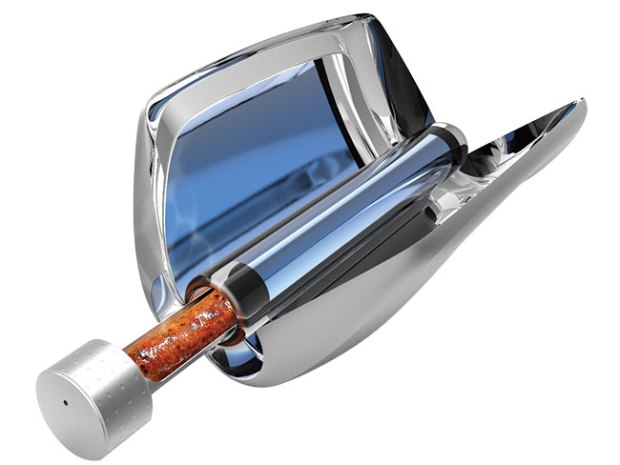 This solar-powered grill will have your friends lining up for the hot dogs you bake in as few as 10 minutes with the GoSun Dogger (available for $79 preorder at gosunstove.com). A vacuum tube holds two dogs (or other kabob-type meals) and evenly disperses heat that's magnified by reflectors. It has an insulated lid with a food-grade silicone seal, and GoSun says it works even on cloudy days. Ketchup and mustard sold separately.
Inspire Leadership, Foster Values: Donate to Scouting
When you give to Scouting, you are making it possible for young people to have extraordinary opportunities that will allow them to embrace their true potential and become the remarkable individuals they are destined to be.
Donate Today