How to Buy a Great Pair of Hiking Boots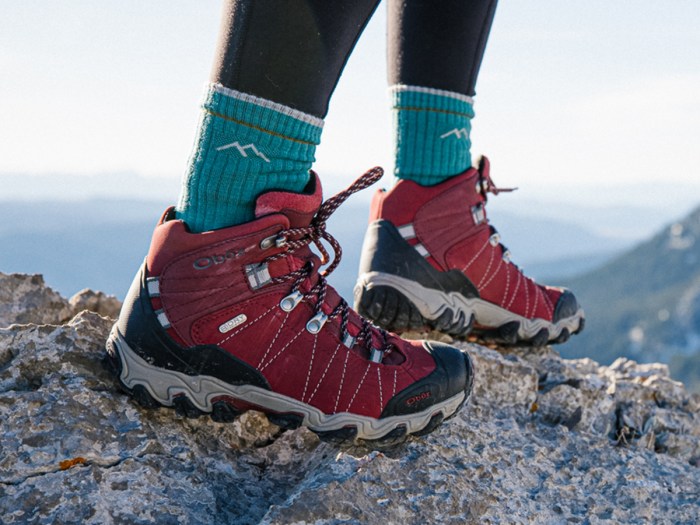 Whether you're a dayhiker conquering local hills or a hardcore wilderness backpacker, your most important piece of gear is the same — and it might be the item you've put the least thought into buying: your boots.
The wrong hiking footwear can send a backcountry adventure downhill fast. Take your first steps on your next successful adventure with these buying tips and one of these top-performing shoes and boots.
HIKING BOOTS OR HIKING SHOES?
Plain sneakers or trail-running shoes are fine for an occasional hike but will not provide the support, traction, protection, durability or comfort of good hikers.
If you're planning to do multi-day hiking and backpacking, or trail activities in cold or wet weather, you'll want sturdier hiking shoes or boots with extra ankle support and possibly waterproof protection.
HOW MUCH SHOULD HIKING BOOTS COST?
How much should you spend? It depends on what features you want. The price tag rises with a waterproof-breathable membrane like Gore-Tex, leather uppers and a beefy toe bumper to improve durability, an outsole designed for good traction in varied terrain or simply a sturdier design. It's worth it to pay for these features if you'll be hiking frequently in wet environments or on rugged trails.
Since you're probably growing out of your shoes quickly, durability might be less important. Odds are, you'll grow out of them long before you'll wear them out. So cheaper entry-level shoes and boots might be good enough. Also look for clearance sales at local shops and online deals. When you see a really good sale, think about planning ahead and buying for the next size you'll need.
Some troops have a shoe/boot bin or hand-me-down program. Donate a pair of boots you've outgrown, and grab a pair that fits. And if your troop doesn't have a boot bin, start one! (Remember: A new set of $20 insoles can really freshen up a pair of used boots.)
HOW TO FIT A HIKING BOOT
Fit varies greatly between brands. Buy boots at a store where they know how to measure your feet. When trying on shoes and boots, make sure you're wearing the type of socks you'll be hiking in. The heel should be snug with enough wiggle room for your toes up front. Kick the floor — your toes shouldn't hit the end. Try on different brands and walk around in them in the store. Spend at least 10 minutes test driving them. It might time to get a good fit, but never as long as it takes to limp painfully for miles down a trail.
If you buy online, try them inside your house, because once you've worn new shoes outside you usually can't return them.
If you're planning to do winter hiking, look for extra toe room for thicker socks and better foot circulation.
BREAK IN YOUR BOOTS
While your new boots or shoes might feel comfortable right out of the box, it's not a good idea to wear brand-new shoes on a long hike without breaking them in first — unless, of course, you like painful blisters! So start by wearing your new shoes to school, around the house, anywhere you can. The more time you spend in them ahead of time, the better off you'll be on the trail. This is especially important with new leather boots.
WATERPROOF BOOTS?
Get boots with a membrane to keep your feet dry if you often hike in wet conditions. Waterproof membranes like Gore-Tex, eVent and others usually do a good job of keeping the water out (think: stream crossings, heavy rains).
If you're a fair-weather hiker, footwear without a membrane is far more breathable, keeping your feet cool on hot days
TRACTION
Often overlooked is the outsole design, which determines how well your boots grip the ground. Look for deep, widely spaced lugs for mud, scree, loose dirt and snow. Smaller multidirectional lugs are common in lighter shoes for varied terrain, while a smoother grippy patch under the toes helps shoes stick when scrambling over rocks.
LEATHER VS. SYNTHETIC HIKING BOOTS
Usually less expensive and lighter, synthetic uppers vary significantly but can offer a versatile combination of durability and breathability. More expensive leather uppers are often more durable and conform to your feet, improving the fit. Either type may be paired with a membrane.
CARING FOR YOUR HIKING BOOTS
Always clean your boots after every hike. If you have leather hiking boots, apply a leather treatment like Nikwax every once in a while to keep them waterproof and prevent cracking and drying out. Never dry wet boots by the campfire. The heat will damage the soles and weaken the glue that holds them together. To dry them out, just remove the insoles and stuff your boots with newspaper.