How to Buy a Backpacking Stove For Your Next Camping Adventure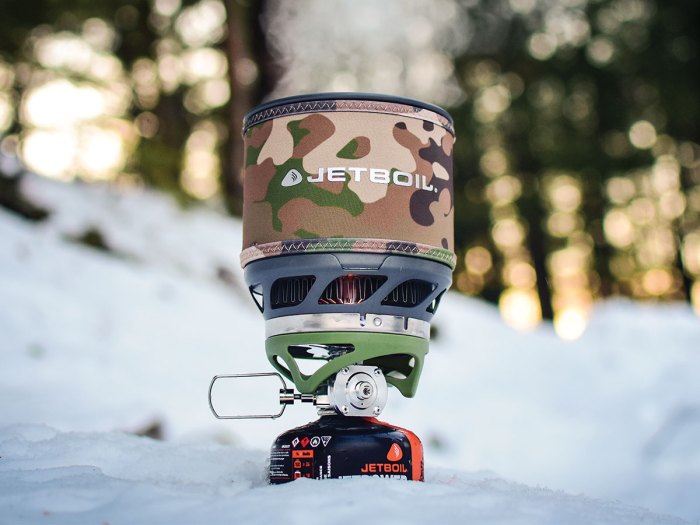 A lightweight backpacking stove provides a welcome hot drink and meal in the backcountry and might become critical gear if you must melt snow for water. Find the right stove for your adventures using these tips.
3 TYPES OF BACKPACKING STOVES
Backpacking stoves fall into one of three basic categories, according to the type of fuel they burn:
CANISTER STOVES burn isobutane-propane fuel in pressurized canisters and are popular for their simplicity, reliability, durability and power. Some are inexpensive, compact and ultralight. Designs range from tiny stoves that screw onto canisters to integrated systems.
Flame control and performance in wind vary and fall off sharply in subfreezing temperatures.
LIQUID-FUEL STOVES run on white gas and other fuels. A separate stove and fuel bottle require assembly, pressurizing and priming the burner.
Heavier and bulkier than canister stoves, they excel in subfreezing temperatures.
ALTERNATIVE-FUEL STOVES burn either solid fuel tablets or small pieces of wood. These stoves are popular with hikers for their low weight and simplicity, but they boil water and cook food slowly.
The BSA recommends you do not use liquid alcohol fuels, including isopropyl alcohol, denatured ethyl alcohol and ethanol. Use only fuels that are in accordance with the equipment manufacturer's instructions. Do not modify equipment beyond its design limitations.
HOW TO CHOOSE A BACKPACKING STOVE
Canister stoves are widely popular and considered the most convenient for backpacking trips. Liquid-fuel stoves are often the choice of winter campers and mountaineers. And many thru-hikers prefer pocket-style stoves that take up little space in their already-stuffed packs.
Consider how you will use your camping stove, talk with your buddies to get their recommendations and check out a few of our favorites, shown on this page.
RECOMMENDED BACKPACKING STOVES
As with any flame, burning stoves consume oxygen. They also give off carbon monoxide, a colorless and odorless gas that can kill. Always cook in a well-ventilated place — not inside a completely closed tent or snow cave.
Inspire Leadership, Foster Values: Donate to Scouting
When you give to Scouting, you are making it possible for young people to have extraordinary opportunities that will allow them to embrace their true potential and become the remarkable individuals they are destined to be.
Donate Today