Mountain bike buying guide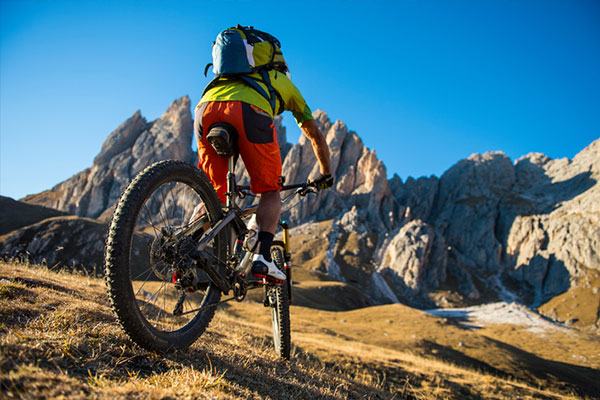 With big knobby tires and air-filled shock absorbers, mountain bikes make easy work of even the toughest terrain. They help you head deeper and faster into the wilderness, sometimes accessing places easier than on foot. Here are a few things you should know before buying a mountain bike.
THE LOWDOWN
There are two main types of mountain bikes: full suspension and hardtail. Bikes with full suspension have shock absorbers on both the front and rear for a softer, easier ride on really rough trails. They're also the most expensive. Hardtails have suspension only on the front fork. This type is generally more durable, requires less maintenance and is a great choice for most riders.
Mountain bikes also come with either rim or disc brakes. Unless you're an advanced rider, choose a bike with rim-style brakes, the most common and easiest to service.
No matter what sort of bike you're looking for, here are a few tips to keep in mind:
WHERE TO SHOP
"Look beyond department store bikes and go to your local bike shop," says pro rider Jeremy Horgan-Kobelski, the reigning mountain bike national champion. "The salespeople there will be so much more knowledgeable and there's a huge step up in quality of bikes."
When talking to salespeople, be honest about your biking skills and where you plan to ride. That way, they can point you toward the best bike for your skill level.
PRICE
Sure, you may see a really cool-looking, full-suspension bicycle for $150 at a department store, but odds are it'll be really heavy and not very durable. Expect to spend at least $300 to get a good quality, entry-level mountain bike, Kobelski says. For more experienced riders, check out bikes in the $500 to $700 range. Those models will likely be lighter, more durable and outfitted with higher quality gears and components.
QUALITY
As you push the pedals, it's the bike's components (gears and other moving parts) that move you down the trail. But if you buy a bike with poor-quality components, you probably won't get very far. Look for quality component brand names like Shimano, Sun Tour, SRAM and Bontrager.
FIT
Someone at the shop should help you find the correct bike for your size.
"The most important measurement is the stand-over height," Kobelski says. "Stand over the top tube and pick the bike up. See how much clearance you have — how high you can pick it up."
You should have at least a couple of inches of room, so you can hop on and off easily. It'll also make the bike more maneuverable. Make sure the salesman gets you fitted perfectly. And look for a bike with an adjustable-height seat so the bike can grow with you.
TEST DRIVE
Before you buy a bike, ride as many different models as you can. Kobelski recommends doing tight turns and sprinting on the bike. Try to ride up a couple of curbs, too. Pay special attention to how the bike turns and shifts.
THE BIKER'S ESSENTIALS
Don't leave home for a ride without these important pieces of biking gear:
Helmet
Water Bottle
Tire pump
Extra inner tube and/or patch kit
Tire and chain tools
Bike shorts (optional)
Gloves
Glasses/goggles (optional)
Inspire Leadership, Foster Values: Donate to Scouting
When you give to Scouting, you are making it possible for young people to have extraordinary opportunities that will allow them to embrace their true potential and become the remarkable individuals they are destined to be.
Donate Today