How to Clean and Care for Your Gear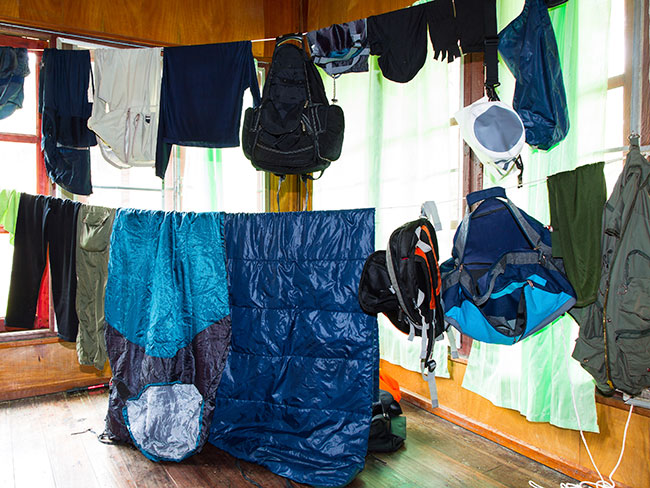 It's important to keep your gear clean and in good working order. You've probably heard the phrase, "Take care of your gear and it'll take care of you." Well, it's true and we'll show you exactly how to do it so you'll be ready for your next adventure.
HOW TO CARE FOR HIKING BOOTS
It's important to clean and dry out your boots after every trip. Rinse them in cool water and use a soft-bristled brush to brush the grime off, paying special attention to the seams and stitching.
If they are super dirty, you might try a cleaner like Nikwax Footwear Cleaning Gel or Granger's G-Max Footwear Gel Cleaner. When your boots are looking especially manky, you may want to use a spray or rub-on conditioner like Granger's Paste Wax.
Finally, if the boots aren't shedding water the way they should, try water-proofing them with a product like Tectron Water Repellent for boots and shoes or ReviveX Leather Spray Water Repellent.
Find more tips for caring for your hiking boots at scoutlife.org/tag/hiking-boots.
HOW TO CARE FOR TENTS
After every outing, check your tent for damage and sweep out the inside to remove all dirt, sand and debris. If it's dirty, spot- clean using a simple sponge with cold water and nondetergent soap (don't use dishwashing liquid, bleach, stain sticks, etc.) and NEVER machine-wash your tent.
Also avoid putting your tent away when it is damp. It's one thing to stuff it inside your backpack because it's raining on the trail, but once you're home be sure to let it air dry. If you've indeed packed it away wet, there's a good chance it's stinking from mildew. If that's the case, try to treat it with an odor eliminator like McNett MiraZyme. You can also try a water solution mixed with 5 percent hydrogen peroxide.
If your tent is leaking, seam-seal the floor seams and the rainfly with a product like McNett Seam Grip. Finally, waterproof the fly and the bottom of the tent with a waterproofer like Granger's Tent Waterproofer or Nikwax Tent and Gear Solarproof waterproofing spray, which also protects the tent from damaging UV rays.
If you've got plenty of storage room, you might even consider storing your tent poles fully assembled to put less stress on the shock-cords inside.
Find more tips for caring for your tent at scoutlife.org/tag/tent-advice.
HOW TO CARE FOR SLEEPING BAGS
After every outing, air out your sleeping bag. And, if possible, store it on a hanger in a closet. If you don't have space for that, store it in a large, loose bag NOT compressed in a stuffsack. Then, before each camping season, wash your bag. This will help restore its loft (puffiness) and its warmth.
It's best to machine-wash your bag in a front load washer because it's gentler than a top-loader; but NEVER dry clean a down bag as it'll reduce the warmth of the down inside. And don't use regular detergent. Instead, throw it in the wash with something like ReviveX Down Cleaner or Nikwax Down Wash, which cleans the down and boosts its water repellency too. Be sure to run it through the rinse cycle twice. For synthetic bags, try a cleaner like Granger's Performance Wash.
Find more tips for caring for your sleeping bag at scoutlife.org/tag/sleeping-bag.
CHECK YOUR FIRST-AID KITS
Before and after every outing, check your first-aid kit. Make sure it's clean and dry. If any medicines and ointments have expired, replace them.
For a list of what ought to be in your kit, check out our first- aid kit ingredients list at scoutlife.org/firstaidkit.
HOW TO CARE FOR COOKING POTS & PANS
This may seem like it goes without saying: Thoroughly clean your pots and pans after every outing and before you store them for the season. Nobody wants year-old omelet residue in his breakfast. When storing Dutch ovens, place a paper towel or piece of newspaper inside to collect any moisture, and prop open the lid with a folded-over paper towel to let air circulate and prevent the oven from getting a rancid smell.
Find more cooking gear tips at scoutlife.org/tag/cooking-gear.
HOW TO MAINTAIN CAMP STOVES
After every outing, check your stove for damage, missing parts and any fuel leaks. At least once a season, plan on doing full maintenance on your stove. One of the simplest ways is with a cleaning kit from the manufacturer, such as the MSR Annual Stove Maintenance Kit.
Don't leave fuel in your stove in the off-season either. Instead, disconnect the fuel bottle and let the gas burn all the way out. If your stove has a plunger for pumping the fuel, put a little 3-in-1 oil on the pump cup. Also, check all of the seals and treat the o-rings with petroleum jelly (to prevent cracking) before storing it for the season.
HOW TO CARE FOR RAINWEAR AND SHELL JACKETS
If your rainwear isn't really keeping you dry anymore or if it's wetting out instead of repelling water, it's time to clean it and, possibly, renew its water-repellency. A jacket's DWR (durable water repellent) coating can wear thin, and dirt and grime can clog the membranes of Gore-Tex, eVent and other waterproof/breathable fabrics, making them not-so breathable anymore.
Often, just a good washing paired with about 45 minutes in the dryer on low heat and/or a quick once-over with a warm iron is enough to revive your jacket. Most important, read—and follow—the care instructions inside your jacket. Some conventional detergents and fabric softeners may clog the membranes, so use a specialized treatment like Nikwax Tech Wash or one that cleans and renews the jacket's waterproof finish simultaneously like Granger's One Step Wash and Waterproofer. If you want to boost the DWR even further, try a spray-on waterproofer such as ReviveX Spray-on Water Repellent for Outerwear. It's important to note that Gore-Tex warns against using wash-in waterproofers with their jackets and recommends spray-on products only.
Inspire Leadership, Foster Values: Donate to Scouting
When you give to Scouting, you are making it possible for young people to have extraordinary opportunities that will allow them to embrace their true potential and become the remarkable individuals they are destined to be.
Donate Today