Explore Philmont's backcountry camps
Philmont Scout Ranch is known for its backpacking opportunities across 140,000 acres of pristine wilderness in the Sangre de Cristo Mountains of the Rockies in northern New Mexico.
But scattered across all that land are 34 staffed camps that provide backpackers with a much-deserved break from the grind of hiking. At these camps, Philmont participants get to fish, explore mines, hear live music, eat delicious food, climb a mountain and much, much more.
---
Explore the staffed backcountry camps of Philmont Scout Ranch. (full screen)
---
At many of these sites, the staff members wear clothing authentic to a specific period from Philmont's history, and the Scouts experience the area exactly as folks would have experienced it back in the old days.
"The staff is really wonderful," says 17-year-old Mason Melner, who visited Philmont last summer with Troop 233 from Leon Springs, Texas. "They are all in character. They all have their own backstory. They really get into the spirit of it all. It's pretty awesome."
Here are a few of our favorite Philmont camps.
BALDY TOWN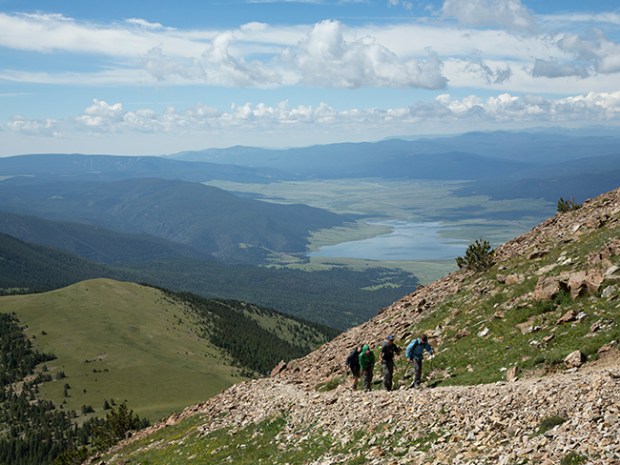 Located at the base of Mount Baldy, this is one of the more popular camps at Philmont. A hundred or so years ago, the area was actually an important town, back when miners spread across the land looking for gold.
There is a trading post and there are showers, but mainly there's Mount Baldy, elevation 12,445 feet, just begging to be climbed.
"It was definitely difficult," says 18-year-old Brian Martindale from Venturing Crew 125 in Carmel, Indiana. "There were parts that were crazy steep. But the sense of accomplishment, feeling the wind against your face at like 50 miles per hour … I would use the word 'euphoric.'"
(That means it's really, really awesome.)
"At the top, we all congratulated each other," says Will Overland, 16, from Troop 27 in Ann Arbor, Michigan.
"We were all so happy with each other. We all realized what we did was amazing. We spent about an hour and a half on the mountaintop, because we were so happy to be there. It was so much fun."
ABREU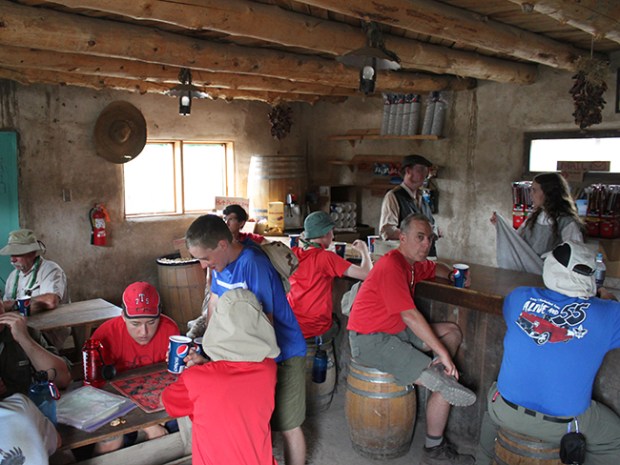 Set in the year 1912, this former Mexican homestead is known for its cantina, which serves snacks and root beer, a welcome break from the lukewarm water Scouts are used to drinking on backpacking treks.
"It's different from water, and it's cold," says 16-year-old Kyle Hubbard from Troop 1 in Middleton, Massachusetts.
Also offered at Abreu: a Mexican-style dinner and goat milking.
APACHE SPRINGS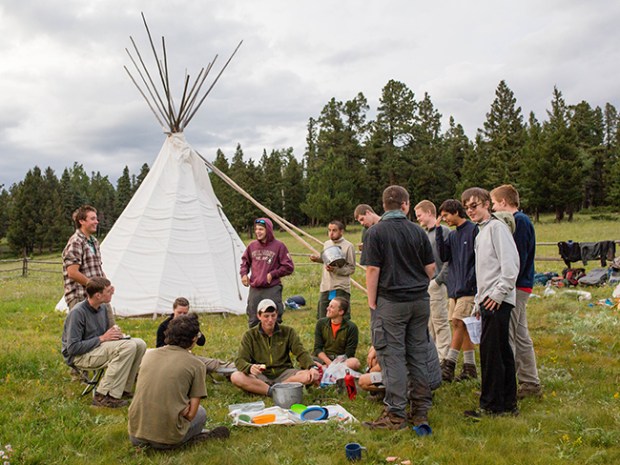 This gorgeous camp is located on the edge of a large alpine meadow and features a set of teepees with authentic animal pelts and rugs inside. There's also a 3-D archery course in which Scouts walk along a trail with a bow and arrow and stop at various points to shoot stationary targets.
"There are different kinds of Styrofoam animals," Kyle says. "Each has a different story. There was one with a deer and a bear. You could shoot the deer and give the bear a great, easy dinner. You could shoot the bear and let the deer get away. Or you could try to shoot them both."
BEAUBIEN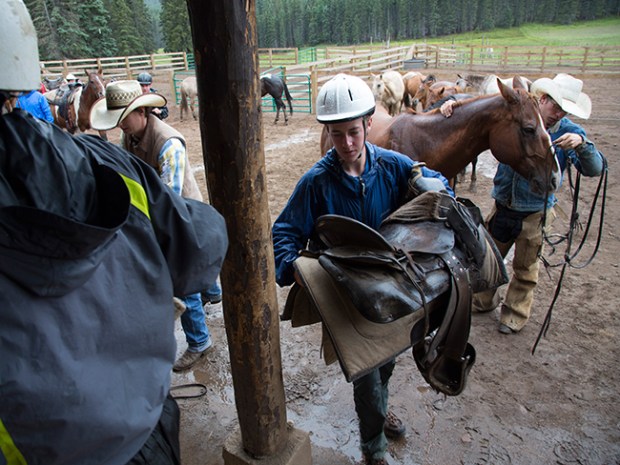 This camp introduces Scouts to the cowboy life, from horseback riding to branding to a chuck-wagon dinner and a campfire with songs performed by the cowboys on staff.
"They gave us an introduction to the basic concepts and safety rules of horseback riding," says 14-year-old Evan Price from Troop 92 in Leawood, Kansas. "And then we went on a ride. It was really scenic. I really enjoyed it."
BLACK MOUNTAIN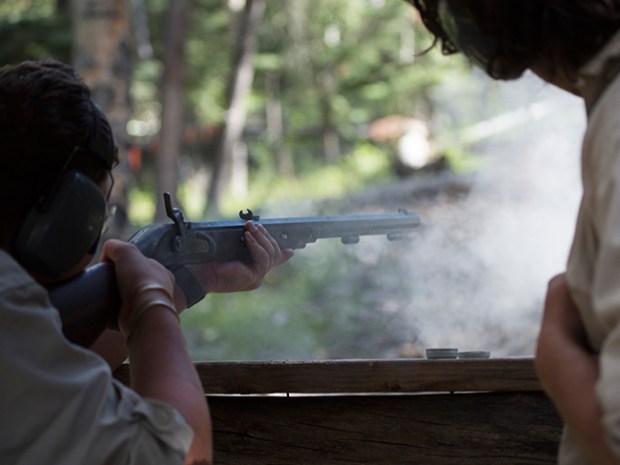 The staff at this camp interprets life as veterans of the Civil War who have come here to start over. Scouts do blacksmithing, and generally learn what it took to settle this country in the 1800s.
"It was our crew's favorite camp," says Eagle Scout Ryan Rosen, 18, from Troop 93 in Fullerton, California. "You walk in, and every single person believes that it is 1866."
At the blacksmithing station, Scouts learn the skills as if they are going to be opening up a shop of their own.
"One of the guys — Morgan Morgan was his stage name — was our blacksmith trainer," Ryan says. "He basically acted like we were apprentices in his shop."
METCALF STATION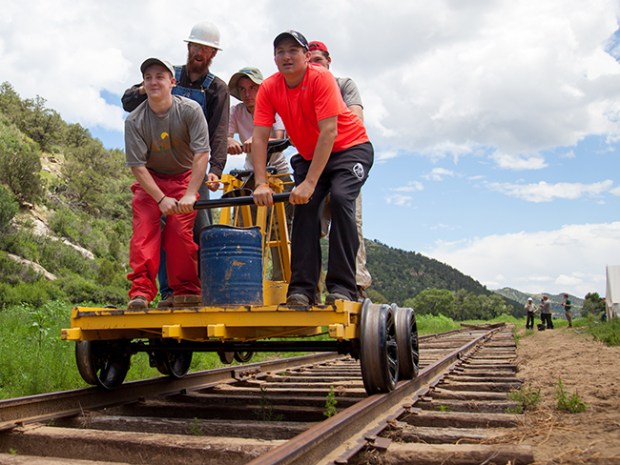 This is one of the newest staff camps, built on the site of an old railroad town. Participants learn how railroads were built by — how else? — building an actual railroad.
"We got to experience history through our hands and our backs," Mason says. "It was glorious."
When it's all finished, Philmont will use the railroad to transport supplies from Metcalf to another camp several miles away.
FRENCH HENRY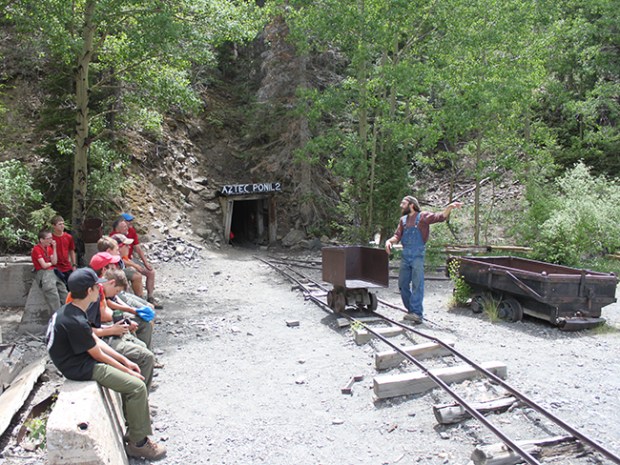 This is where many of the miners in Baldy Town used to go to work. Scouts get to tour the actual mine, going 600 feet into the ground, where the temperature never gets above 50 degrees. All the while, staff members are telling stories about the dangers of mining.
"Our guide had us turn off the lights," Will says. "Then he told us all the ways mines can collapse. He had a hammer — we were standing next to an old mine cart — and he hit it super-loud in the dark, and we all jumped.
"We were all terrified that the mine was collapsing. The guide was on his knees laughing. It was fun."
FISH CAMP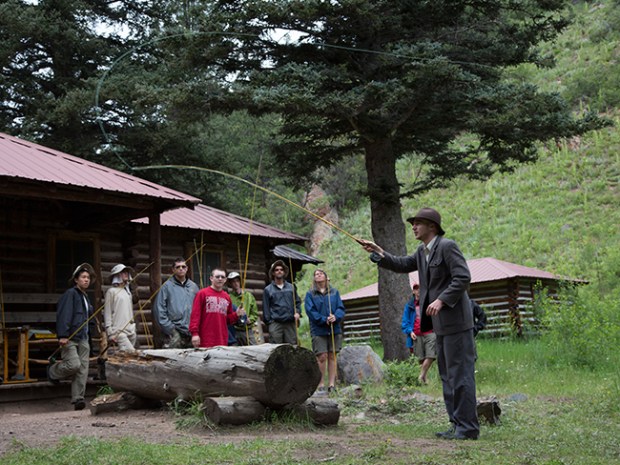 Fish Camp is exactly what it says it is: a great place to go fishing. The camp is set in the year 1927, and participants learn to tie their own flies before they go fly-fishing. You also get a tour of a hunting and fishing lodge that was owned by businessman Waite Phillips, who donated much of the land that later became Philmont.
CRATER LAKE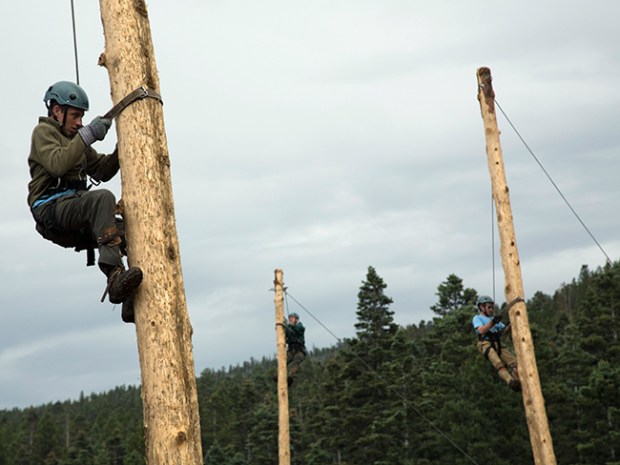 The theme of this camp is logging. The staff members pretend to work for a lumber company, and the Scouts learn the tools of the trade.
One of the most popular activities here is spar climbing, which reenacts the way loggers would strip trees of their branches. Scouts attach special spikes to their boots and a harness and belt to their waist. A strap goes around the pole to keep the Scouts upright.
Then they climb up the spars, pushing themselves up with their feet and lifting up the strap step by step.
"It was very cool," says 14-year-old Josh Marquardt from Troop 180 in Kansas City, Missouri. "By the time I got to the top, I was pretty good at it."
ALSO AT PHILMONT …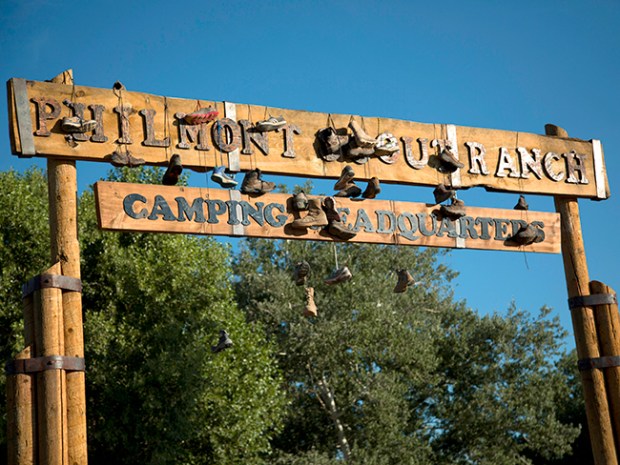 In addition to its backcountry staffed camps, Philmont offers backpacking, camping, horseback riding, a winter experience and a variety of training programs. Learn more at philmontscoutranch.org.
Inspire Leadership, Foster Values: Donate to Scouting
When you give to Scouting, you are making it possible for young people to have extraordinary opportunities that will allow them to embrace their true potential and become the remarkable individuals they are destined to be.
Donate Today