Gear Guy: What You Want or What You Need?
Most outdoor gear companies want you to think that bigger and more expensive is always mo' betta. Sure, in some cases that's true, but more often than not, the cheaper items are just as useful as the expensive stuff.
To help you wade through the sea of gear options and decode the marketing mumbo-jumbo, our own Gear Guy huddled with two former Scouts who now work for Adventure 16, one of the top outfitter shops in San Diego, Calif. Our guest experts are store manager Christo Kuzmich, 38, a former Life Scout from Troop 126 in Los Angeles; and Eagle Scout-turned-assistant manager Chris Koci, 21, of Troop 51 in La Mesa, Calif. On the next few pages, you'll find our gear gurus' head-to-toe recommendations for both what you want and what you really need.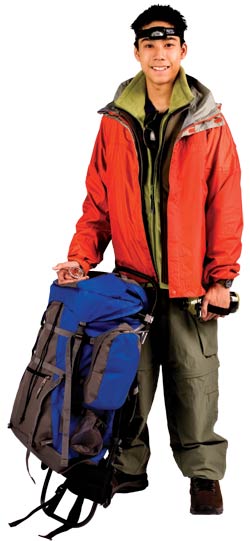 WHAT YOU NEED:
SOFTSHELL REI Neo
A softshell is the type of jacket that'll get you through 90 percent of weather conditions—everything except a downpour. The 22-ounce Neo does just that, plus it's breathable and has four-way stretch for maximum mobility. ($99; www.rei.com or 1-800-426-4840)
SHELL Marmot PreCip
Every outdoorsman needs a good rain shell, and the 12-ounce PreCip is "hands down the best product for the price," Koci says. It's seam-taped and waterproof/breathable. ($100; www.marmot.com or 1-888-357-3262)
FISHING ROD Bamboo Fishing Pole Kit
Food is a necessity on the trail, and nothing is tastier than a pan-fried brook trout that you caught! This super basic eight-foot pole comes with spool, line, hook and sinker. ($4.65; www.scoutstuff.org or 1 800 323 0736)
MIDLAYER Columbia Steens Mountain Sweater
For about $30, you can get the Steens midweight polyester fleece that will keep you toasty warm. "A great fleece sweater for the price," Kuzmich says. ($33; www.columbia.com or 1-800-622-6953)
WATCH Timex Expedition Camper
This thing keeps track of your time on the trail in water-resistant style. Nothing less, nothing more. ($35; www.timex.com or 1-800-448-4639)
BASELAYER Cabela's MTP Polartec Medium-Weight Top and Pants
Forget that cotton tee. You need something that wicks moisture away from your skin to keep you warm even when it's wet. A smart choice is this Cabela's long underwear made from the same high-performance Polartec fabric you'll find in more expensive baselayers, but at half the cost. ($30 top, $25 pants; www.cabelas.com or (1-800-237-4444)
SUNGLASSES Ryders Tangent
What your eyes need is a pair of lightweight sunglasses with interchangeable lenses that can handle a wide variety of light conditions, from hazy to bright, while still providing 100 percent UV protection from the sun's harmful rays. The Tangent does all that while looking cool. ($60, www.ryderseyewear.com)
HEADLAMP Petzl Tikka
Flashlights are fine, but a headlamp leaves your hands free. The Tikka is a reliable water-resistant single-watt LED that'll provide 120 hours of light on the trail. ($26; www.petzl.com or 1-877-807-3805)
BACKPACK Jansport Carson
Newer isn't always better. This classic 4,900-cubicinch capacity external-frame pack "has enough capacity for a weeklong trip and can still handle a growing kid," Kuzmich says. "I did the John Muir Trail with a pack like this four times, and I still have it." ($130; www.jansport.com or 1-800-558-3600)
NAVIGATION Silva Polaris
You need a compass. Period. This classic one has everything you need to find your way and – best of all – it'll never run out of batteries. ($12; www.silvacompass.com r 1-800-572-8822)
STOVE MSR PocketRocket
"For its size and weight, this stove boils water like nothing else I've seen," Koci says. The PocketRocket is one of the lightest around – just three ounces. For boiling water on the trail, it's tough to top. ($40; www.msrgear.com or 1-800-531-9531)
SLEEPING BAG Kelty Chinook 20
Synthetic bags like the Thermolite Quallo-filled Chinook are better for Scouts on a budget because they are cheaper than goose down – and they still keep you warm even when wet. ($90; www.kelty.com or 1-800-423-2320)
HYDRATION Recycled Gatorade bottle
Forget those fancy canteens and water bottles. What you need to do is buy a 32-ounce Gatorade. When you're done drinking it, slap on a makeshift handle with some webbing and duct tape and fill it back up with water. ($4)
PANTS White Sierra Trail Pant
You need pants that can do double-duty as shorts. These nylon pants are quick drying, provide full sun protection and are treated with stain resistance to keep you clean in the field. ($45; www.whitesierra.com or 1-800-980-8688)
BOOTS A boot that really fits!
"Don't worry about what looks good on the wall, just get a boot that fits well," Koci says. "Go to a specialty shop and let the professionals fit you. You'll be a lot happier in the long run." If it fits, a great starter boot is the waterproof leather Hi-Tec Altitude IV. ($80; www.hi-tec.com or 1-800-521-1698).
Also pick up some Superfeet Green insoles. Or try the new Orange insoles, with an extra shock pad and antistink treatment (much-needed in the Pedro Patrol). "Just buy them!" Koci says. "Especially if you're purchasing inexpensive boots. Superfeet will turn not-sogood boots into a really good pair. It's one of the best buys you can make because they will save your knees, back and ankles." ($35, Green; $40, Orange; www.superfeet.com or 1-800-634-6618)
HAT Columbia Bora Bora Booney
It's wide enough to block the sun and has mesh paneling to vent hot heads, exactly what a hat needs to do. ($20; www.columbia.com or 1-800-622-6953)
WATER PURIFIER Katadyn MicroPur
What you need is to get those puke-inducing microbes out of your water. You could spend $100 and filter your water through a pump or you could just pop one of these tablets in your drink for purified water in about 30 minutes. "It leaves no taste and works very fast," Koci says. ($13 for 30 tabs; www.katadyn.com or 1-800-755-6701)

TENT Kelty Teton 2
"All you really need is a tarp. I did the John Muir Trail four times with just a tarp, but first you need the skills to be able to use it," Kuzmich says. In the meantime, check out the Teton 2, a two-man, three-season tent with durable aluminum poles weighing in at less than five pounds. ($100; www.kelty.com or 1-800-423-2320)
WHAT YOU WANT:
HEADLAMP Brunton L3
The drool factor is high with the L3, a three-watt luxeon lamp that has four modes (from power saver to emergency blinker) and can throw light for more than 200 feet, making it one of the most powerful headlamps on the market. ($110; www.brunton.com or 1-800-443-4871)
BASELAYER Icebreaker Bodyfit260 Slalom Zip and bottoms
For the ultimate midweight baselayer, try the all-merino wool Bodyfit. "I bring this with me on every trip," Koci says. "It still retains its warmth when wet and keeps you cool in warm weather but doesn't hold smell like polyester baselayers. Last year at Philmont, I wore my Icebreaker for 14 days straight, and it didn't stink!" ($100 top, $70 bottoms; www.icebreaker.com or 1-866-363-7466)
SUNGLASSES Kaenon Klemm
The Klemm blends street-style bling with no-nonsense performance polarized lenses – some of the best in the sunglass industry. ($200; www.kaenon.com)
NAVIGATION Garmin 60CSX
Kuzmich's favorite compasson-overdrive is the 60CSX, a water-resistant GPS with a color screen, altimeter and expandable memory that even lets you upload your own maps. ($482; www.garmin.com or 1-800-800-1020)
BACKPACK Gregory Baltoro
Internal-frame packs with smart suspension systems make carrying heavy loads a breeze. "I went up to Mount Whitney last year and carried over 30 pounds more than is recommended for this pack, and it still carried like a charm," Koci says. "It's the best pack I've ever worn, hands down." ($269; www.gregorypacks.com or 1-800-477-3420)
MIDLAYER Patagonia R2 Jacket
When money is no object (yeah, right), go for the R2, which is "a lot more breathable and packable" than ordinary fleece, Kuzmich says. It's lighter, too; made from Polartec Thermal Pro, the R2 weighs just 14.5 ounces. ($150; www.patagonia.com or 1-800-638-6464)
SHELL Arc'teryx Beta SL
"The more you spend on a shell, the more you are paying for breathability, which means more comfort," Koci explains. The 432-gram Beta SL is superlight, but with Gore-Tex PacLite and XCR, it's also supremely waterproof and breathable. Oh, and it looks sweet, too. ($350; www.arcteryx.com or 1-800-985-6681)
HYDRATION Hydrapak Reversible Reservoir
If you covet the fluid-carrying capacity of camels, slip the 100-ounce Hydrapak inside your backpack. It's just like other easy-drinking hydration sacks, but this one can be turned inside-out for easier cleaning and a microbe-free gulp every time. ($30; www.hydrapak.com)
SOFTSHELL Patagonia Ready Mix
Step up to the Ready Mix and you'll get a super lightweight jacket (just 15 oz.) with welded seams and more water resistance than most other softshells. "I took this up Mount Whitney for a winter mountaineering trip and never once needed my rain jacket," Koci says ($199; www.patagonia.com or 1-800-638-6464)
WATCH Suunto X9i
If you've got five-hundy to burn, get the X9i – which probably has more computing power than your dad's laptop – with its built-in altimeter, compass, barometer and GPS! ($499; www.suunto.com or 1-800-543-9124)
WATER PURIFIER First Need Deluxe Portable Purifier
Tablets are fine, but a lightweight filter like the First Need is a faster – and usually tastier – option for clean water. Just attach this filter to your water bottle and pump clean, ready to-gulp water that's free of nasty things like bacteria, cysts, viruses and pesticides. ($98; www.firstneed.com or 1-800-441-8166)
SLEEPING PAD Exped Downmat 7
"I threw out all my other pads after I got this one," Kuzmich says. Why? Because it's cushy soft, super light (just 20 ounces) and the down filling gives you three times the insulating warmth of any synthetic mat. ($130; www.orgear.com or 1-888-467-4327)
BOOTS AKU Utah Lite GTX
Kuzmich's top boot pick is the beefy Gore-Tex Utah. "The leather has a phenomenal feel, and it's not wide and boxy like a lot of other boots. It also really holds your foot well across the top." ($210; www.akunorthamerica.com)
STOVE MSR Reactor
Spend $100 more than on the PocketRocket and you can get MSR's Reactor, a super fuel-efficient windproof canister stove. It comes with an attachable 1.7 liter pot. Though the stove isn't exactly tiny – 21 ounces – MSR is claiming it's the fastest-boiler available, able to boil one liter of water in less than 3 minutes. ($140; www.msrgear.com or 1-800-531-9531)
HAT Tilley LTM3 Airflo
The four-ounce Tilley is lightweight, water-resistant and very breathable with its ring of mesh. It's also fitted for a more precise fit and comes with a secret pocket in the crown plus closed cell foam that makes it float. ($66; www.tilleyendurables.com or 1-800-363-8737)
FISHING ROD Orvis Frequent Flyer Fly/Spin Combo
Imagine packing this seven-foot four-piece, breakapart rod that can be equipped with either a fly reel or a spin reel (both included), depending on your mood and the fish you seek. ($349; www.orvis.com or 1-888-235-9763)
PANTS Ex Officio Buzz Off convertible pant
These zip-offs are a step above all others because they "are made with more comfortable fabric and come with built-in insect repellant," Kuzmich says. They're also sun protective to UPF 30+, quick drying and wrinkle resistant. ($80; www.exofficio.com or 1-800-644-7303)
TENT Bibler Ahwahnee
"The Ahwahnee is a single-wall tent that's really breathable. It's my 90-percent tent, the one I use for most every trip," Kuzmich says. At 6 pounds, this two-man, four-season tent has two doors for great ventilation in the summer, yet it's still extremely waterproof for winter camping. ($650; www.bdel.com)
SLEEPING BAG Western Mountaineering Alpinlite Super
"This is simply the best-made sleeping bag on the planet," Kuzmich says. At almost $400 it oughta be. This down bag is just shy of two pounds and is made of the finest materials available for super durability. "With side baffles that allow the down to move freely from top to bottom and vice versa, the versatility of this bag is worth the almost $400 price tag," Koci says. ($390; www.westernmountaineering.com)