Scouts spend an unforgettable week at Swamp Base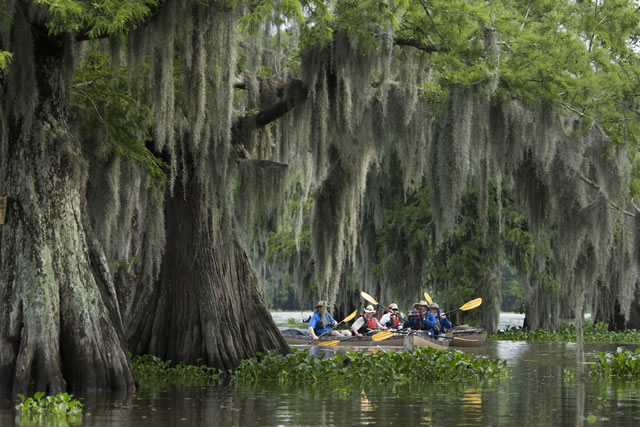 Braden Burney's football coach doesn't get it.
He heard about Braden's plan to spend a week kayaking in the Louisiana swamp with his Scout troop, and he has a few questions: What about the heat? And the muddy water? And the alligators?
"Why on Earth would you want to do that?" the coach asks. "Aren't you worried about bugs and having to paddle 60 miles?"
Braden shrugs. So much for football coaches being tough.
You don't go to Swamp Base in Louisiana's Atchafalaya Basin to sit back and relax for a week. You go to Swamp Base to test yourself in one of the planet's most challenging environments.
Summer in the Swamp
That's just what Troop 512 of Midlothian, Texas, has in mind for visiting this high-adventure destination located about 135 miles west of New Orleans.
They'll spend a week paddling past 1,000-year-old cypress trees that appear to be melting into the swamp below. They'll spot alligators close enough to snap a picture but not any fingers. They'll try cast-net fishing. They'll learn about the swamp's precious ecosystem. They'll eat gumbo.
And that's just the first day.
"This is a great experience," says Collin Coleman, a 17-year-old Life Scout. "Anything you ever thought about a swamp will be changed."
Much of what Americans think they know about swamps and Louisiana these days comes from reality TV. Shows like Swamp People, Duck Dynasty and Swamp Monsters make swamps look dark, buggy and hot.
Scouts come expecting strange animals and strange people to be lurking around every turn.
Truth is, Scouts who visit Swamp Base forget the heat and the bugs and see only a majestic, inviting place. Then they spread the word to friends. So far, Scouts from 30 different states have visited Swamp Base, and it's been open only a few years.
Atchafalayak! (Gesundheit!)
On the trek's first day, Scouts get a look at their transportation for the week: the custom-built Atchafalayak.
Each paddler gets one big storage area for gear and one smaller spot within arm's reach that holds Nalgene bottles, sunscreen and a camera. Both bins are watertight, so if it rains or they tip over, their stuff won't get soaked.
The seats snap out to be used as camp chairs. Atchafalayaks are camouflaged, so you can't tell when they're dirty. And the footholds adjust to accommodate shorter and taller Scouts.
The guys load their gear and hop in to practice steering with their double-bladed paddles. It's hard work. Unlike paddling down a raging river, the swamp's flat water has no current to help you along. At Swamp Base, you earn every inch you travel.
But it's worth it.
"It's just crazy because, I mean, some of this stuff I've never seen before. Ever," Collin says. At 19.3 miles, the first day is the longest of the whole trip, "but it makes up for it because you go through so many varied terrains that it's always interesting."
Seeing Alligators, ospreys … and the occasional soda can
Young alligators sun themselves on logs and slink into the water if the guys come too close. Great blue herons glide across the swamp. Turtles cool off with a plop into the depths.
For Braden, wildlife like this is a big reason he's here. He's seeing things he can't see back in Texas.
"I saw several alligators, several birds of prey — specifically ospreys and eagles — various turtles and other aquatic plant life and some invasive species," he said. "And some trash, too."
Ah, yes. The trash.
The entire Mississippi River watershed drains here, so garbage tossed by litterers as far away as Minnesota, Montana or Ohio can end up in the Swamp Base waters.
Troop 512 Scouts learn that about 41 percent of the country lives in the watershed. The Missouri, Arkansas and Ohio rivers feed into the Mississippi, so more than 100 million people are part of the problem. Or the solution.
Braden and his follow Scouts pick up aluminum cans, candy wrappers, milk cartons and other pieces of trash that could've come from anywhere. But Braden doesn't care where that Sprite can began its journey south. He's just glad for the chance to leave Swamp Base better than he found it.
"Part of Swamp Base's program is cleaning up the Atchafalaya Swamp," he says. "We are encouraged and told to pick up as much trash as we can along the way."
While floating trash can be an unexpected sight, some Scouts worry about what else might be lurking in the water: alligators.
Mike Simon, an expert fisherman and one of the Scouts' favorite adult guides, says every troop that visits Swamp Base asks him the same question: Has an alligator ever bitten you?
"Guys, I've grown up in this swamp," he responds. "I've lived here my entire life and never seen that happen."
Phew.
Like No Place Else on Earth
So why visit Swamp Base?
Isaiah Wilson, a 17-year-old Life Scout, says the reason is simple: "You get to do all the things that you wouldn't do normally."
He's talking about kayaking, riding airboats, shooting blowguns, fly-fishing, stand-up paddleboarding and sleeping in houseboats. He's talking about surviving a week in the swamp and coming out stronger on the other side. He's talking about a high-adventure base unlike any other.
Collin agrees. He doesn't want Swamp Base to be his troop's secret. He wants others to check it out.
"What are you doing not here?" he asks. "It's one-of-a-kind, because last time I checked there weren't any other Swamp Base high-adventure treks around the country. So why wouldn't you come?"
This slideshow requires JavaScript.
Atchafa-What?
Swamp Base is located in the Atchafalaya Basin. Atchafalaya (pronounced uh-CHA-fuh-LIE-uh) comes from the Choctaw American Indian words "hacha falaia," meaning "long river."
Trek Itinerary
This was Troop 512's itinerary. If your troop goes to Swamp Base, your day-by-day plan might be a little different.
Arrival Day: Check out gear, prepare for trek, spend night at University of Louisiana Lafayette dorms
Day 1: Paddle 19.3 miles, learn about the wetlands, stay overnight in a houseboat in the "Dark Forest"
Day 2: Paddle 10.3 miles, take an airboat ride, learn about swamp survival, sleep in hammocks
Day 3: Paddle 14.4 miles through cypress swamps, stay overnight in cabins on the Island Outpos
Day 4: No paddling, learn about living off the swamp, stay overnight in cabins on the Island Outpost
Day 5: Paddle 17.6 miles to the final takeout spot, stay at University of Louisiana dorms, receive patches, eat final meal
Day 6: Head home
Swamp Base Grace
Scouts say this prayer before every meal.
Bless the waters that bring life to this land.
Bless this journey to see the swamp firsthand.
Bless the bird, fish and the trees.
Bless this food that strengthens me.
Bless the friendship and fellowship we feel,
As we gather in the swamp for this meal.
Amen.
Inspire Leadership, Foster Values: Donate to Scouting
When you give to Scouting, you are making it possible for young people to have extraordinary opportunities that will allow them to embrace their true potential and become the remarkable individuals they are destined to be.
Donate Today