Biking 100 Miles to Summer Camp
Tyler Roszman was 11 the first time he biked 100 miles to summer camp.
"It was definitely really tough for me," he says. "I was the younger Scout. I was dragging the older Scouts behind."
The Century Trek, an annual 100-mile ride conducted by the Scouts of Troop 4 from Lockport, New York, can do that to you.
It isn't easy. And it isn't supposed to be.
The guys leave a parking lot in Lockport on a Friday morning. They ride along the Erie Canal, Niagara River and Lake Erie about 40 miles that first day, more than 50 miles along Lake Erie the next day, and finish with an 11-mile ride — including a 1,000-foot climb — to summer camp on Day Three.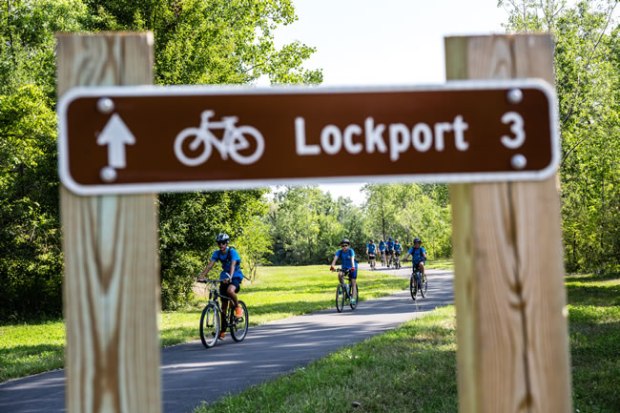 Now, four years later, Tyler, 15, has grown bigger, stronger and more confident in his biking skills. He's no longer the little kid slowing everyone down.
"When I first started, I was put in front because I was the slowest and they didn't want me to get left behind," he says. "This year, I was put in front because I was strong enough to be in the front."
The Century Trek can do that to you, as well.
TRAINING RIDES
Robbie Pugh was 12 when he completed his first Century Trek.
"It's definitely gotten easier from the first year to now," he says. "The first year I wasn't sure I could finish. Now I don't really have a doubt anymore. It's just a matter of getting up and doing it."
Troop 4 prepares for its 100-mile ride with a series of shorter training rides earlier in the summer, starting at 10 miles and working their way up to greater distances.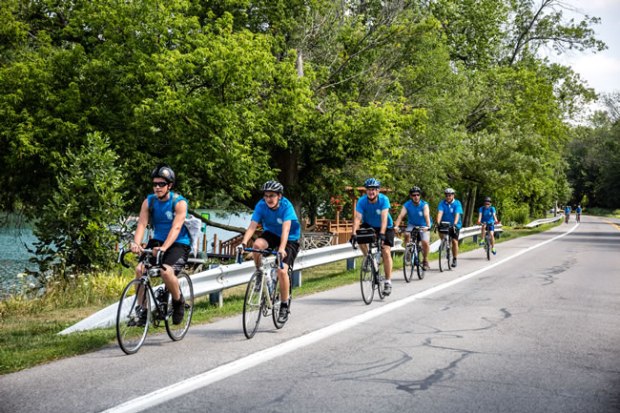 "The training rides are crucial," says Robbie. "The Century Trek would be almost impossible without them."
Robbie remembers getting valuable advice when he was younger from the older guys on those training rides. Now, Robbie, 16, is the one giving out the advice.
"As young guys come in and decide they want to do this bike ride, we adopt them and make sure they're comfortable with us," he says.
"They're thinking, 'This is really hard.' We tell them, 'The more you get out and ride your bike, the easier the longer rides will become.'"
SORE MUSCLES
Matt McAuley was 13 when he first rode 100 miles to summer camp.
"It's a different challenge now than it was when I was younger," he says. "You know you've done it before.
"The younger guys might have a mental issue. 'Can I do it?' The older guys have that expectation set for themselves. You fall back naturally into it."
On Friday night, the guys camp at a state park on Lake Erie. They have time to hang out and play on the beach before resting up for the long day that follows.
Matt, now a 17-year-old Eagle Scout, knows what lies ahead.
"You're really sore after the first day," he says. "The next morning it's like, 'I can't believe I have to get up and do 50 miles.'
"It's a fun thing to get out and do with my friends. You kind of forget that you're riding your bike."
A BONDING EXPERIENCE
Harmon Smith was 12 when he completed his first Century Trek.
"It definitely gets easier as you learn how to pace yourself better and you get used to the biking techniques you've learned," he says.
But what Harmon, now 15, and the other guys remember the most is not the flat tires, the uphill stretches or the sore muscles.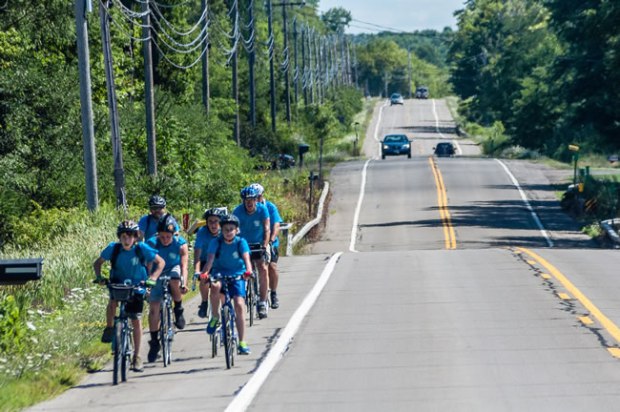 "It's a great experience — having fun with other people and learning to work together," he says. "The more you do this stuff with these people, the better you get to know them and the closer friends you become. It makes it a lot more fun."
Nolan Dodge is 12, and he's just completed his first Century Trek. One down. Five more to go.
"The Century Trek is about the experience of riding our bicycles 100 miles," Nolan says, "and having fun while doing so."
Inspire Leadership, Foster Values: Donate to Scouting
When you give to Scouting, you are making it possible for young people to have extraordinary opportunities that will allow them to embrace their true potential and become the remarkable individuals they are destined to be.
Donate Today