Scouts Rock the Slopes During Big Sky Ski Weekend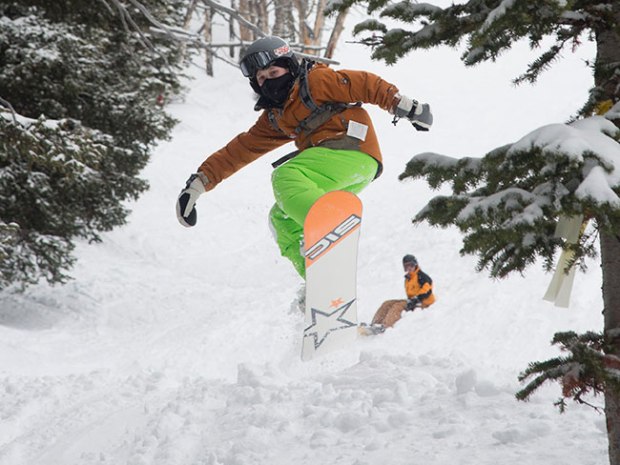 At the top of a ridge way up on the mountain, a handful of skiers are looking for a double black diamond trail to really test their advanced skills.
Meanwhile, a different group of skiers lingers on the bunny slopes near the bottom, trying to master basic ski maneuvers so they can finally stop falling down.
This is the best part of the Big Sky Ski Weekend: There's something for everyone.
"Skiing is something everybody can learn how to do," says Aidan Wosoba, 12, from Troop 1207 in Helena, Montana. "And once you learn, it's really enjoyable."
Anyone who wants to ski on this weekend — and we mean anyone — has to take a lesson first.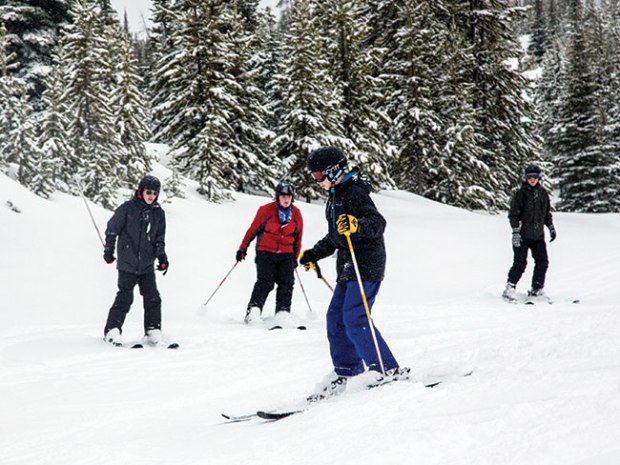 "If you're a beginner skier, they teach you how to do turns and all the simple skiing stuff," says Thomas Miller, a 14-year-old from Troop 649 in Belgrade, Mont., who describes himself as an intermediate skier. "Since I was on a higher level, they took us on some more challenging routes and taught us how to do some moguls."
TRAILS FOR EVERYONE
Big Sky Resort in southwestern Montana has more than 250 trails.
Some of them are labeled with a green circle, which means they're for beginners. Some are labeled with a blue square, which means they're intermediate trails.
And many are labeled with a black diamond, meaning you don't want to try these trails until you're good and ready.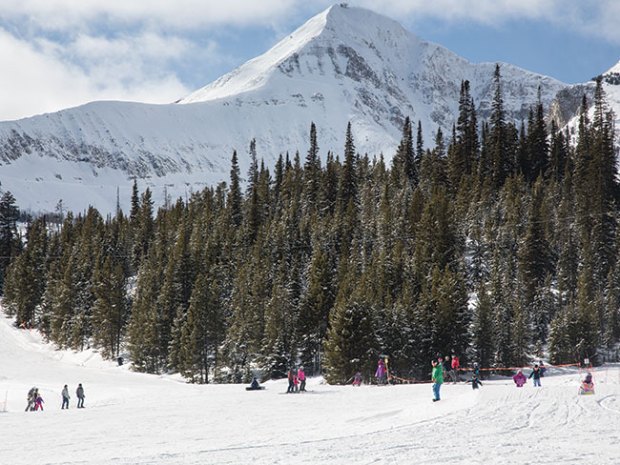 Take, for example, brothers Kerwin (13) and Gus (11) Swant from Troop 1207. Both go skiing routinely throughout the winter, and both like to challenge themselves on the most difficult trails.
"I like to just bomb it down the whole mountain," Kerwin says.
"I like going fast and weaving my way down," says Gus.
No matter how fast they go, they have to obey the rules of the road. A busy resort like Big Sky is like a highway during rush hour, and an irresponsible driver can get other people hurt.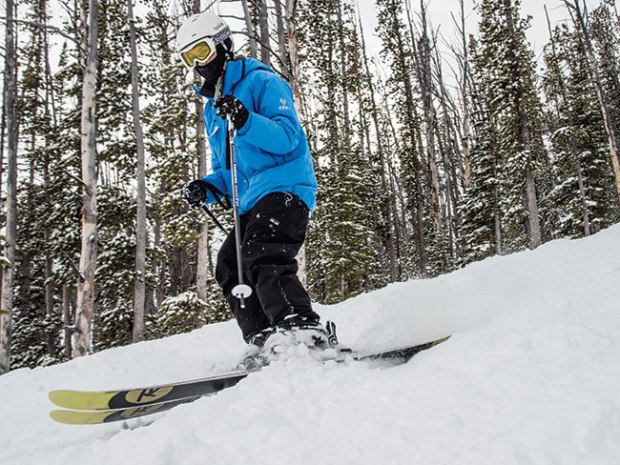 "You have to watch out for other people," says Nathan O'Donnell from Troop 649. "It's always on you. You have to respect other people.
"If you wreck into someone, it's your fault."
LESSONS FOR EVERYONE
That's one of the most important lessons instructors go over on the first day. Beginning skiers also learn how to stand in a balanced, athletic stance with feet apart, legs slightly bent at the knees, and head up and alert.
Intermediate skiers learn more advanced skills, like curved turns that help you navigate around moguls — bumps in the snow formed when skier after skier turns in the same spot.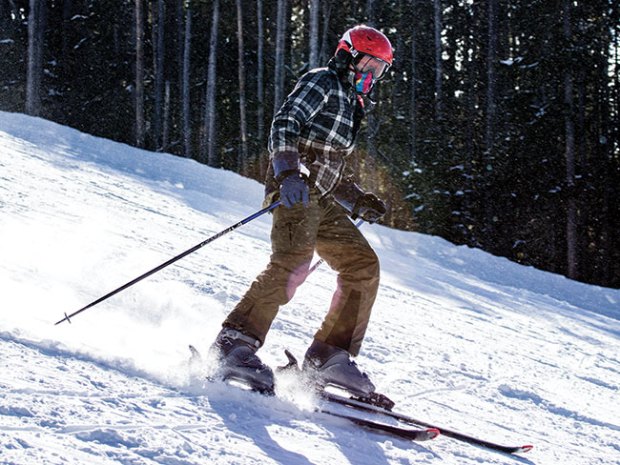 And advanced skiers get a guided tour of the mountain's most challenging terrain, along with tips on which trail is good for which type of skier.
"Some trails are really steep and straight," says Gus. "Some have a lot of bumps and curves and turns. It's just really fun."
At the end of the first day, the guys get to spend time with the ski patrol, the unit of very advanced skiers that patrols the mountain, making sure everyone stays safe and tending to any injured skiers.
They help the Scouts check off several requirements of the Snow Sports merit badge.
LETTING LOOSE
The ski patrol demonstrates how they use working dogs to sniff out anyone who might be buried in an avalanche.
"Me and my friends drew sticks, and I got the right stick, so I got put in a hole in the snow and the dog came and found me," says Nathan. "The idea is the dog finds you and the rescuers come over and dig you the rest of the way out."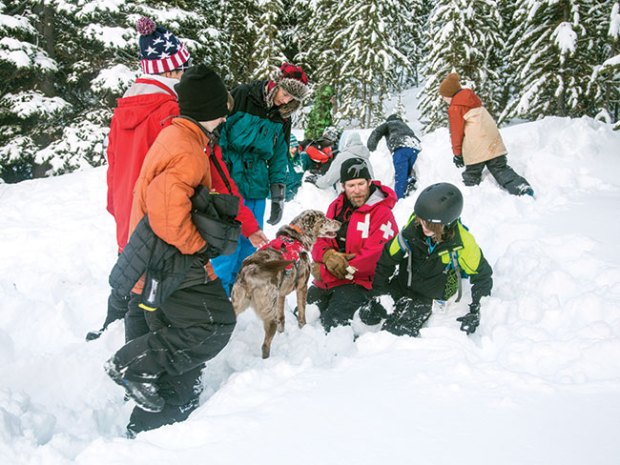 On Day Two, the guys have free rein of the mountain. At that point, they all know their own skill level, and they all are trusted to make responsible decisions about any trail they should or should not attempt.
At this point, some of the nervous beginners might finally leave the safety of the bunny slope for an actual ski trail. Meanwhile, the experts look for more challenges.
"Usually there are more people near the bottom," Aidan says. "As you move away from that area, you find fewer people as you go on.
"We just went to different places that were new to us, and it made the skiing more exciting."
Inspire Leadership, Foster Values: Donate to Scouting
When you give to Scouting, you are making it possible for young people to have extraordinary opportunities that will allow them to embrace their true potential and become the remarkable individuals they are destined to be.
Donate Today