Paddling Away Through Yellowstone National Park
Canoeing on a lake is not like canoeing in a river. In a river, the current is a guiding hand.
Want to fish? Go ahead.
Snap a photo? Sure.
The river will keep you moving along. But on a lake, if you don't paddle, you don't move.
"I've been in almost every kind of boat," 13-year-old Jack Nichols says. "This is the hardest. You have to communicate with your partner."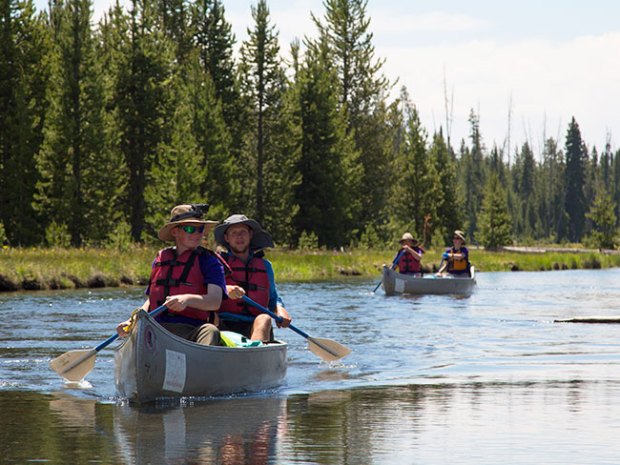 Jack and the Scouts from Troop 7031 of Flagstaff, Arizona, have done plenty of kayaking. But this trip, at Yellowstone National Park in Wyoming, is their first canoeing adventure as a troop.
They are participating in the Great Salt Lake Council's Teton High Adventure Base canoe trek program.
The plan is to paddle 30 miles in four days — across a lake, up a river the wrong way and across another lake. They'll hike to geysers and thermal features few visitors get to see. Then they'll turn around and go back.
Ready to Launch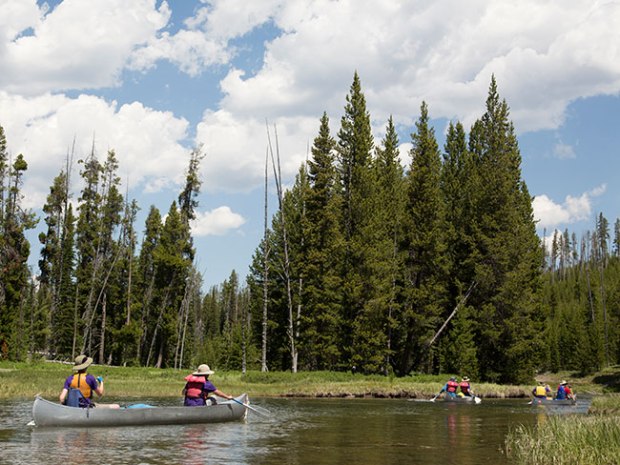 Yellowstone is one of the nation's most visited national parks. But travel about a mile away from the roads and scenic overlooks, and you're basically alone.
At the Lewis Lake launch ramp, the Scouts get some last-minute reminders from their Teton High Adventure Base guide before leaving civilization and other people behind:
Canoes are less stable than kayaks, so keep your weight in the middle.
Make sure everything is clipped in, in case your canoe flips.
Listen to your guide; he's been trained to lead you away from the dangerous areas and toward the fun spots.
Then the journey begins. They paddle across the lake to the mouth of the Lewis River Channel, where they travel — upstream — to Shoshone Lake. Most of the channel is too shallow for canoeing. Once paddles begin moving more rock than actual water, the Scouts step out and begin to wade in cold, shin-deep water. They drag along their canoes, holding them by the painter, which is the yellow or white rope attached to the front of the canoe.
"It's tough," 14-year-old Michael Cully says. "We got in our exercise for the day. And here's a fact: Everybody is going to sleep good tonight."
Once they reach Shoshone Lake, the Scouts return to their canoes and paddle to their campsite. And sure enough, after traveling 12 miles and setting up camp, the Scouts get to bed early. By around 8 p.m., the only sounds are the buzzing of mosquitoes.
A Geyser of Their Own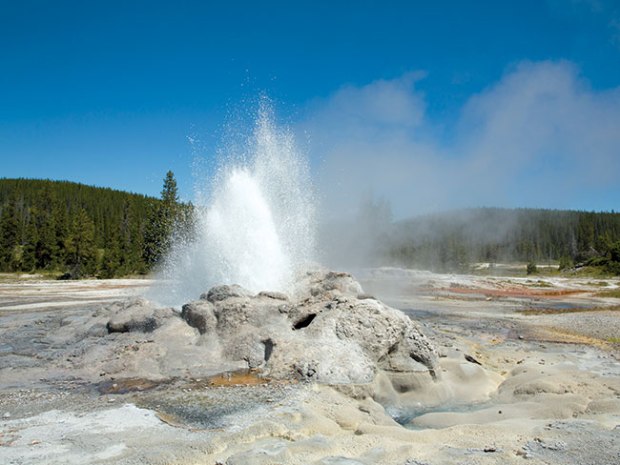 They wake up 13 1⁄2 hours later. "I think that's the longest I've ever slept," 12-year-old Ryan Wheless says.
He takes in the scene. The campsite features tall, thin pines huddled around a clear lake shaped like a hammer. The lake is glassy calm and free of people.
Jack, the group's leader, gathers everybody together and points west toward today's destination: a geyser basin on the other side of Shoshone Lake.
At the geyser basin landing point, guide Dallin Spackman stops the group for a warning.
"The thermal features are great to look at," he says, "but stay on the trail and don't go near them or throw anything into them."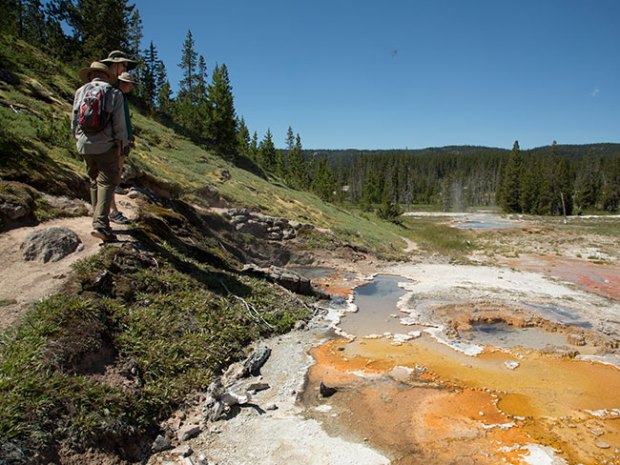 At Yellowstone, water as hot as 400 degrees comes to the surface through cracks in the rock and creates something that "looks like a hot tub and smells like a rotten egg," Jack says.
But these are no hot tubs. The basin's pools of scalding water dissolve things completely — there are no remains. So, yeah, best to stay clear. Jack and the guys sit a safe distance from the Minute Man Geyser and watch four eruptions in a row. They take selfies. They shoot videos on a GoPro. But mostly they just watch.
"This is a once-in-a-lifetime experience, and the paddle here was worth it," Jack says.
Back to Reality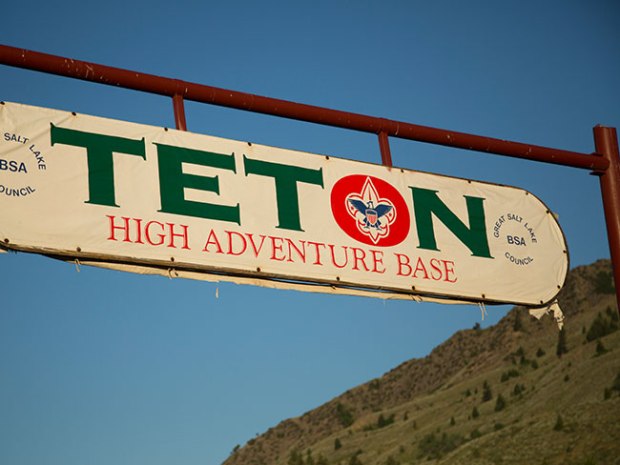 The winds let up on the final day, so it's a leisurely paddle back to the Lewis Lake ramp where they started. It's so leisurely, in fact, that Ryan and Jack begin a round of canoe karaoke, singing favorites from The Weeknd, AC/DC and Creedence Clearwater Revival.
After loading the canoes back onto the trailer, the Scouts return to the world of air conditioning, cellphone service and other people.
The isolation is gone, but the memories remain. There's a lot of Earth to be explored out there. The best way to do it is by escaping the beaten path and soaking it in — one step, or paddle stroke, at a time.
For more on the Teton High Adventure Base, visit saltlakescouts.org.
Inspire Leadership, Foster Values: Donate to Scouting
When you give to Scouting, you are making it possible for young people to have extraordinary opportunities that will allow them to embrace their true potential and become the remarkable individuals they are destined to be.
Donate Today