Scouts Keep Tradition of Canoe Adventures in the Adirondacks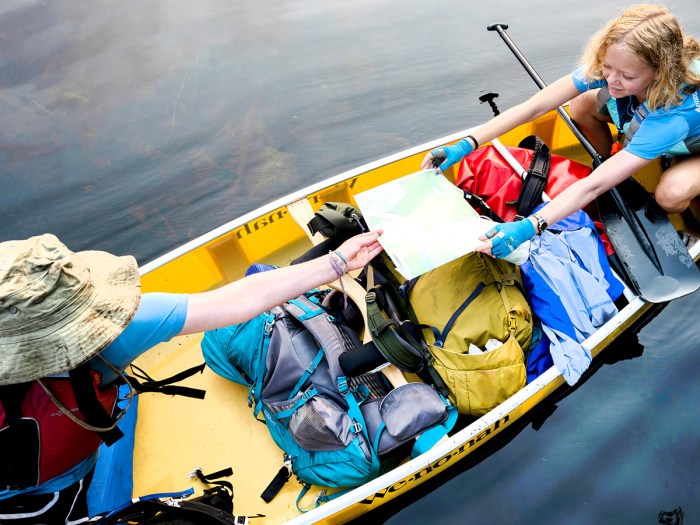 Everyone tends to make new friends at summer camp, but they don't usually have feathers.
A group of ducks visited girls Troop 284's campsite as the Scouts worked on the American Heritage merit badge together, and Fiona Levick loved it.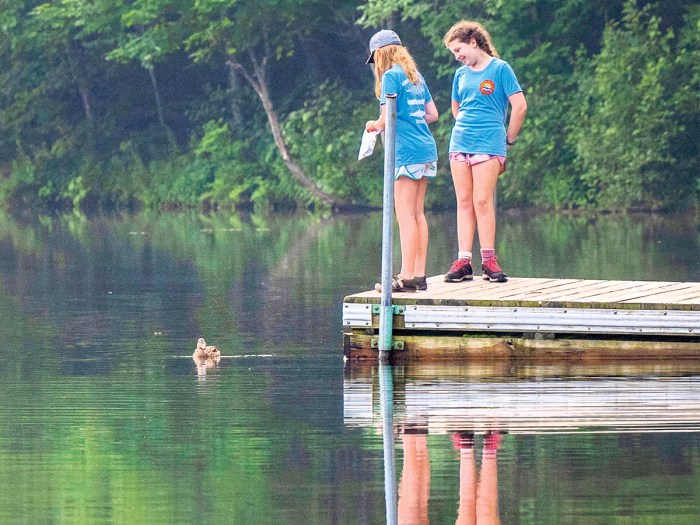 "I said hi to them," the 12-year-old Tenderfoot Scout says. "I was so happy because there were so many of them."
However, the waterfowl soon wore out their welcome for the rest of the troop. The ducks refused to waddle off, and the girls' imaginations ran wild.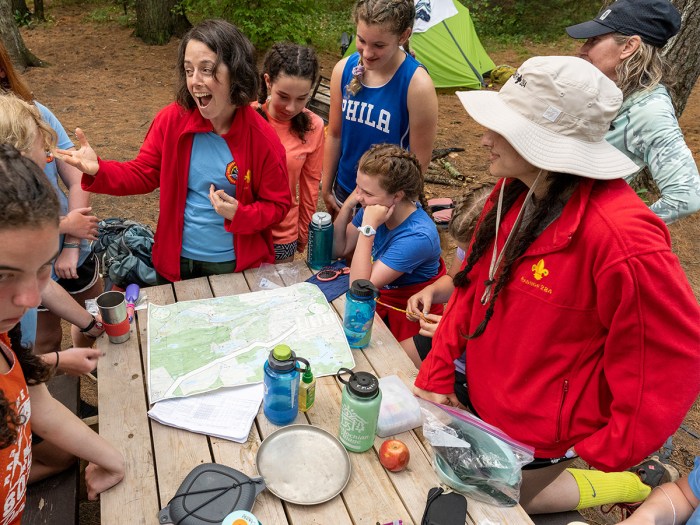 "We slept in the lean-to that night, and everyone was terrified the ducks would come and attack us because Fiona had summoned them all to our campsite to eat all of our food," says Tenderfoot Scout Grace O'Donovan, 12.
Of course, that didn't happen, but the entertaining evening added some humor to an exhausting, rain-drenched canoe trek across the lakes nestled among New York's Adirondack Mountains.
CONTINUING THE TRADITION
For more than 50 years, boys Troop 284 of Radnor, Pennsylvania, has canoed in northeastern New York. The trek typically totals 100 miles over two weeks and serves as the troop's summer camp as adult leaders lead merit badge classes in Canoeing, Lifesaving, Fishing and Nature, among others.
"We've been going for as long as a lot of our adults can remember," says Life Scout Parker Bruhns, 16. "In the 1960s, we were not a very adventurous troop. Our Scoutmaster then wanted to transform that."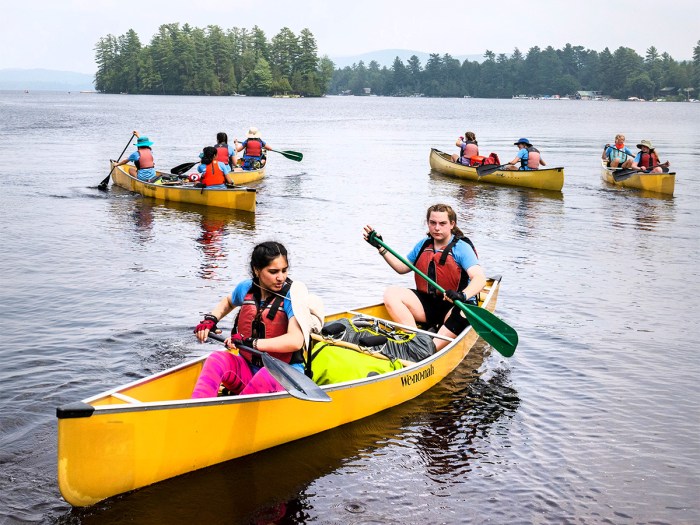 The first trek launched in 1970, and every few years, the Scouts canoe through the Adirondacks. During other years, they go to council camps and high-adventure bases like Philmont Scout Ranch in New Mexico. But the canoe trek remains a favorite — not only for its tradition, but also for the adventure. Last July, the girls troop planned its own weeklong 50-mile version.
"The girls decided we could do it, too, so we gave it a shot," says Second Class Scout Anna Latchford, 12. "I think half of us didn't know how to canoe, so I think it was pretty helpful to get used to the strokes and being in a canoe."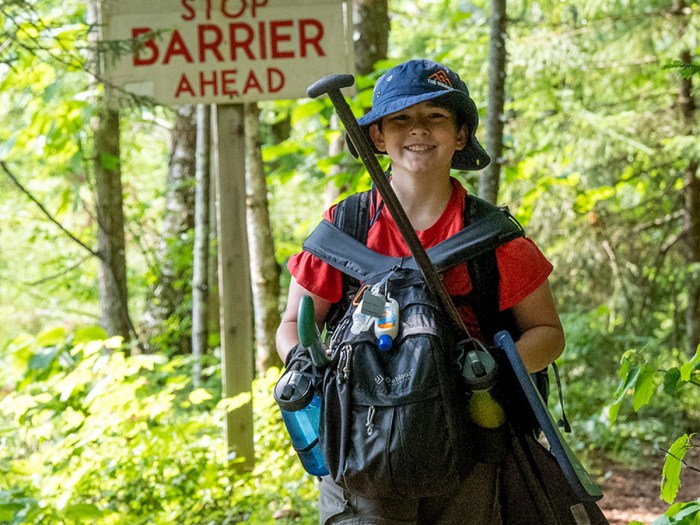 To prepare for the journey, the Scouts practiced canoe strokes by using brooms at troop meetings. They also went on an overnight practice trip down the Delaware River. To ensure their gear stayed dry, some Scouts bought quality rain jackets and waterproof compression bags, while others opted for cheap ponchos and trash bags.
Whichever waterproof gear the Scouts chose to bring, they would need it starting on Day One.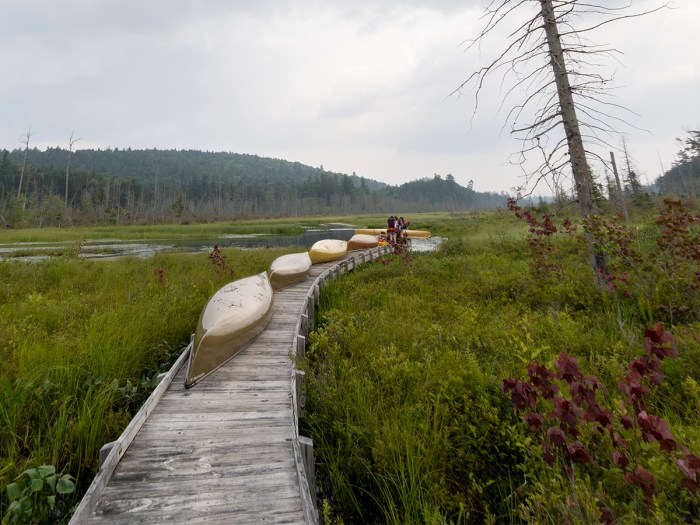 RAIN, RAIN GO AWAY
With rented Kevlar canoes, the troops met in Old Forge, N.Y., to launch their separate treks.
"The second we show up, it starts raining," says Life Scout Kyle Johnson, 14. "On pretty much every summer camp, no matter where we go, it tends to rain every day. But we're always prepared."
"That's a Troop 284 thing," says Sam Murphy, a 15-year-old Star Scout.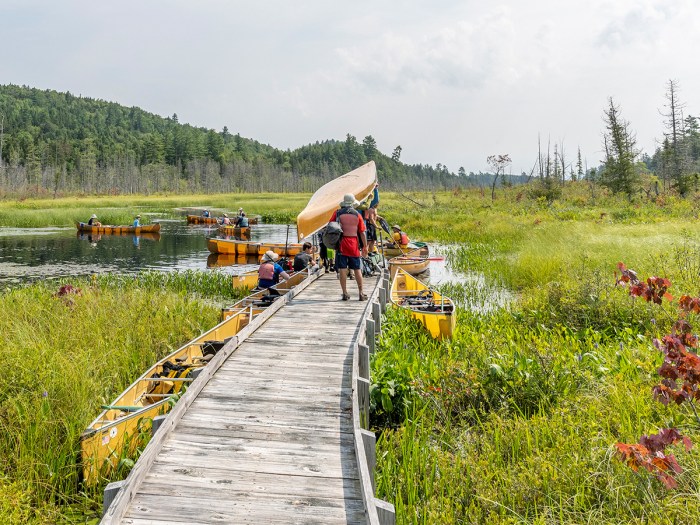 The boys took off, logging nearly 7 miles on the opening day. Meanwhile, the girls needed some time to get on the water, which had turned choppy as the weather worsened.
"It had taken a long time for us to get going," says Star Scout Sophie Tachna, 14. "It was pouring rain, and everybody was tired by the end of it when we made it to the island. People were yelling and screaming, 'Yeah! We made it to our first destination!'"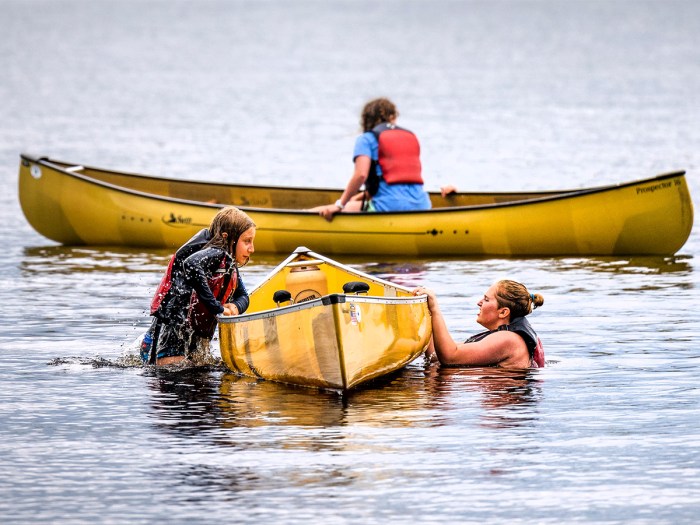 A tough first day can be demoralizing, and when you don't know whether the rest of the trip will bring more of the same, you might not want to continue. But a Scout is Cheerful and will find a way to stay positive.
"We sang a lot of songs," says Tenderfoot Scout Quinn O'Donovan, 14.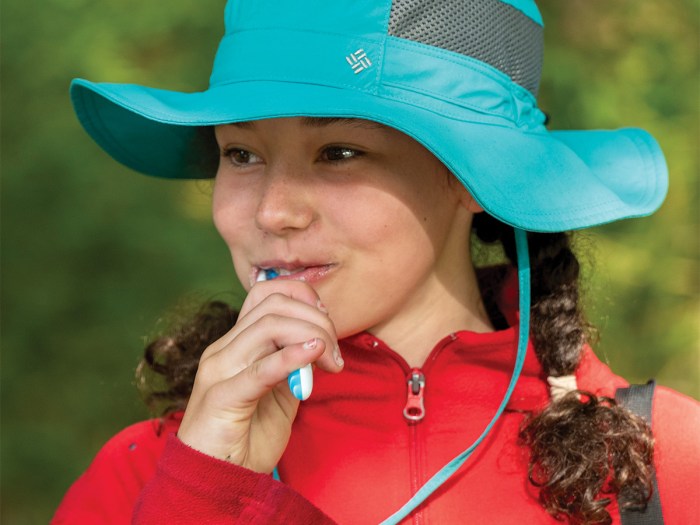 HAVE SOME FUN
While you're paddling for hours, you have time to take in your surroundings. The boys spotted bald eagles flying overhead and a muskrat scurrying on the shore, while the girls noticed a loon diving in the lake. Long times on the water also mean you can talk with your friends and have a good time.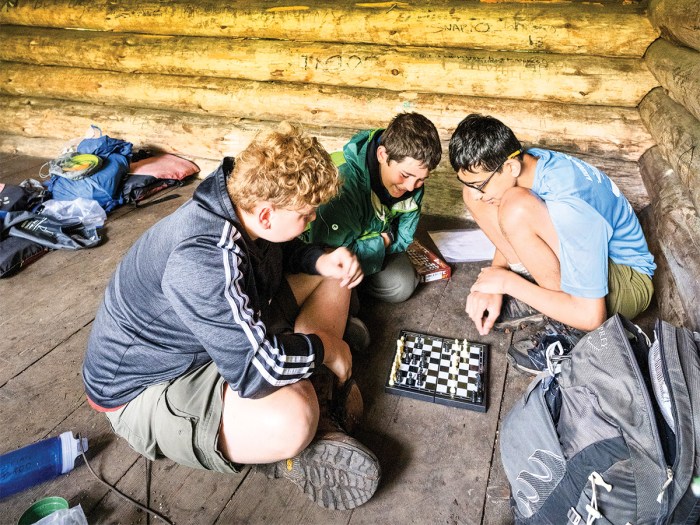 "Just being with everyone, it was a really fun experience," Sam says. "You don't have your phones. Normally, when I'd see kids hanging out, they're all on their phones. It's really nice to get away from technology and distractions like that for two weeks, and just be with each other."
Times on land, though, weren't always so much fun.
"The canoeing wasn't the hard part — it was the portages," says Noah Amjed, 12, a Second Class Scout.
Portages are trails between lakes. You must carry your canoes and gear from one lake to the next. That's why it's important to pack light. Some of the boys' backpacks weighed only 10 pounds since they packed just a few sets of clothes to last for the two-week trek.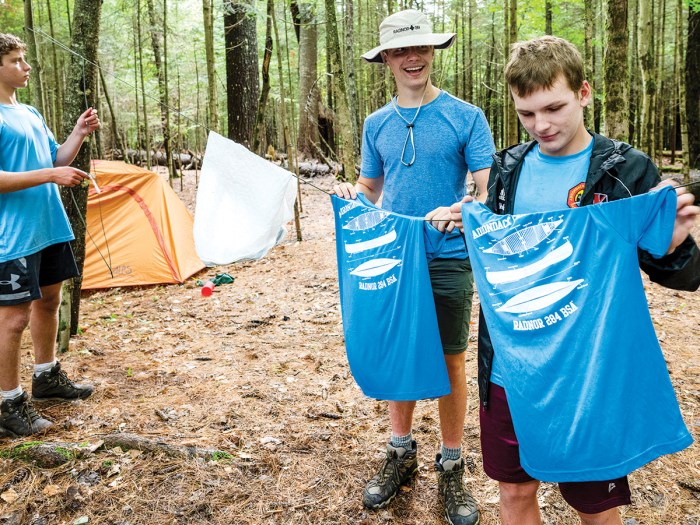 "At some point, we could put up clotheslines if our clothes got dirty, so we could wash them and use them again," says Second Class Scout Chirag Kandi, 12.
When it's been raining for days, your clothes can get dirty pretty fast, especially when you're playing games in camp. One of the boys' favorites was "Infiltration," where one team must sneak to the other team's base without getting caught.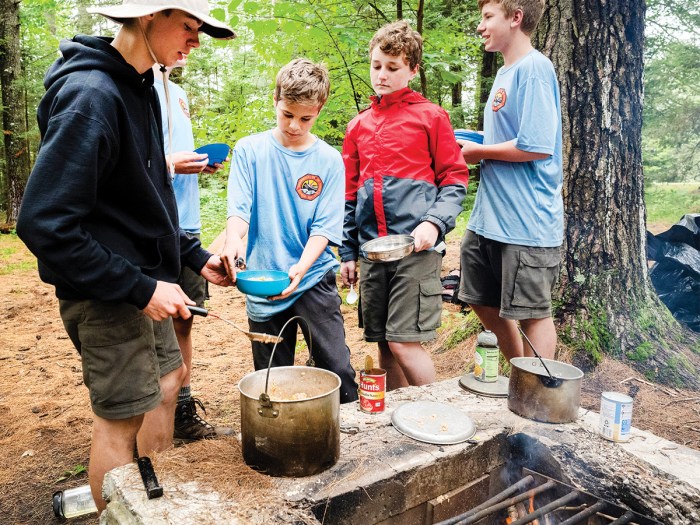 MAKING THEIR MARK
At the end of each trek, the Scouts had earned several merit badges and completed their intended journeys — the boys ending in Saranac after 100 miles, the girls at Long Lake after 50.
The Scouts felt accomplished, but some couldn't wait to go home. When you're gone for a week or two, it feels nice returning to modern conveniences and comforts. However, it feels even nicer after spending time with your friends, mastering a new skill and conquering a challenge.
"I had a lot of fun," says Judy Horn, 14, a Scout. "And that was only my second time camping."
---
Dealing With Homesickness
During these treks, some Scouts wanted to go home. It's a natural feeling that you might have during an outing. There's no shame in feeling that way.
Don't be embarrassed to talk to a friend or Scout leader — they want you to have a good time and can let you know what to expect for the rest of the trip, which can be comforting. If you need an additional outlet, send a message back home or jot down your thoughts in a journal.
If your friend is feeling homesick, encourage him or her. Ask if they want to talk about how they're feeling. Let them know there's a lot of fun to be had, and then invite them to play a game or work on a project together.
Inspire Leadership, Foster Values: Donate to Scouting
When you give to Scouting, you are making it possible for young people to have extraordinary opportunities that will allow them to embrace their true potential and become the remarkable individuals they are destined to be.
Donate Today