The Only Way to Truly Experience the Largest Swamp in the Country
When a group of people with similar interests spends a lot of time together, they often come up with their own language that no one else would understand.
For a group of Venturers from Houston, Texas, on a canoe trip through the swamps of South Louisiana, the key word was "storming." And, no, they weren't talking about the weather.
On a challenging trek like this one, everybody has to work together to accomplish a common goal: exploring a unique environment that many have seen on TV or in movies but few ever get to experience in person.
When the whole "work together" thing doesn't exactly work out, the result is a storm … right there in the canoe.
"Just like with every team, with canoeing you have a partner, and you have to use communication," says Emma LeCheminant, 16-year-old treasurer and past president of Crew 62.
"Sometimes you could be struggling if one person is doing something that takes considerably more effort, and that can cause some storming."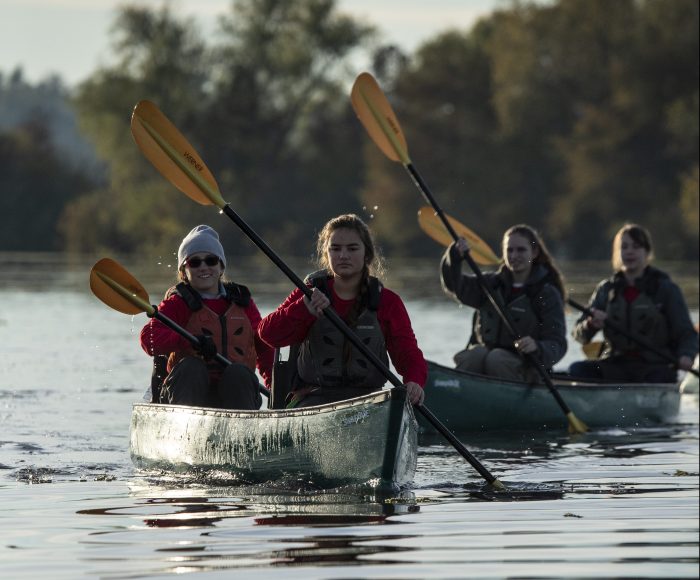 A Tough First Day
Run by the Evangeline Area Council, Swamp Base is a high-adventure program that offers summer and short weekend paddling treks through the Atchafalaya Swamp. The first day of this trek was the toughest — more than 11 miles of paddling. It's an amazing area full of bayous, bald cypress trees, swamps, lakes and marshes.
The water is flat — it barely moves at all — so you get no help from the current. And the vegetation can be thick in some areas, which means you can rarely paddle in a straight line for more than a little bit at a time. Day one was tough.
"It was long," says Victoria Abmayr, 16, president of Crew 62. "It was a lot of working with your teammate, so there was some storming going on."
Most of the Venturers were experienced paddlers. Many had visited Swamp Base the summer before and had done the 61-mile trek. They had so much fun, they had to come back for more.
As their trip went on, there were fewer and fewer storms.
"This is way more fun than other canoeing trips I've done, because you can see more of nature and do more bonding and teamwork here," says Helena Martin, 17, of Crew 62. "The key is communication. If I see that we're going a little to the left, I'll say, 'Let's do three strokes on this side' until we get back on course."
Dry Feet, Happy Canoeing
One of the lessons the crew learned was the importance of keeping your feet dry. No one has ever been seriously injured from simply having wet shoes on a canoe trek, but it sure is uncomfortable.
Some Venturers put their feet — with socks on — in water baggies, then tucked the bags inside their socks. That way, when their shoes got wet, their feet stayed dry.
"Wet-hiking-boot smell is one of the worst things," says Helen Elgie, 16, president of Crew 424. "It kills your vibe."
Another lesson learned: The Atchafalaya Swamp is amazingly diverse. It's also called the Atchafalaya Basin, and it's the largest wetland and swamp in the United States.
There are gators in the water. But 70% of the basin is actually a forest, and in there lives the Louisiana black bear.
No worries: The Venturers encountered neither on their fall trip.
Clear Skies Ahead
On their last day, their Swamp Base guides took them on an airboat ride. An airboat gets its power from a giant fan mounted on its stern. The advantage of an airboat is it can glide over very shallow water since it doesn't have a motor that dips below the surface.
The disadvantage is that it's loud. Very loud. So loud, you have to wear ear protection.
"It was so, so cool," says Jettie Court, 17, president of Crew 993. "I've been on motorboats before, but this was completely different. The noise … you can't talk to anyone. We were mouthing to each other, 'This is so cool!' "
For dinner: Cajun food, of course. What else could you eat after such an epic experience in one of the coolest ecosystems in the world?
"I just try to enjoy my surroundings," says Monique Chapela-Perez, a 17-year-old from Crew 355. "I don't even notice any kind of physical toll that it takes on me. I just look around and clear my head.
"When we were canoeing through those trees and we saw the sunset, it was just beautiful."
You see? Not a single storm in sight.
---
Know Before You Go

What: Louisiana Swamp Base
Where: Just outside of Lafayette, Louisiana
What: Swamp Base offers two weeklong paddling treks through the swamp during the summer. One is 61 miles; the other is 74. In the shorter trek, you sleep in cabins on the water; the longer trek requires participants to set up primitive campsites and sleep in jungle hammocks.
What About Gators? There's a decent chance you'll see one. There's little chance one will hurt you. Most alligators, if left alone, will move on.
Learn more about Swamp Base at go.scoutlife.org/swampbase
Inspire Leadership, Foster Values: Donate to Scouting
When you give to Scouting, you are making it possible for young people to have extraordinary opportunities that will allow them to embrace their true potential and become the remarkable individuals they are destined to be.
Donate Today