Scouts Find Adventure on the Peace River (Spoiler: It Wasn't Totally Peaceful)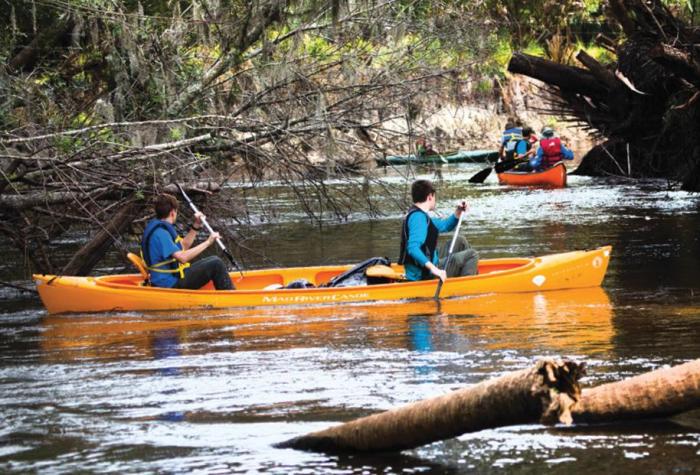 Jacob Shanahan tumbled into the chilly river. The 12-year-old Second Class Scout had been digging through his dry bag for a tasty granola bar when the current suddenly picked up, pulling his canoe straight into a large log and overturning it. Jacob screamed — with good reason.
"Right before we flipped, we saw some gators about 100 yards away," he says.
The alligators stayed on the shore, sunning themselves. After Jacob and his canoe mate corrected their vessel, he took inventory of his gear. Clothes: soaked. Shoe: lost. Granola bar: missing.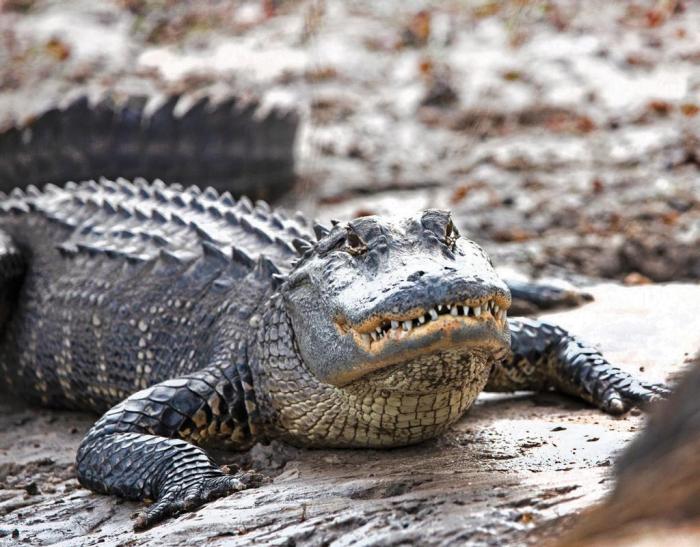 Still, this wasn't going to dampen his spirits. He and the rest of Troop 2001 of Naples, Florida, were not even halfway through their 19-mile paddling trek along Peace River last December. There was plenty of adventure ahead.
Paddling the Peace River
The 106-mile Peace River flows from east of Tampa, Fla., to the Gulf of Mexico. Its dark-colored water, caused by tannic acid released by decomposing plants, often discourages tourists, making it a haven for wildlife, including alligators, snakes, egrets, sandhill cranes, turtles and fish.
The waterway is also an ideal place for a weekend campout. Only a few miles downriver from the boat launch, homes no longer line the shore, replaced by towering trees draped in Spanish moss. Many trees have fallen into the river and are half-submerged, creating obstacles for Scouts steering their canoes.
"At first it was fun, but after getting stuck on seven trees, it became a challenge," 13-year-old Star Scout Rylan Zurbrigg says. "It seemed like we got stuck around every turn. There was no way to dodge them."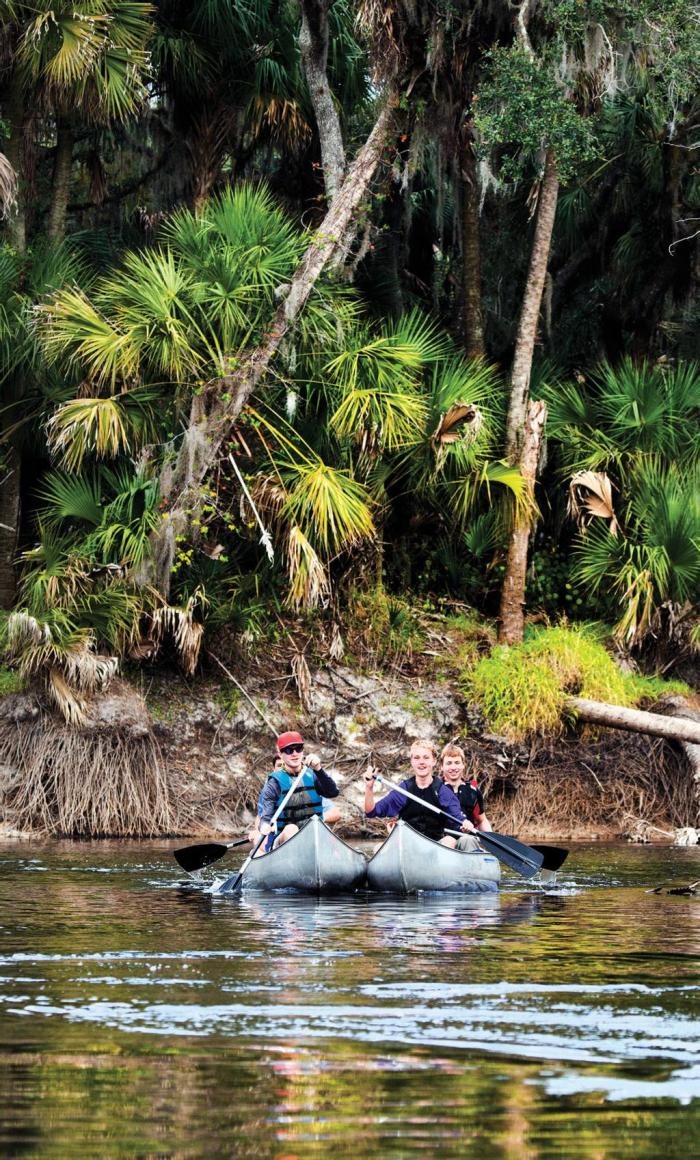 Some guys used techniques they learned at summer camp when earning the Canoeing merit badge. Teamwork and communication with your fellow paddlers help tremendously when you want to pivot, spin and move around the water.
"A lot of us have had experience," says Daniel Medeiros, a 14-year-old Star Scout. "It requires practice and planning."
Fossils Galore
When the troop members stopped for lunch, they scarfed down their food and then grabbed sand sifters. You're almost guaranteed to find fossilized shark teeth buried in the banks of Peace River.
Scientists say Florida was underwater millions of years ago. People have unearthed megalodon teeth — giant shark teeth measuring as long as 3 inches — as well as bones from Ice Age-era animals like mastodons and giant armadillos.
The guys scoured the shoreline along the water's edge. It felt like panning for gold, except instead of shiny nuggets, they were searching for animal artifacts. During their brief hunt, they discovered seashells and more than two dozen shark teeth. Most were about an inch long.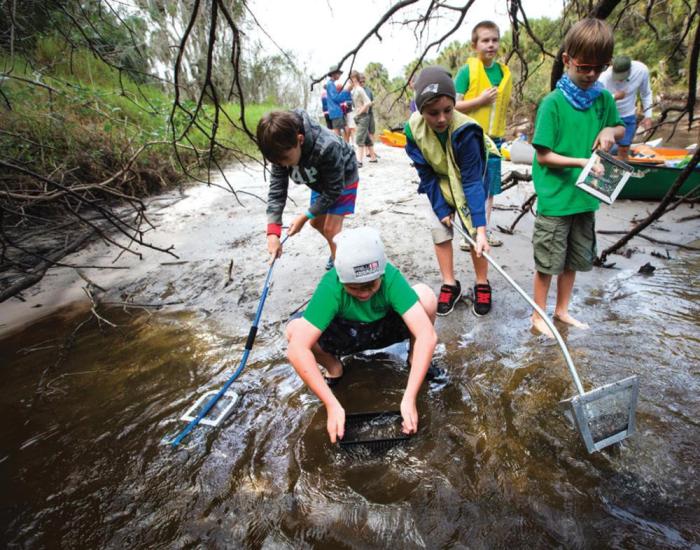 "They were small and black," 10-year-old Scout Nathaniel Bickford says. "We used these little sifters; we put sand in them, then put them in the water, and when you pulled them up, there might be shark teeth. We found a lot. It was pretty cool."
A Bonding Experience
Back on the river, the guys socialized and enjoyed the scenery. They snapped photos, sang tunes from the Pirates of the Caribbean movies and cruised under bridges.
On straightaways, Peace River lives up to its name, offering a slow, peaceful trip. However, that means the guys had to paddle harder to get downstream. Around turns, the current speeds up, so if they wanted to change places in the canoe, it was best to do it on calm water.
It's always safest to switch on shore, but you can accomplish this maneuver on open water. Put your paddle down and keep your hands on either side of the boat to stabilize it as you move. One paddler should lean down and to one side while the other steps over.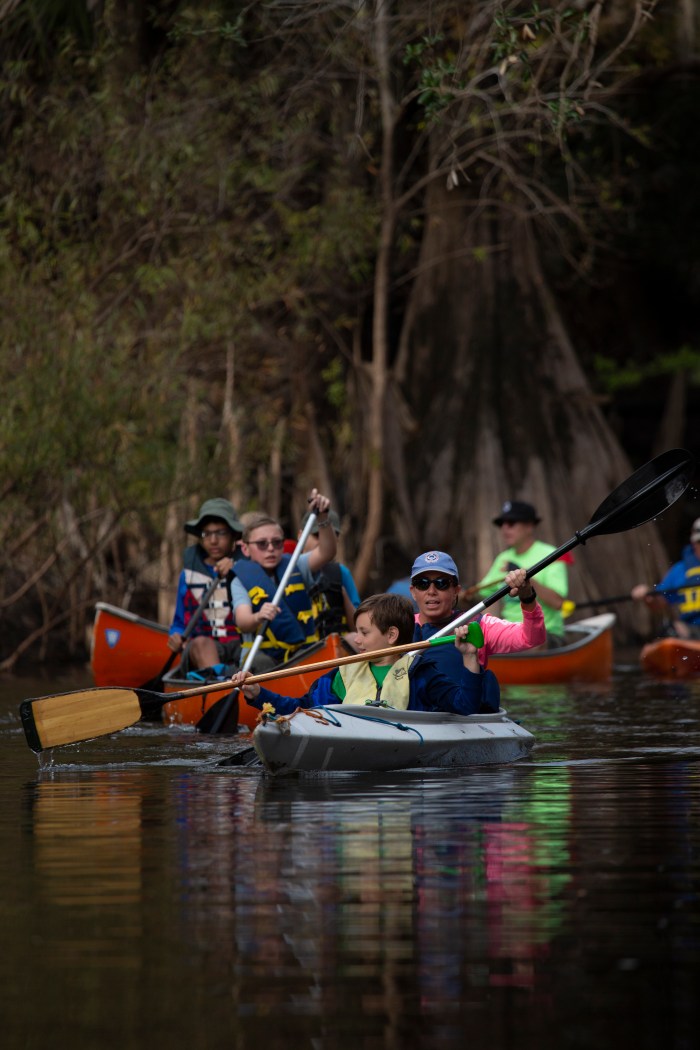 The person in the back of the boat, or stern, primarily steers while the one in the front, or bow, provides power. If three people are in a canoe, the one in the middle can relax.
"I liked the front; we did switch around a lot," says Joshua Gersbach, a 14-year-old Second Class Scout. "We mostly stayed in the spot we were most comfortable in and would swap to the middle so we could rest."
Pack Light, Pack Right
You don't need much for a two-day trek. Rylan's pack, for example, weighed little more than 10 pounds.
"We brought just what we needed and a little extra clothes or food, just in case," says Douglas Medeiros, a 12-year-old Tenderfoot Scout.
Inside their packs, the Scouts stuffed gear into garbage bags or waterproof sacks. That didn't help Jacob, who had his pack and bag open when his canoe flipped. His stuff was still waterlogged when the troop reached a grassy area to set up camp. He laid everything out to dry as others started dinner.
Each Scout was in charge of his own meals. Most brought a small backpacking stove and fuel to cook dehydrated meals. This kind of cooking is quick and easy: Boil some water, pour it in the bag and mix, and it's ready to eat.
After dinner, the troop played a game of tag and huddled around the campfire before turning in for the night, serenaded to sleep by the bellowing of nearby cattle.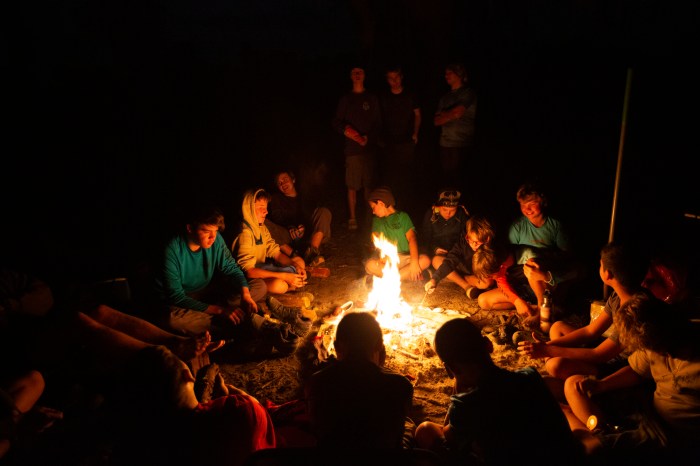 A Castle in Florida
The second day of paddling proved less intense than the first. The guys had already tackled three-quarters of the trek, but they still had a few more miles to go.
"I go on almost every Scout trip; I've never been canoeing that far," Nathaniel says.
This stretch of the river didn't provide as much shade. Time to break out the widebrimmed hats and sunscreen. Even on a mild winter day, you need to protect yourself from the sun and drink plenty of water. Each Scout carried at least two gallons of water.
Reaching the pick-up point didn't mark the end of the journey; Troop 2001 had one more place to visit before heading home. A short drive took the tired guys to Solomon's Castle.
Built by sculptor Howard Solomon in 1972, the castle is adorned with stained glass and stands three stories tall. Reflective metal printing plates cover the exterior, making the building shine in the sun.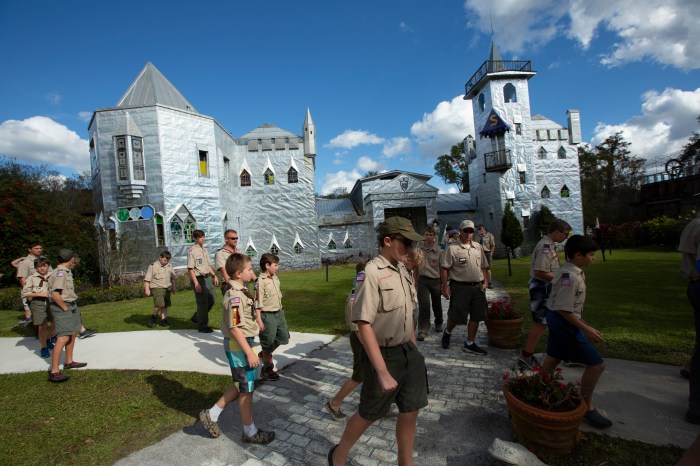 Inside, hundreds of Solomon's quirky art pieces fill the rooms — many are recycled from scrap metal, used car parts, and old farming and office equipment.
But the onsite restaurant, built inside a 60-foot wooden replica of a 16th century Portuguese galleon ship, grabbed the guys' attention. Jacob ordered a tuna fish sandwich, a meatball sandwich, lemonade, root beer and a chocolate milkshake — a royal feast for a hungry Scout after a long weekend of paddling.
"It was amazing," he says.
Fossils in Unusual Places
Earth looked vastly different millions of years ago. Continents were still connected, mountain ranges had not yet risen and oceans covered places where we now live. This is why scientists have found fish and whale fossils in the Andes and Himalayan mountains, and why you can find shark teeth in the middle of Florida.
Other unique findings around the country include:
Petrified Forest National Park, Arizona. Large petrified logs litter a desert that used to be a Late Triassic forest.
Florissant Fossil Beds National Monument, Colorado. Volcanic ash preserved 1,700 species of plants, insects and fish in this valley.
Cleveland-Lloyd Dinosaur Quarry, Utah. More than 12,000 bones from at least 74 different Jurassic-era dinosaurs, mostly the carnivorous Allosaurus, have been found at this site.
---
Love adventure stories like this? We've got insider tales and tips just for subscribers. Get a year's worth of the best and funniest and most interesting things you need to know for $12.
Inspire Leadership, Foster Values: Donate to Scouting
When you give to Scouting, you are making it possible for young people to have extraordinary opportunities that will allow them to embrace their true potential and become the remarkable individuals they are destined to be.
Donate Today