My first sign that NHL 15 isn't the same old NHL game came when L.A. Kings goalie Jonathan Quick flailed to the left to deny me a goal on a one-timer.
NHL 15

Gameplay: 9.4
Graphics: 9.1
Sound: 9.3
Replay Value: 9.2
Overall Score: 9.2Pros: Puck and player physics seem real, controls make sense, improved crowds and commentary add to the fun.Cons: Some game modes from NHL 14 aren't available for PS4 and Xbox One on NHL 15. Here's a list of some of the missing features and modes.
Here's what happened: I feathered a saucer pass across the ice to New York Rangers winger Carl Hagelin so he could fire the puck into the top corner. I've probably scored that goal a thousand times since I started playing the EA Sports NHL franchise 15 years ago.
Except this time, things were different. Quick dived and barely got a piece of the shot with the tip of his glove. I didn't score. It's a move I've seen real-life goalies use but never video game ones. Until now.
HOCKEY IS BACK
These days, sports games don't just throw you into the menu when you load them up for the first time. They put you right in the action.
Like Madden NFL 15, NHL 15 has a pulse-pounding start. First you see a highlight reel packed with real action from last season. It was just what I needed to get me pumped up after a long, hot summer without hockey.
Then the game throws you into a showdown between last year's Stanley Cup finalists: the Rangers and Kings.
The play-by-play commentary, broadcast graphics and fans' energy makes it feel like you're playing a meaningful game in the Stanley Cup Finals.
EASY OR STANDARD?
NHL 15 offers two game modes to get you started (though you can always customize them later): Easy and Standard.
Easy mode is for those new to EA Sports' NHL series. You use the face buttons to shoot and check and do pretty much everything. The difficulty is set to rookie, and the game has an arcade feel.
Standard mode puts less emphasis on the buttons and mainly uses the left and right joysticks and triggers. Basically, the left stick controls your skates and the right stick controls your stick. That's the same as recent versions of NHL, but NHL 15 continues to improve on the controls. What I like about the Standard controls is that they're easy to learn but difficult to master.
JUST LIKE ON TV
With NHL 15, you'll think you're watching a TV broadcast. The presentation is that good.
As the game begins, you see an aerial shot of the arena from a blimp flying overhead. You hear the familiar NBC Sports theme music.
You see the brand-new commentary team, Doc Emrick and Eddie Olczyk. And when I say you see them, I mean them. This isn't an awkward animated version of Doc and Eddie but real-world video set against in-game visuals. Plus, word is they recorded more than 35,000 lines of commentary, meaning you'll hear less repetition over the course of a season.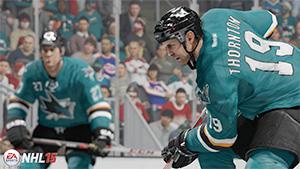 Starting a game as my beloved Dallas Stars, I saw an aerial view of American Airlines Center. The theme music played as Doc said, "In the big brick building where hockey is played, this is Dallas. And the fans are dressed in green, black and gold for their Dallas Stars." Awesome.
NO MORE CARDBOARD CROWDS
In past generations of the NHL franchise, we had flat, cardboard crowds. Then as consoles got advanced we saw living crowds, but still it was just the same four fans repeated a few thousand times.
Now, as the first NHL game on the powerful PS4 and Xbox One, NHL 15 offers the most authentic crowds of any sports game I've seen.
There are 9,000 individual fan models. They don't dress alike: I saw retro jerseys, team T-shirts and sweatshirts, home and away jerseys, jerseys from prior seasons, and — gasp — some fans not wearing team colors at all. There were even a few away team fans sprinkled here and there.
They don't act alike either: Each fan has his or her own behavior, and they'll clap, snap selfies, anticipate goal-scoring chances, hold up signs and cheer big hits. I even saw one fan taunt an opposing player as he took a seat in the penalty box.
AN 'A' IN PHYSICS
All 12 players on the ice, and the puck, now have real-world physics. Everything is live, meaning you get real-looking player pileups, hits, goalie scrambling and you'll-never-see-that-again goals.
My favorite moment so far was when Dallas Stars defenseman Alex Goligoski shot a wrister from the high slot. The shot went off the goalie's blocker and fluttered in the air for a half-second. Winger Colton Sceviour batted it down out of midair and into the net. It looked so real, but …
The referee immediately waved the goal off. The commentators said the puck may have been played with a high stick and would be reviewed. After a few seconds, the ref pointed to center ice: The goal was good after all.
You can't help but stand up and cheer little moments of magic like that — even when you're by yourself. I'm standing up and cheering for NHL 15, and you will too.
Inspire Leadership, Foster Values: Donate to Scouting
When you give to Scouting, you are making it possible for young people to have extraordinary opportunities that will allow them to embrace their true potential and become the remarkable individuals they are destined to be.
Donate Today