FIFA 15 and I got off to a rough start. When I first put the disc into my PS4, I was thrown into a match between Liverpool and Manchester City.
FIFA 15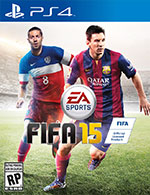 Gameplay: 8.8
Graphics: 9.3
Sound: 9.7
Replay Value: 9.4
Overall Score: 9.3Pros: Great online mode, more real stadiums, improved goalkeepers.Cons: No vanishing spray, makes you start as Liverpool, crowd graphics could look better.Available now for 3DS, PS3, PS4, PS Vita, Wii, Xbox 360, Xbox One, PC
You see, I'm an Everton supporter, so being forced into the uniform of rival Liverpool made me feel a little sick. I thought about stopping the game. I'm glad I powered through, because once I got a look at the incredible graphics, improved goalkeeper physics and best-in-sports online experience, I realized FIFA 15 is the greatest soccer game I've ever played.
You won't be disappointed if you pick up a copy.
MORE REAL STADIUMS AND PLAYERS
One disappointment in past versions of FIFA was that the home stadium of Everton, Goodison Park, wasn't included. The big teams — Manchester United, Barcelona, Chelsea, Real Madrid, etc. — had authentic re-creations of their stadiums, but the little guys didn't.
That has improved in FIFA 15. Now every stadium in the Barclays Premier League (the most popular soccer league in the world) is included. No more generic stadiums. Now you can play in the real home of every BPL team, from Arsenal to West Ham.
I was lucky enough to visit Goodison Park in Liverpool, England, earlier this year. I'm not exaggerating when I tell you the FIFA 15 version of Goodison transported me back to England. It looked identical; I even found the section my seat was in.
The players who kick the ball around in these new and improved stadiums are themselves new and improved. The FIFA team visited all 20 BPL teams to scan players' faces, meaning you'll recognize these guys even without seeing the name on their backs. (Not a fan of the BPL? Surely your favorite teams and players are among the 600 clubs and 16,000 players included in the game.)
Also cool: Players move more realistically, and you'll notice their uniforms getting muddy and grass-stained as the game barrels toward the 90th minute. Even the pitch itself shows wear and tear as the match nears its end.
NEW WAYS TO SCORE (AND NOT SCORE)
Goalkeepers in FIFA 15 are much improved, but that doesn't mean it's harder to score.
It means goalkeepers — including Tim Howard, my favorite — move more like their real-life counterparts. In a game against Manchester United, I saw Wayne Rooney shoot toward the goal. The ball deflected off the leg of defender Phil Jagielka. Howard, who was already diving to his left to make the save, noticed the change in direction and kicked up his leg to send the ball wide.
That's the kind of moment that makes you pause the game so you can catch your breath — and watch the replay again and again.
Authentic goalkeepers make authentic mistakes. Instead of goalies that catch every ball as if their hands are covered in glue, they'll fumble the catch or deflect the ball back into the box. That means more "garbage" goals like the ones you see on TV. You can still score some beautiful goals, with blades of grass flying as the ball is struck, but the not-so-beautiful ones still count the same.
HOLD UP A MINUTE
Pause menus are pause menus, right? Not in FIFA 15.
When you pause this game, rather than showing a static pause screen with a list of options, the game gives you highlights from your game. You'll see punishing slide tackles, nice passes and goal-scoring chances that happened moments earlier.
That's great because it gives you just another chance to stare at the gorgeous visuals and authentic faces, especially in a game where most of your experience is using the default, far-off camera.
I wouldn't be surprised to see other EA Sports games incorporate this improved pause screen next year.
THE
BEST ONLINE MODE IN SPORTS
Most of my time spent in sports games is spent playing against other humans online. If you happen to play against me in FIFA or NHL or Madden, please go easy on me.
I've played enough to confidently say FIFA 15 has the most innovative online mode in any sports game. It's called Seasons, and it mimics the promotion and relegation system of real pro leagues.
You start at Level 10, the lowest, and play 10 matches against other Level 10 players. If you collect enough points (three for a win, one for a tie, none for a loss), you're promoted to Level 9, where you play 10 matches against Level 9 players.
If you're Level 9 or better and don't get enough points in your 10 games, you're dropped down a level. Online Seasons is the perfect combo of the unpredictability of real-life opponents and the feeling you're building toward something.
Other observations:
Fans don't look as good as they do in NHL 15, but they sound better. The FIFA team recorded actual game audio and has incorporated real fan reactions, whistles and team-specific chants into the game. Fans for Manchester United, for example, don't sound the same as, say, Barcelona fans.
The game includes the new goal-line decision system that the BPL uses to see whether the ball crossed the goal line, but there's no vanishing spray! That's the shaving-cream-looking stuff that referees spray onto the field during free kicks. They're now using it in the BPL, but FIFA didn't put it in the game. Maybe next year.
The commentary is great and acknowledges that the game isn't being played in a vacuum. The commentators know when you're in an especially meaningful game. For example, I heard this: "Just to remind you that if the score stays like this, they will be champions." Cool.
Drama is really ramped up this year. Players react to calls they don't like and tough tackles they don't appreciate just like they do every Saturday.
Inspire Leadership, Foster Values: Donate to Scouting
When you give to Scouting, you are making it possible for young people to have extraordinary opportunities that will allow them to embrace their true potential and become the remarkable individuals they are destined to be.
Donate Today