Super Smash Bros. isn't just a cool game. Most of the fighting games in this lengthy series have been fun, but there's so much to this particular entry — it's almost incredible.
Super Smash Bros.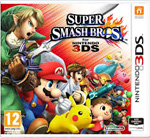 Gameplay: 9.5
Graphics: 9.0
Sound: 9.5
Replay: 10
Overall: 9.5Pros: So many characters; interactive stages; endless replay value.Cons: Online glitches; interface is confusing; small screen
Familiar Faces
The characters, 40 from Nintendo's vast archive of imaginative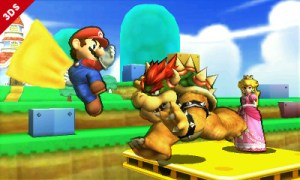 heroes, are rich with powers. But they're not limited to the Nintendo universe. There's Sonic the Hedgehog, Pac-Man and the dragon-like Charizard from the Pokemon series.
But what if you could get those characters to use some of Mario's powers? You can in this game. Super Smash Bros. is about crazy character customization, too. They've thought of almost everything. You can even use your own Mii to battle against big baddies like Bowser.
As you play, you unlock numerous characters, challenges and stages. The variety just keeps on coming. Whoa! Here comes Capcom's MegaMan and Sega's Sonic. Can you beat them? Sure, you can. Just keep trying. Not having any luck? You can tweak the rules, too.
Gameplay Simplicity
First and foremost, yes, this is a fighting game. But it's always humorous and exciting, never bloody or mean.
And the controls are easy to remember. They're the A and B buttons. The left thumb stick is for jumping. Combinations of the stick and the buttons execute wild super attacks and special moves. The detailed, colorful poster/booklet included in the game box shows every character's attacks. For instance, Diddy Kong shoots peanuts and throws banana peels. It's hilarious!
After each enemy goes down, you pick up power ups that they've left, everything from shields to higher jumps to enhancements of your own special moves. The power ups build up so at the end of those frantic 300 seconds, you're mighty when you battle it out with three others for ultimate victory.
Lasting Appeal
Because of the superhero-like powers of other characters, you'll find Super Smash Bros. to be endlessly challenging. There's such a variety of things to do, this wonderfully fast and furious game gives Mario Kart a run for its money. Smash Mode has you passing through various interactive stages that recall Nintendo games of the past. You fight a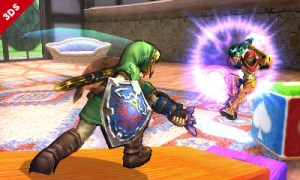 plethora of enemies for five minutes.
For strategy, start by learning a few moves. If you pull them off correctly, you'll win a fair amount. But if you go deeper and learn which characters' moves have priority over which foes, you'll probably win even more.
Super Smash Bros. is truly one of those games that's so special, you won't want to stop smashing. I played so long, my fingers would barely open and close. I kept saying, "Just one more game." I'm so happy to say I haven't had this much fun with a game in many months. Bravo, Nintendo.
Trailer
Inspire Leadership, Foster Values: Donate to Scouting
When you give to Scouting, you are making it possible for young people to have extraordinary opportunities that will allow them to embrace their true potential and become the remarkable individuals they are destined to be.
Donate Today