Puzzle & Dragons Z + Puzzle and Dragons Super Mario Bros.
Puzzle & Dragons + Puzzle & Dragons Super Mario Bros. Edition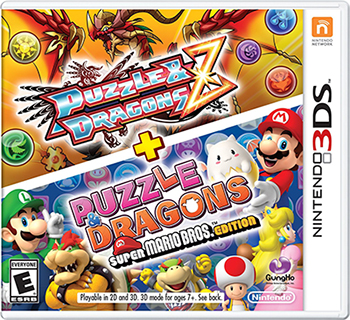 Gameplay: 8.5
Graphics: 8.0
Sound: 7.8
Replay Value: 8.7
Overall Score: 8.3
Pros: Two games for one price, fun but deep, hard to stop playing.
Cons: No online play, not enough new game slots, repetitive.Available now for 3DS
Puzzle & Dragons Z + Puzzle & Dragons Super Mario Bros. Edition may be the best kept gaming secret of the summer. The package of two 3DS games is a fascinating riff on the time-honored Pokemon theme, but with a twist. It's also really great for summer road trips — especially if the idea of collecting hundreds of dragons gets you excited!
Puzzles and Dragons Z asks you to catch and hatch eggs which turn into many fascinating beasts. They're even cooler when you level them up and power them with crazy abilities. But first you have to battle to get them. Along the way, you restore World Piece. No, not "world peace". The land of Dracomacia has been beset by earthquakes created by big, awful bosses. Large portions of the country broke off into jigsaw puzzle-shaped pieces. Adding all the pieces back into the world lets you restore order (in other words, world peace). The makers of this game must love puns!
Here, you're a kid who has the chance to become an ace Dragon Tamer in Zed City. But you and your pal Nick have to pass a test. Actually, that test is more like a tutorial. You'll meet a long-winded scientist who tells you where and how to hatch dragon eggs. You'll deal with your first mission, which asks you to go way down into a dark dungeon. There, you'll battle your first monsters.
Then the gameplay turns into something like Candy Crush Saga, but with a better story. By dragging them across the screen, you match at least three colored shapes in o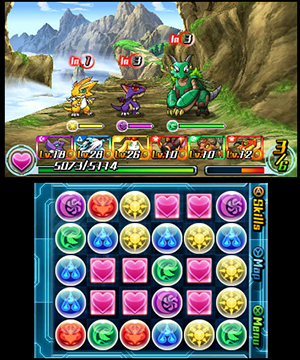 rder to battle one or more monsters. Sometimes as your matched orbs fall, you'll get automatic combos, which make your attacks more powerful. Tip: if you get a glowing orb, don't use the strong item right away. Save it for a tougher battle later in the match.
Early on, Puzzles & Dragons Z seems to be a cinch. You may mistakenly think there's nothing to it, especially when you might be rewarded with more than 10 combos for essentially making one move that matches and clears three orbs. (The fireworks-filled action that ensues is pretty exciting.) But as you move forward, play becomes tougher. You'll do a fair amount of strategizing to make it through without losing a life.
But wait … there's more! Puzzles & Dragons Super Mario Bros. Edition is also included in this set. At first look, it seems to be aMario Bros. game because one of the first things you encounter is that familiar map with castles, bridges and pipes taking you through Mario's world. And the story is very recognizable, too. Toad reports that Princess Peach has been kidnapped once again. (You'd think that Peach would have a security detail by now.) You have to travel hither and yon to Bowser's Castle to free the damsel in distress.
That's where the similarity to Super Mario Bros. ends, though. You'll be matching the colorful orbs again. But this time, you'll draft Goomba, a Green Koopa Troopa and other baddies to help you along in hundreds of levels. That's right. Once beaten, your enemies become your allies.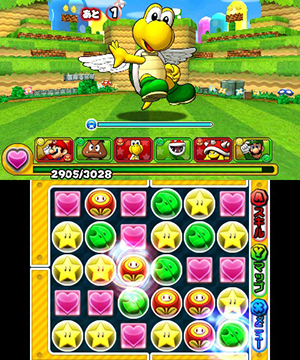 As you match orbs and battle, you also get coins to spend on things that make you stronger. Tip: if you're attacked by a group of baddies, try to match five or more orbs in a line. Baddies can't stand all that power and they'll fall quickly. As you collect helpers, you can create teams to aid you. The good news is that you can save up to six teams with varied abilities. You can edit the teams, too. And the powers of every baddie you capture can be transferred to another character you own. It's a fine way to level up.
While Dragons Z has the more compelling story about saving the world, Super Mario Bros. is slightly more addictive. It just may be that there's more action more frequently in the game full of familiar Nintendo characters. Because Super Mario Bros. Edition is using more complex visuals that seem brighter and pop more than Dragons Z, you just can't stop playing. But, I'll play a lot of Dragons Z, too.
Puzzles and Dragons Z & Puzzles & Dragons: Mario Bros. Edition Feature from Nintendo
While there's a lot of game here, $30 is on the high side. Both of these offerings would have made perfect (and cheaper) mobile phone games. Soon, Nintendo will provide games to your phone. My guess is that Puzzles & Dragons Z, or something very like it, will be one of Nintendo's first offerings. Until then, there's a lot of game in each of these. And the 3D sequences can be both entertaining and colorful. While neither of these games is particularly groundbreaking, they're very solid offerings. They do what they do well. Plus, they're super portable for your summer vacation.
Inspire Leadership, Foster Values: Donate to Scouting
When you give to Scouting, you are making it possible for young people to have extraordinary opportunities that will allow them to embrace their true potential and become the remarkable individuals they are destined to be.
Donate Today