7 terrorific Halloween gaming experiences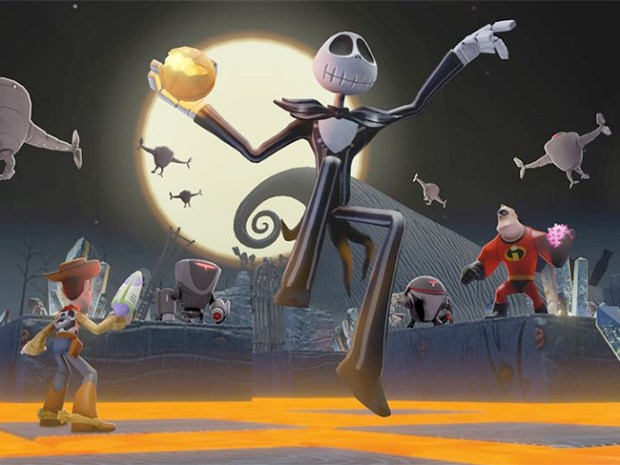 It's that spooky time spooky of year again: Halloween! And some of your favorite videogames are helping with the celebration.
Do you dare to indulge in some of the best Halloween experiences on the planet?
Animal Crossing
If you have absolutely any version of Nintendo's cheerful Animal Crossing, open the game on Halloween to find out what kind of slightly creepy things are happening in your town. For instance, here are some masks you can get in Animal Crossing: New Leaf:
MiiVerse
Speaking of Nintendo, check out the MiiVerse Monsterthon on your WiiU. There's a lot going on. You'll find all manner of kooky, eerie events featuring Super Mario Maker, Mario Party 10 and Yoshi's Woolly World.
Disney Infinity
The new Disney Infinity 3.0 Toy Box Speedway expansion pack lets you travel to and race through Halloween Town and the mysterious Gravity Falls. There's always a surprise in these tracks, as the video below shows you.
Plants vs. Zombies 2
The Plants vs. Zombies 2 mobile game is like Halloween year round. But the horror-filled holiday will be celebrated with a special Lawn of Doom upgrade. Here, "players can join frighteningly fun piñata parties to win six collectible Halloween-themed Plant costumes." The update will include Ghost Pepper, which can attack zombies but can't be eaten by them. Also, Jack O' Lantern spews a strong flame to do serious damage. (Both the pepper and pumpkin cost money, though.)
Quick Boy game
In the super fun Quick Boy game, you'll save the world and enjoy Halloween to boot. Here, you'll find new Halloween costumes, zombies that appear in the story mode, Halloween gift boxes and a special Halloween drone.
Toca Boo
Try Toca Boo, a free game, if you want to play as a ghost. You'll explore a house and scare the occupants, too. And in the just released Toca Life: School, out on October 29, you'll discover witches and scarecrows — and stink bombs to throw around.
Pee Wee's Nightmare
Have you checked out Pee-Wee's Nightmare? It's a Flash game right here on the Boys' Life site. You have to guide the little guy though some devilishy difficult levels. Creepy music somehow helps you platform your way through 20 cool environments. Watch out for those spikes!
— The Games Guru
Inspire Leadership, Foster Values: Donate to Scouting
When you give to Scouting, you are making it possible for young people to have extraordinary opportunities that will allow them to embrace their true potential and become the remarkable individuals they are destined to be.
Donate Today