Two things make Unravel special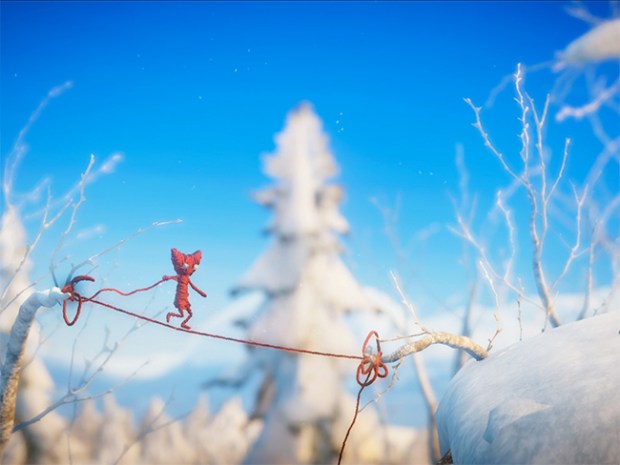 Unravel (EA for PS4, Xbox One, PC) is a side-scroller featuring cool puzzles you solve through the use of yarn. It stars Yarny, a lovable, triangular-headed being with huge expressive eyes. A long, fuzzy thread of red yarn trails him everywhere he goes.
What makes Unravel special? Two things.
First, there's a incredibly realistic environment. Take the first level, for example. When you first meet the curious Yarny, the idea is he hasn't seen the outside world before. So when Yarny trots outside, it's like the sunniest, most fascinating day you've ever seen. Fluttering birds and bright butterflies, green blades of grass and purple thistles — all of them have the glow and sparkle of realism.
Second, there's the touching but mysterious story about love and family. Yarny helps you, well, unravel it. At the very beginning, you read these strange words on a pillow: "Lycka blommar ur sma enkla ting" It's Swedish, meaning "Happiness blooms from small, simple things." During each level, you collect these simple memories, often in the form of photographs.They help the story move forward.
Is the gameplay just as cool? Some of the controls need work. For example, when you're asked to tie the yarn into a knot by pressing a controller button, sometimes the knot doesn't stay tied. And the onscreen tutorial that pops up as you play goes by too quickly to memorize. It can be confusing. Also, the music loops to play the same thing over and over. That can become annoying if you're stuck on a puzzle.
Is Unravel worth the $20 price of admission?
It depends on what kind of gamer you are. If you care about the beauty of the game with a cute character and moving story, I'd say 'yes.' If you like Spider-Man, there's a lot of swinging on yarn from place to place to keep you moving. Just know that it's a short game. And the controls can sometimes be a stumbling block to pure enjoyment.
–The Games Guru
Inspire Leadership, Foster Values: Donate to Scouting
When you give to Scouting, you are making it possible for young people to have extraordinary opportunities that will allow them to embrace their true potential and become the remarkable individuals they are destined to be.
Donate Today