Plants vs. Zombies: Garden Warfare 2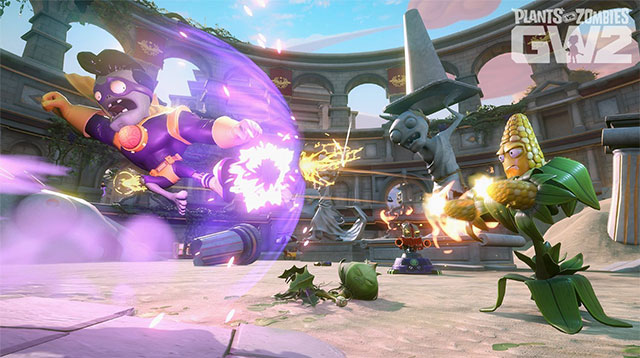 EA for PS4, Xbox One, PC
Reviewed on Xbox One
The Funny Characters
Plants Vs. Zombies was originally a strategy game. Players carefully chose powerful plants to keep marauding zombies from coming into a suburban house. The characters had a little personality, but not as much as they do in Garden Warfare 2. The individual way, say, Citron the orange with crab legs moves is both humorous and heroic. Add that to the varied weapons and the look on enemies faces as they attack and you get big, comical personalities
Adventurous Level Design
As you trek through the many colorful areas full of nooks and crannies, it's like moving through a mysterious city as a tourist. Stepping up to a platform and getting shot through a cannon into the action is one wild ride, too.
The Stinky Underground
The sewers are filled with green slime and dangerously thin platforms you can fall from and perish. (Don't worry, you'll respawn in a few seconds.) But they're also filled with missions you receive from odd beings, like a seemingly dead fish. You'll find treasure chests down there, too.
Playing Online
It looks like EA matches players of similar skills in over a dozen modes, a good thing. But sometimes it takes a while for new players to enter. Occasionally, I was thrown off the EA servers, too.
The Upshot
I found Plants Vs. Zombies Garden Warfare 2 to be intensely fun but also confusing. You know it's perplexing when the gamemaker itself gives you a tip that is "perfect for when you're utterly lost."  Overall, it's like being thrown into a fantastical, ingenious new world — but without being given a road map or the town rules. You'll explore and figure them out eventually. But it would be far more joyful if you didn't have to check out YouTube Let's Plays to dig in. If Garden Warfare 2 had a map or a tutorial, the fun would have come easier and faster.
–The Games Guru
Inspire Leadership, Foster Values: Donate to Scouting
When you give to Scouting, you are making it possible for young people to have extraordinary opportunities that will allow them to embrace their true potential and become the remarkable individuals they are destined to be.
Donate Today