How To Turn an Old Neckerchief Into a Drink Coaster
SAFETY FIRST: Ask an adult to help with tools you haven't used before.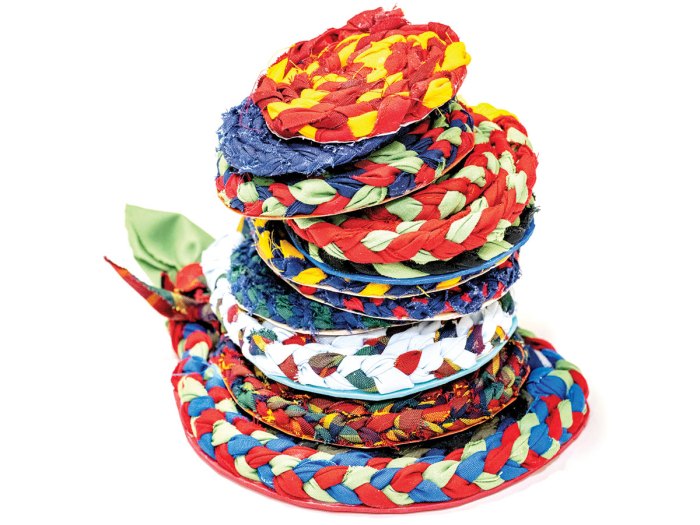 You can use an old neckerchief (or any fabric you like) to make a fun coaster for your drinks.
WHAT YOU'LL NEED TO MAKE A DRINK COASTER
Fabric glue
Construction paper or foam tile
Ruler
Scissors
Neckerchief (or any fabric you like)
Permanent marker
Tape
WHAT YOU'LL DO TO MAKE A DRINK COASTER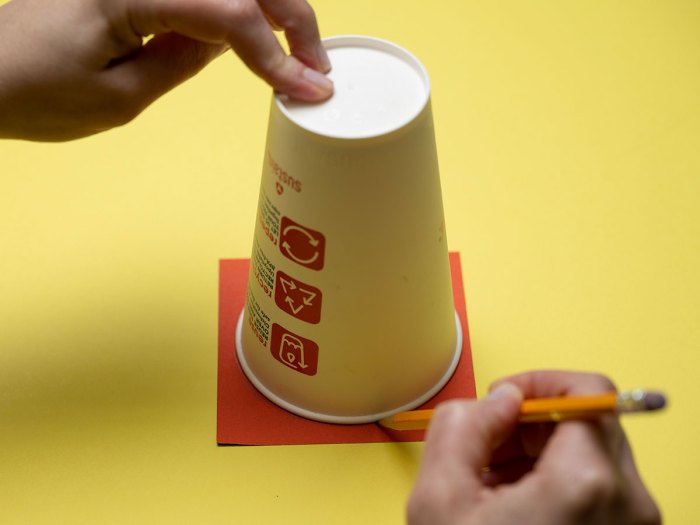 STEP 1. Trace a circle on a piece of paper using the mouth of a cup and cut it out.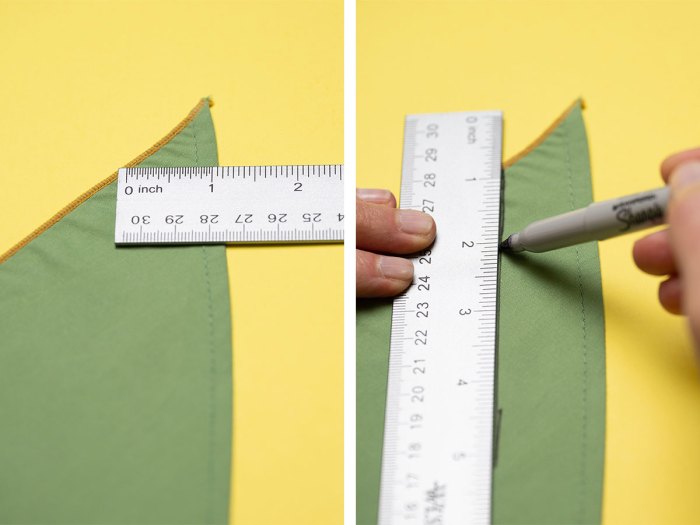 STEP 2. Cut three 1-foot-by-1-inch strips from your neckerchief, which will make a coaster about 2 ½ inches wide — perfect for a standard water bottle. Before cutting, measure and draw a straight line on the neckerchief from top to bottom using the ruler and marker. The longer your strips are, the bigger your coaster will be.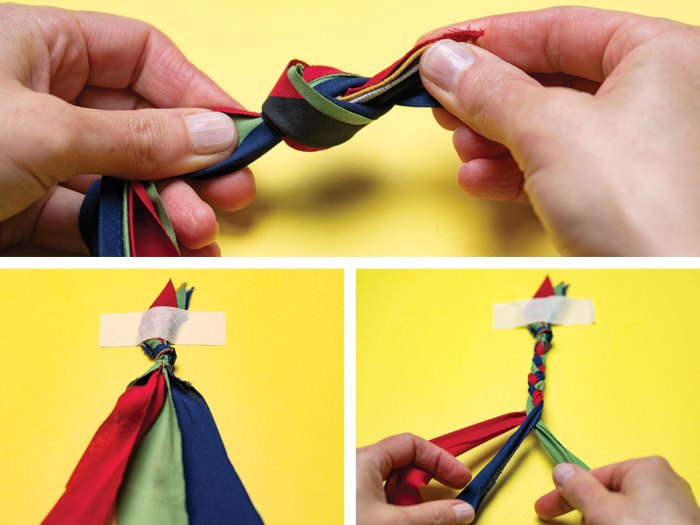 STEP 3. Tie the three strips together with an overhand knot at one end. Tape the knotted end to the table and separate the loose strips.
STEP 4. Time to braid! Take the strip on the right and cross it over the middle strip. Then, cross the left strip over the right. Repeat this method until you get to the bottom, and then tie it together with a knot. Remember: The right strip will always go over the middle, and the left strip will always go over the right.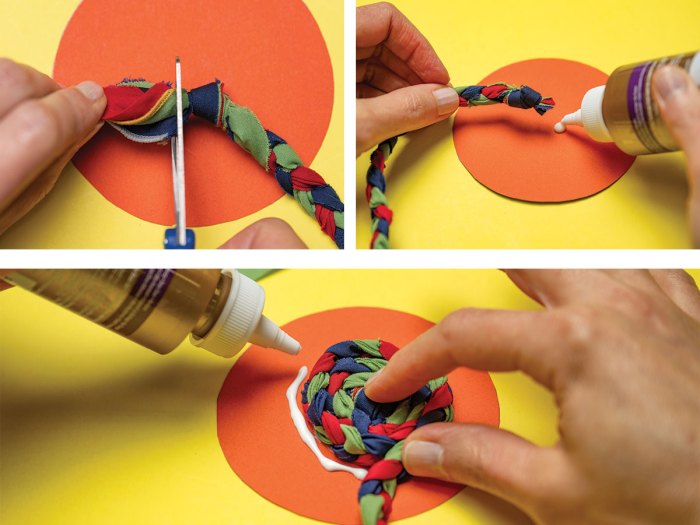 STEP 5. Starting at one end of the braid, cut off the excess fabric, leaving a little piece after the knot. Glue that end to the center of your circle. From there, apply more glue to the circle and twist the braid closely together until the circle is covered.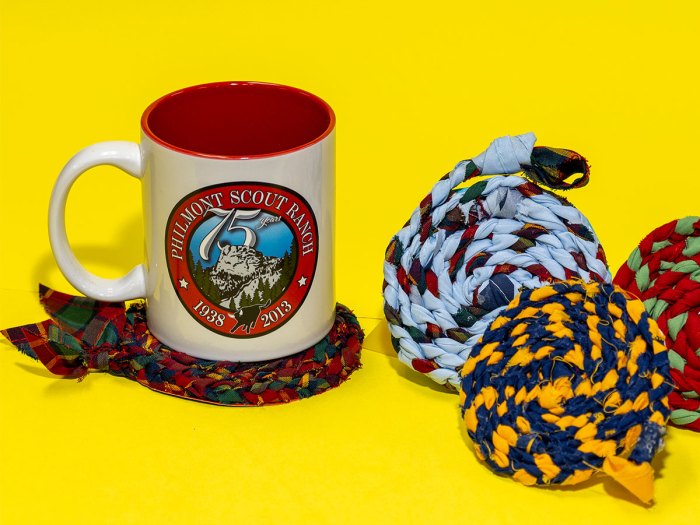 STEP 6. Let your coaster dry for about 20 minutes before using it.
---
MORE TIPS AND TRICKS
Watch the following videos to find out how to make your coaster bigger, how to add a hanging loop and how to make a coaster without a base.
How to make your coaster bigger: After you've glued the first braid to your base, cut off the excess fabric on one end of your second braid. Next, apply glue to your base where the first braid ends and attach braid two. Continue to apply glue and wrap the braid until it reaches the end.
How to add a hanging loop to your coaster: Once your coaster is glued to your base, take the shorter piece of fabric at the end and fold it in half. Next, wrap the longer piece of fabric tightly around the shorter piece, holding it in place. Wrap it twice and then apply a drop of glue. Wrap the longer strip one more time before applying another drop of glue. Wrap it one final time and allow your coaster to finish drying. Cut off any excess fabric once loop is formed.
How to make a coaster without a base: If you don't want to use a base for your coaster, try out the handheld process. Place a drop of glue on one end of the braid and twist it. Apply a line of glue onto the braid before every twist. Repeat this process until you reach the end. Find a safe spot for it to dry.
---
PHOTOS OF COMPLETED NECKERCHIEF COASTERS
Check out these photos of the completed project. If you have a photos of a SL How To Do It project, please use the form below to send them to us.
---
Important Note: Please only upload photos of your project. Because of privacy rules, we can't post any photos that show people's faces. Always ask for your parent's permission before uploading anything to a website.
---
Inspire Leadership, Foster Values: Donate to Scouting
When you give to Scouting, you are making it possible for young people to have extraordinary opportunities that will allow them to embrace their true potential and become the remarkable individuals they are destined to be.
Donate Today