Inside the March 2016 issue
Here's what you'll find inside the March 2016 issue of Boys' Life magazine. Remember, many articles are exclusive to the printed magazine and are not available online.
To subscribe to Boys' Life magazine, please visit http://scoutlife.org/subscribe.
ON THE MARCH 2016 COVER
On Their Way Up
Three ascents, each tougher than the last, test climbers physically and mentally.
• Venturers tackle three climbs near Oregon's Mount Hood
---
THIS MONTH'S OTHER FEATURES
Trade Secrets
Scouts learn a few tricks at a magical camporee.
• Amaze your friends with these 4 awesome magic tricks
A Scout is Helpful
After a horrifying disaster on Mount Everest, a 17-year-old Eagle Scout steps up and saves lives.
Fiction: Punch Buggy Blue
A family road trip with no electronics allowed? How in the world will Henry and R.W. survive??
• Read Punch Buggy Blue by Megan McDonald
BL Workshop: Plywood Carabiner
Use this simple wooden clip to secure your stuff.
• How to make a plywood carabiner
---
ONLY IN OUR BOY SCOUT EDITION
Scouting Around
Working Together: When you're rappelling or rock climbing as part of a BSA program, you aren't going at it alone.
• Visit the Scouting Around blog
Champ Camps
Make this the best summer ever at one of these eight awesome Scout camps.
• 8 awesome Scout camps across the country
In Case of Emergency
Be prepared for emergencies in the wild and your daily life.
• How to build your own first-aid kit
---
ONLY IN OUR CUB SCOUT EDITION
Let's Look at Astronauts
Read it! Color it! Get it all in this special Cub Scout section.
X Marks the Spot
Cub Scouts hit the ground running at Cub-O, a massive map-and-compass competition.
---
AND MORE!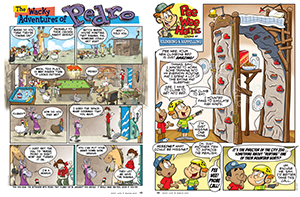 Look for the regular score of comics, jokes, games, Scouts in Action, Tradin' Post and more! Only in the March 2016 issue of Boys' Life!
• The Wacky Adventures of Pedro
• Pee Wee Harris
• Scouts in Action
• More S.I.A.
---
Inspire Leadership, Foster Values: Donate to Scouting
When you give to Scouting, you are making it possible for young people to have extraordinary opportunities that will allow them to embrace their true potential and become the remarkable individuals they are destined to be.
Donate Today